How Can The Messy Middle of AgriFood Trade Recover in The Coronavirus Crisis
Global Trade Outlook
Covid19 has devastated economies around the world, and many countries are still reeling from devastating impacts. While, there are stark differences between government response and recovery rates in the US, Europe, and Asia, the likely winners will be countries that manage to establish some form of new normal while keeping infection rates low and stable.
Currently, indicators have shown that China will likely be the first major economy to pull out of the global coronavirus crisis and it seems ASEAN countries like Thailand, Malaysia and Singapore are likely to see recovery in Q1 2021, barring containment of the virus.
Furthermore, with 18.8% of exports in Southeast Asia going to the world's second-largest economy, China's recovering economy is positive news for the region. Coupled with its strategic location and 5.3 trillion worth of global trade passing through annually, it is not surprising then that many companies are looking to Southeast Asia to do business, according to McKinsey. By 2030, Southeast Asia is expected to become the fourth largest single market in the world – putting it behind only the US, China and the European Union.
Given the current outlook, companies would definitely want to look towards Southeast Asia and the greater Asia region.
The Impact on Messy Middle
What does this mean for the global agrifood trade landscape?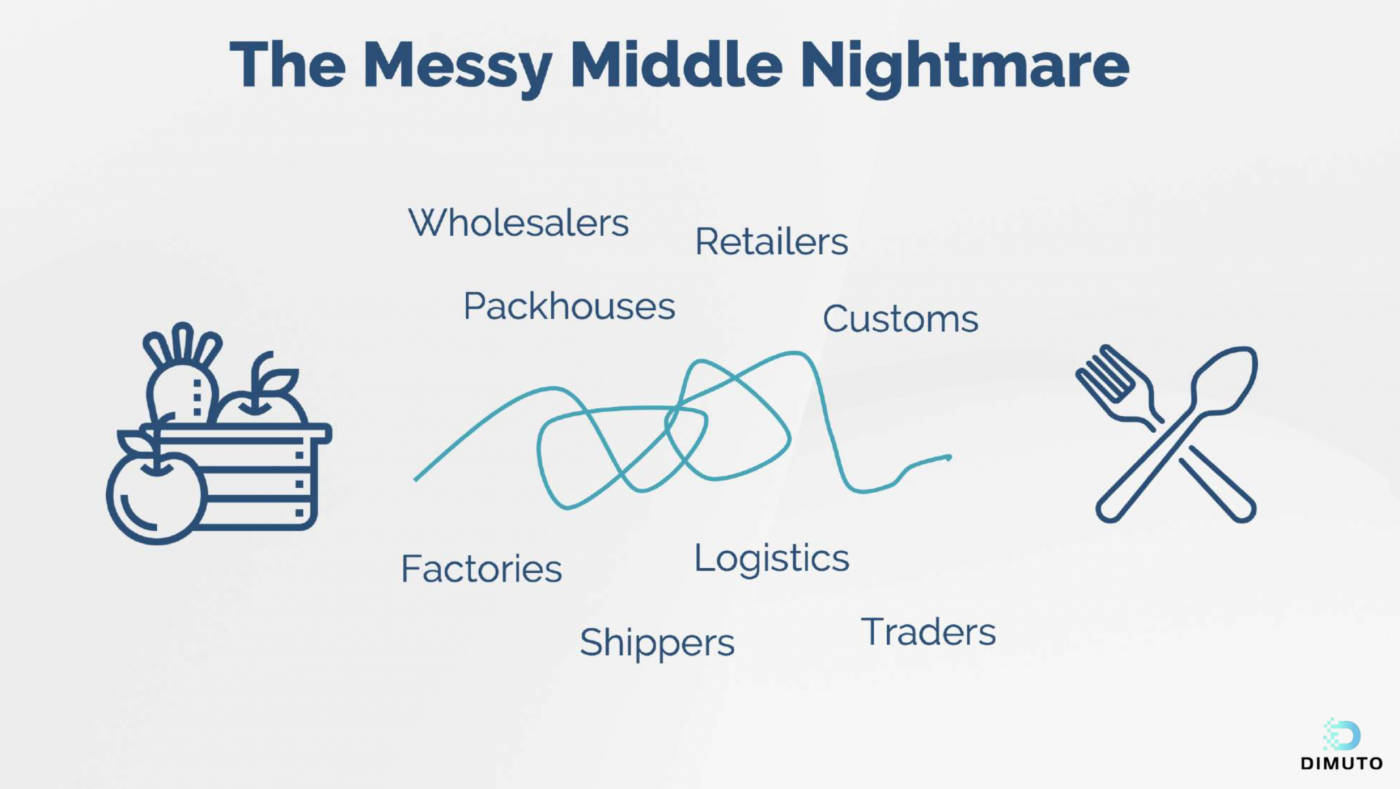 In regions like Latin America, Asian countries, especially China, have become increasingly important destination markets for its agricultural exports. Agrifood products like fresh produce, frozen and chilled seafood and poultry products destined for Asia are typically exposed to longer transit times, and vulnerable to the challenges traditionally faced by the "Messy Middle", the midstream complex landscape of packinghouses, logistics providers, exporters, importers and distributors. Think trade disputes, logistics delay, food safety issues that plague agrifood players due to a lack of supply chain visibility and digitalization.
Strong Trade Relations & Supply Chain Transparency as The Solution
Doing business with Suppliers / Buyers that are far apart can eventually end in a nightmare – if you are a Supplier selling you products to export markets like SEA and China this often can result in a disconnected supply chain where companies are unable to track products as they move across borders – creating what we in the industry call the "Messy Middle" where miscommunications, misinformation and trade disputes thrive due to the lack of data and information flows.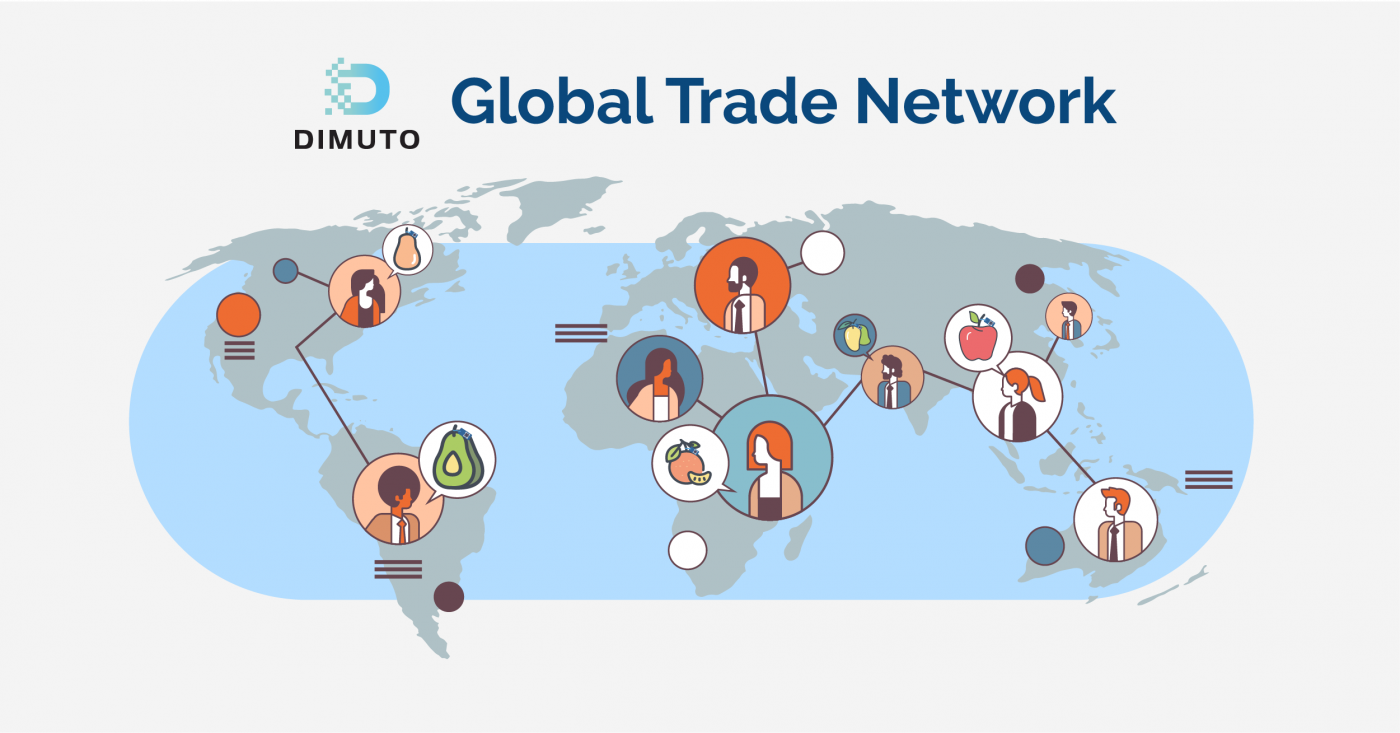 DiMuto Global Trade Network is made up of an exclusive network of trusted buyers and suppliers conducting traceable trade on the DiMuto Platform. With full supply chain visibility, growers and retailers are able to buy & sell fresh produce more effectively and efficiently. By joining our network, you deal with traceable, trackable fresh produce that have been digitized on the DiMuto blockchain-powered platform, creating data-backed trust and peace of mind when you engage in global produce trade.
Now more than ever, the coronavirus has disrupted existing agrifood trade with supply chain shocks, so the need for alternative suppliers & buyers is critical. With our Global Trade Network you can find Suppliers/Buyers in different regions of Asia, so you can expand your supply chain network of trusted trade partners while conducting trade in a transparent, traceable manner to eliminate issues like trade disputes and lack of visibility.
Benefits of Our Trade Solutions & Trade Network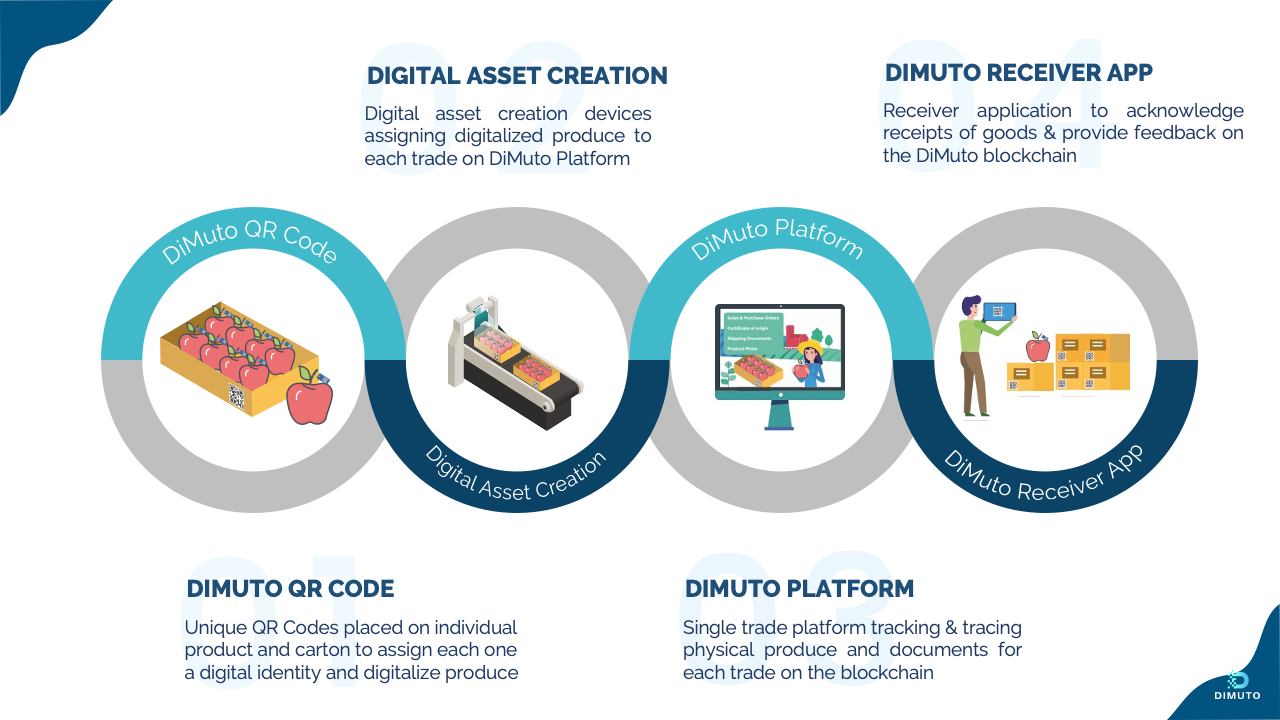 Every trade conducted within the DiMuto Global Trade Network is traceable and digitized. With our DiMuto 4T Suite Solutions, agrifood players have the benefit of true supply chain visibility down to individual product and carton levels. Whenever you receive the products, with the Dimuto Receiver App, the buyer has to scan the QR code of the carton boxes and take pictures of them as proof that the shipment has been received. This allows the buyer to provide feedback on the quality of the products or report defects if it is necessary. For suppliers and packers, they are able to show they have sent their products in good conditions with our Digital Asset Creation devices (DACky).
All these information is captured on our DiMuto Platform and shared with the relevant trade partners to provide a single, verified source of truth for agrifood trades.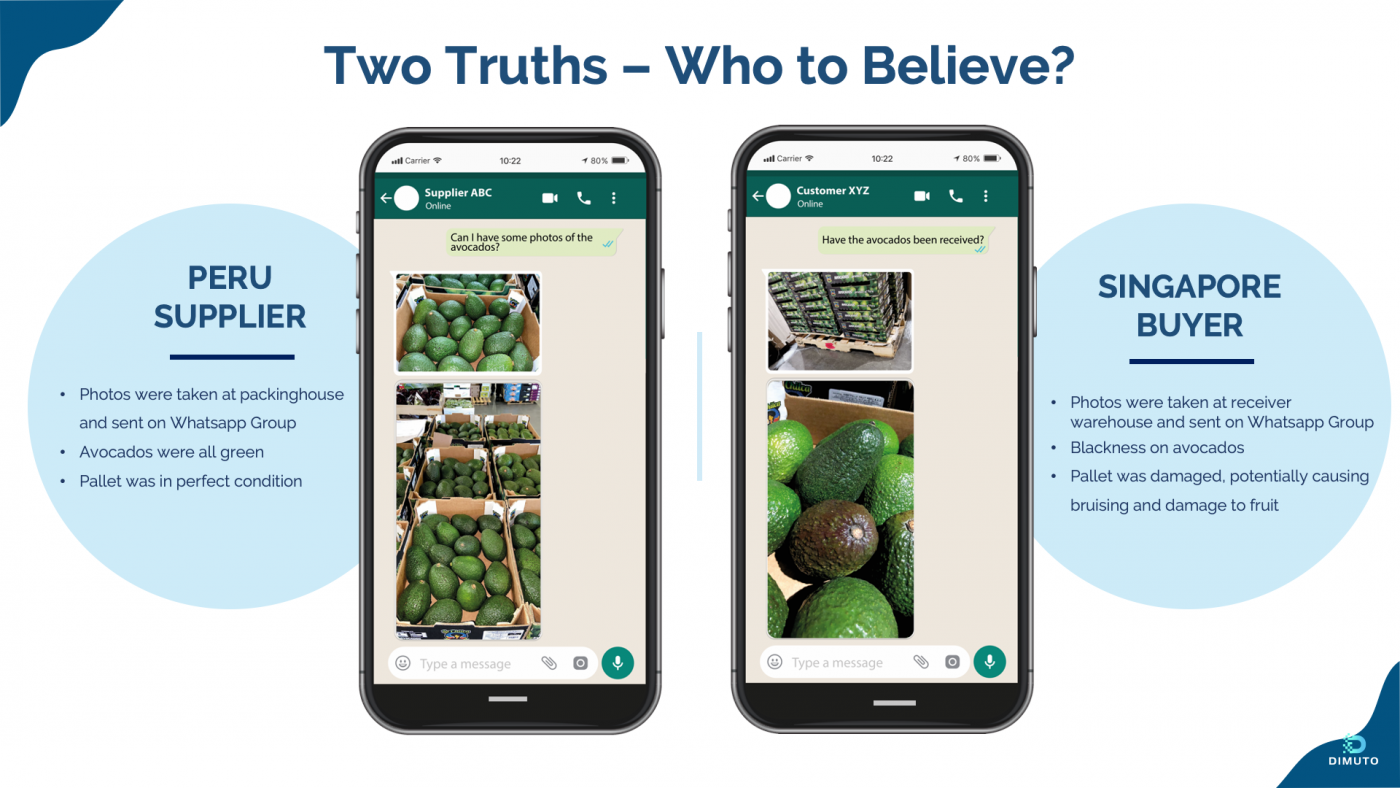 Learn how an avocado supplier from Peru was able to resolve trade disputes regarding avocados that arrived in Singapore here.
Beyond supply chain visibility, agrifood players are able to efficiently resolve trade disputes, as well as gain access to trade financing opportunities that will enable them to continue expanding and growing their business.
If you are interested to learn more about how DiMuto can help you solve your trade challenges, please reach us here or drop us an email at sales@dimuto.io.