The Digital Supply Chain: Redefining Trust For Global AgriFood Trade in Times of Pandemia
This is the third article in the series "The Digital Supply Chain". This series explores what is digitalization, reasons for digitalization and best methods for digitalization of agri-food supply chains.
–
The Food Waste Pandemic
Today, the distance between the place where fresh produce is produced and where it is marketed has never been greater. With globalization, global food supply chains have never been more complicated and interconnected.
The demand and supply disruptions from the COVID-19 pandemic has revealed the weakness of global food supply chains. As many are digitally disconnected, the lack of full supply chain visibility means agrifood stakeholders often operate without the right data. Thus, many are unable to respond to such dislocations in an agile, informed manner.
In the US, this has resulted in mountains of food waste. With the collapse in parts of the service industry forced to close because of the virus, buyers like restaurants, hotels, schools, and sports venues no longer need ingredients, which has in turn caused demand to plummet in some cases. Thus, many farmers had to destroy their crops, despite rising demand at grocery stores and food banks.
While farmers would like to sell their excess produce to grocery outlets or donate it to food banks, inflexible supply chains further downstream simply aren't agile enough to react timely to supply chain disruptions. This makes it difficult to find new markets and set up new distribution channels.
At the same time, grocery shopping and fresh produce safety have also been concerns for consumers – an American physician was warning consumers to soak fresh produce in soap before consumption, a misleading advisory deemed by the Produce Marketing Association ANZ to be a dangerous food safety hazard.
A Need for Digitalizing of Food Supply Chains
Against the global backdrop of food supply chain disruptions, what can agrifood companies and fresh produce growers do to future-proof themselves from similar crises in future?
According to a Forbes article by Seana Day from Better Food Ventures, "Without the right data to inform their operations, those in the "messy middle" of food — the massive production and processing facilities, logistics, and distributors— lack agility and responsiveness to adequately respond to the supply or demand dislocations."
How can agrifood stakeholders in the "Messy Middle" become more flexible and get the right data?
Digitalizing produce to gain farm to fork supply chain visibility will allow growers, suppliers, traders, exporters, importers, retailers, wholesalers to capture the right data, see the big picture and operate using data-backed decisions. This increases their flexibility and ability to respond to any supply chain shocks. It is without a doubt that digitalization is the way forward for the future of food production – Data visibility across the global food supply chain is not only urgent, but necessary for survival and future-proofing against future crises.
How Can DiMuto Trade Solutions Help
1. Need for Alternative Suppliers & Buyers
Due to border lockdowns and food services shuttering, growers must quickly find other retailers or buyers to sell their fresh produce and retailers need to source for alternative suppliers.
Solution: Expand your supply chain network with DiMuto Global Trade Network of trusted trade partners to find Suppliers/Buyers in different regions or locally
DiMuto Global Trade Network is made up of an exclusive network of trusted buyers and suppliers conducting traceable trade on the DiMuto Platform. With full supply chain visibility, growers and retailers are able to buy & sell fresh produce more effectively and efficiently. By joining our network, you deal with traceable, trackable fresh produce that have been digitized on the DiMuto blockchain-powered platform, creating data-backed trust and peace of mind when you engage in global produce trade.
2. Increased Consumer Concern for Food Safety
Consumers are now more concerned about contracting diseases and want to know that their fresh produce is safe to consume and handle.
Solution: Track & trace fresh produce with DiMuto 4T Suite as they move through the supply chain to ensure compliance with hygiene and safety standards. Communicate this traceability story to consumers easily with DiMuto SMART Marketing.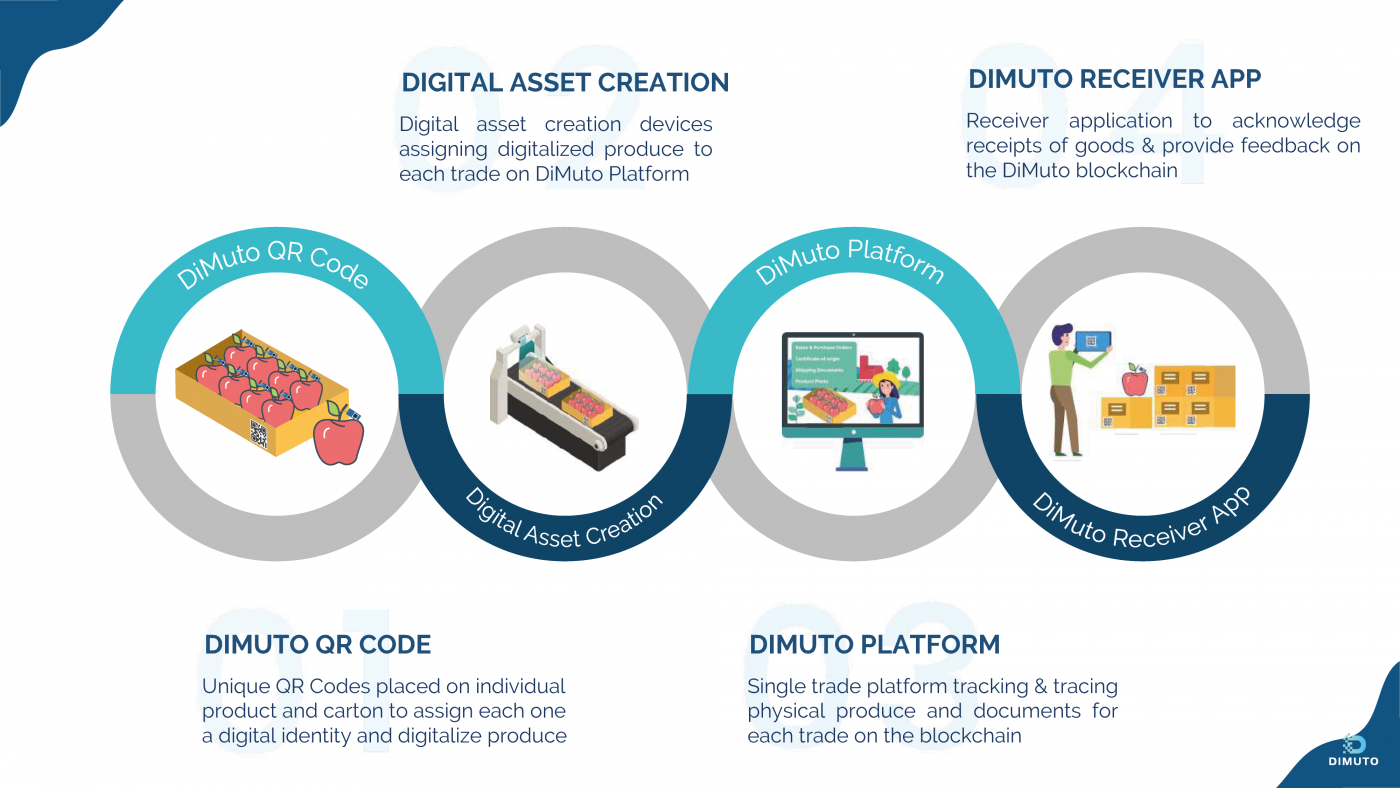 DiMuto 4T Suite allows growers to digitize their produce for food traceability and supply chain visibility seamlessly.  Powered by blockchain, AI and IoT,  the incorruptible traceability features of blockchain permit agricultural commodities like fresh produce, livestock and seafood, as well as food ingredients to be actively traced throughout the supply chain. Thus, for instance, if production workers were to fall sick, preceding parts of the food supply chain can be reconfigured. Products can also be readily recalled, limiting further spread of the sickness (regardless of whether the sickness stems from a pandemic virus or a food pathogen) due to added traceability. This helps to create a food system that can better uphold food safety standards for end consumers.
In the case of Morning Glory Farms and their Spaghetti Squash, we were able to help Bevan to digitize their squash for food traceability, as well as communicate the traceability story to end consumers. This resulted in the Morning Glory Farms Squash being able to command a premium in the market:
"With the QR labels, we were able to get up to 40% premium on our squash. The QR labels certainly made a difference to the value of the squash."
– Ethan Lulham, Manager, Raw Fresh Produce, Sydney, Australia
3. Cash Flow Concerns & Trade Financing Access
Suppliers and Buyers are taking a closer look at their current and expected liquidity profiles in the wake of COVID-19.
Solution: Access trade financing opportunities when you digitalize your physical produce and trade documents on DiMuto Trade Platform
Digitalizing supply chains with DiMuto Plform opens up trade financing opportunities – Produce companies, traditionally, never had trade financing opportunities as many financial institutions often consider the perishable industry too complex, and too high a risk. With digitalization and easily accessible supply chain information, financial institutions may be more keen to provide trade financing opportunities to fresh produce companies. This is especially crucial in post-covid19 recovery, where demand is weakened or changed, and supply is disrupted, making adequate cash flow more important than ever.
We've helped Queen Frozen Durian, to digitize their durian trade, which provided trade financing opportunities of $2million.
Download our one-pager here.
In light of the current coronavirus crisis, we remain committed to helping agrifood players trade better and build a more transparent food supply chain. If you are interested to find out how DiMuto can help your business, please reach us here or drop us an email at sales@dimuto.io.