Optimize farm and production

Optimize your farm inputs and outputs for maximum efficiency and profits

Simplify farm data capturing and organize your farm information and certifications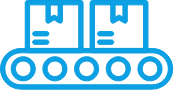 Digitize physical agrifood products from farms and packhouses for traceability

Ensure compliance to food safety standards and protocol on the ground

Verify food product quality at packing and receiving with Artificial Intelligence

Verify and support sustainable business practices for your supply chain
Maximize farm efficiency and profitability
Get the support and insight you need to make precise agronomic decisions based on real-time field insights.
DiMuto Farm Management helps you to simplify farm administration and analyze the performance of your fields, workers and agronomic practices with powerful analytics.
Easily get your finance KPIs and identify improvements for cost optimization and higher yields.
Organize, track and trace your production
Efficiently turn your physical products into a digital, traceable asset to verify pre-shipment product quality and ensure compliance to food safety standards and order specifications.
With our Digital Identities Label, instantly capture and record the quality of every carton with DiMuto DACKY devices. Score your product quality with our AI-driven quality verification.
DiMuto Production & Traceability helps you manage your production and gain clarity on the physical products being moved in every trade.
Organise, digitize and verify product quality
Conduct, record and access quality control checks that are done on the ground pre and post shipments. Leverage DiMuto's AI-driven quality verification tool to ensure standardized reporting.
DiMuto Quality Inspection tool helps you to organize, digitize and standardize your quality control inspection process.
Now you can easily share relevant information on product quality with your internal team and trade counterparts.