[Announcement]
DiMuto takes another step towards food safety with its involvement in the PMA Gold Circle Campaign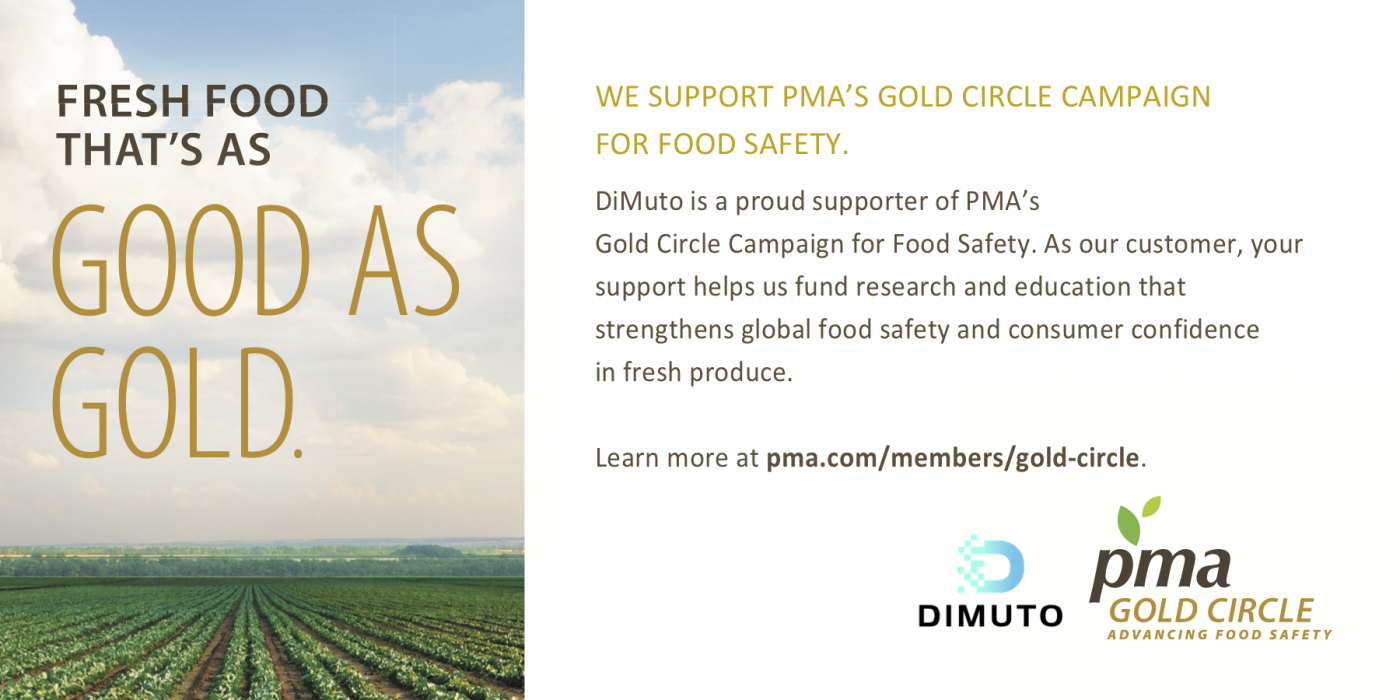 DiMuto commits to raising the bar for food safety and a healthier world through the Produce Marketing Association Gold Circle Campaign for Food Safety
The trade technology service company joins over 350 fresh produce industry players to promote food safety, strengthen consumer confidence, and support increased demand for fresh produce worldwide
Singapore, 2 October 2019
–
DiMuto
, a tech-based trade solutions platform that provides end-to-end supply chain visibility for global businesses, is reinforcing its commitment to food safety by participating in the Produce Marketing Association (PMA) Gold Circle Campaign for Food Safety. The Gold Circle Campaign strengthens global food safety and consumer confidence by focusing on food safety initiatives, industry and consumer research, key partnerships with industry groups, government agencies, and educational events. As part of the PMA Gold Circle Campaign for Food Safety, DiMuto joins more than 350 fresh produce suppliers and buyers – from growers and distributors to retailers, foodservice operators and solutions providers – to promote food safety, strengthen consumer confidence, and support increased demand for fresh produce worldwide. DiMuto's low-cost trade solutions align perfectly with the campaign's objectives, as its Track & Trace blockchain technology seamlessly integrates with supply chain workflows and existing systems. This creates traceability and accountability for each fruit, from farms, factories, cold chain to distribution channels and end consumers. Every single fruit is tagged with a QR label, photographed and tracked at each stage of the supply chain to provide end-to-end, 24/7 visibility from farm to fork. Data is encrypted and loaded onto the distributed digital ledger, enabling verified documents and data to be shared on a single platform, reducing trade disputes over quality and strengthening trust amongst all parties. "We find ourselves aligned with the goals of the PMA Golden Circle Campaign. DiMuto's priority in business has always been to create trust in the global trade and ensuring food safety across the global produce supply chains is an integral step in fostering that trust," said Mr Gary Loh, DiMuto's Founder and Chairman. "We hope greater adoption of our technology can tackle age-old issues of the produce industry globally, not just in terms of food safety, but transparency and food wastage as well." In recent months, DiMuto has secured deals with major global players in the fresh fruits industry, including US-based citrus packer Fancher Creek Packing, Australia-based spaghetti squash trader Morning Glory Enterprise, as well as Thailand's largest durian exporter Queen Frozen Fruit, to tag, track and trace millions of fruits for export to various parts in Asia. DiMuto has been inducted into the GS1 Singapore Solution Partner Program to offer blockchained trade management solutions for member companies of the not-for-profit Global Standards 1 based in Belgium. -end-
About DiMuto
DiMuto is in the business of creating trust. We provide global supply chains with a trade technology platform built on 4Ts: Tracking, Tracing, Transparency and Trust – thus demystifying global trade and enabling collaborative commerce.
 The DiMuto Track & Trace blockchain platform creates end-to-end trade visibility and forms building blocks for further value creation in trade financing, product marketing and data analytics. Since 2018, DiMuto has successfully tracked and traced over millions of pieces in produce and millions in dollars of trade value on our platform. We work with a global portfolio of clients in over seven countries and five continents.
 DiMuto is founded by executive chairman Mr Gary Loh, who is also the Executive Chairman of First Alverstone Group.
For more information, please visit
www.dimuto.io
.
About Produce Marketing Association (PMA)
PMA, a global trade organisation representing companies from every segment of the global fresh produce and floral supply chain, founded the Gold Circle Campaign to address the industry's challenge of increasing food production with fewer resources while bolstering confidence in the safety of fresh fruits and vegetables. In particular, the Campaign funds critical research and education delivered by dozens of research-based organisations, including the Center for Produce Safety (CPS) at the University of California, Davis. CPS focuses on prevention research that delivers real-world solutions applicable to the entire produce supply chain.
To learn more about the Gold Circle Campaign, visit
www.pma.com/members/gold-circle
.
## For media queries, please contact: SEAH Kah Teik Phone : +65 3163 7475 Email : dimuto@kreab.com HuiMin LEE Chief Marketing Officer Email: huimin@dimuto.io