[Press Release]
Launch of World's First Blockchained Fresh Produce Children's Brand SazzyFresh Powered by DiMuto Trade Solutions
SazzyFresh, a global fresh produce brand owned by SLS Atelier, aims to make healthy eating choices fun and engaging for children by introducing the SazzyPets Cartoon characters
SazzyFresh brand of produce, currently retailed at local supermarkets such as Ryan's Grocery in Singapore; plans to enter Australia, Malaysia, Thailand and Indonesia next
Blockchain-powered DiMuto Trade Solutions employed by SazzyFresh to deliver on the brand's promise of safe, traceable, and healthy produce and to communicate the brand story to consumers
Singapore, 16 March 2020 – SazzyFresh, a global fresh produce brand owned by SLS Atelier, has closed a deal with DiMuto, a tech-based trade solutions platform providing end-to-end supply chain visibility for global businesses. Under the agreement, DiMuto will be digitalizing the entire line of SazzyFresh fruits and vegetables on the blockchain-based DiMuto Trade Platform for food traceability and marketing purposes.
SazzyFresh's partnership with DiMuto allows the children's brand to incorporate blockchain technology into its operations for greater supply chain transparency and food traceability. With its supply chain data uploaded on the immutable blockchain, SazzyFresh can now better track its fresh produce products as they move across borders, and better ensure food safety to provide peace of mind for parents when purchasing fresh groceries for young children.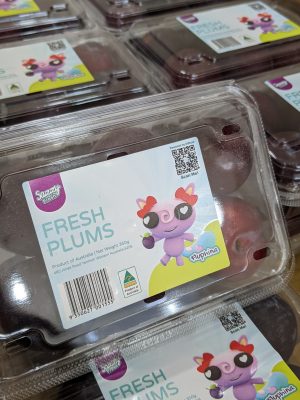 SazzyFresh fresh produce features characters from the children cartoon series SazzyPets
The SazzyFresh brand of fresh produce features cartoon characters from SazzyPets, an animated series created by Singaporean teenager Sarah Loh based on drawings done by her nine-year-old self. The animated cartoon series promotes educational and positive messages from which children can learn, including kindness, being considerate, and healthy eating. All 9 episodes have previously been distributed worldwide on Amazon Prime in US, Germany, Britain and Japan, and are currently available on YouTube Kids.
"SazzyPets started because I wanted to create something that could be enjoyed by kids of all ages," said Sarah Loh, creator and chief editor of SazzyPets. "It is supposed to educate and inspire them to grow up to be good people. I am excited to spread the message of SazzyFresh and make a difference."
Curated with young kids in mind, the SazzyFresh range is an easy, healthy way for young kids to get fresh fruits and veggies. Mirroring the do-good ethos of SazzyPets, healthy eating, food safety, and sustainability are the three main pillars driving the SazzyFresh brand. With consumers demanding "perfect produce", fruits and vegetables deemed too small often go to waste as suppliers fail to find a market for them. By creating a children's brand with such fruits, SazzyFresh encourages healthy eating in their young audience while tackling food waste.
The deal with DiMuto allows SazzyFresh to track and trace its fresh produce from farm to fork and to share the relevant supply chain blockchain data with end consumers. Using DiMuto QR codes and Sales & Marketing Awareness & Retention Tool (SMART) solution, SazzyFresh is able to communicate their brand story and focus on food traceability to consumers. When consumers scan the DiMuto QR codes tagged to individual SazzyFresh produce, they are able to see the origin of their product, obtain information about the farm and growing practices, as well as learn new recipes and participate in exciting lucky draws.
"DiMuto is proud to support SazzyFresh and help deliver its brand promise with our technology," said Gary Loh, Founder and Chief Executive Officer of DiMuto. "The DiMuto Trade Solutions Platform allows food brands like SazzyFresh to truly track and trace its offerings and communicate the brand mission of delivering sustainable, safe, healthy produce to parents and young children."
SazzyFresh produce are now available on retail shelves in Singapore. The SazzyFresh Fresh Plums from Western Australia are currently retailed at the Singapore outlets of Ryan's Grocery, an international specialist food retailer offering premium alternative gourmet, organic, gluten-, allergen- and preservative-free specialty foods.
SazzyFresh is deeply committed to working with supply chain partners who share a common vision and to supporting social initiatives for sustainability and giving back. SazzyFresh will donate a portion of all sales proceeds to The Global Mangrove Trust, a Singaporean non-profit that is coordinating global mangrove reforestation efforts with at-risk, coastal communities around Southeast Asia and generating livelihoods for families and women in particular in tree planting, forest conservation, artisanal fishing and aquaculture.
Simon Schillebeeckx, Co-Founder and Director of Global Mangrove Trust explains more "Mangroves sequester up to ten times more carbon than temperate forests, and protect coastal communities and their natural ecosystems against cyclone, typhoons and coastal flooding aggravated by climate change. The Global Mangrove Trust is happy to work together with vanguard brands like SazzyFresh to create real and immediately impact efforts for sustainability. We look forward to planting more mangrove trees and strengthening Earth's green lungs with support from visionary leaders like SazzyFresh and its customers."
As part of the DiMuto Global Trade Network, SazzyFresh is also planning to expand its selection of fresh produce into international markets in the upcoming months. SazzyFresh will launch more offerings such as mini apples, mandarin oranges and cherry tomatoes to export markets such as Thailand, Indonesia and Malaysia.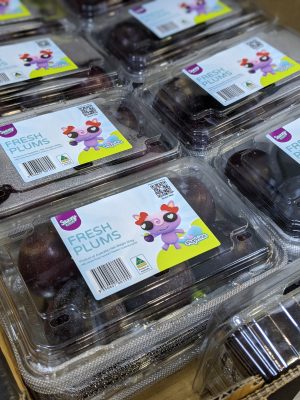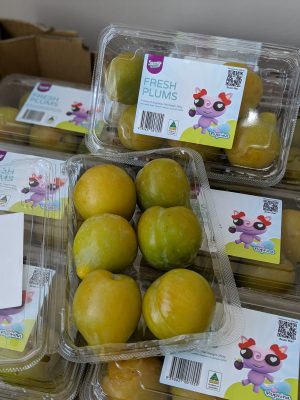 Every carton and punnet of SazzyFresh Western Australian Plums has been digitalized with DiMuto QR Codes and tracked on the DiMuto Trade Platform
-end-
About SazzyPets
SazzyPets, an animated cartoon series for children, is designed, licensed and produced by SLS Atelier Pte Ltd. The company also produces SazzyPets products that include stationery, school supplies and gifts. In addition, the company has developed Sazzypets.com, a virtual world and online game aimed at children between 4-8, which allows users to socialize and play educational puzzles. SLS Atelier also takes part in financing, movie, drama, lifestyle production and publishing.
SLS Atelier is a media company owned by First Alverstone Partners Pte Ltd ("FAPL") whose shareholders are Mr Gary Loh and Ms Selena Cheng (Mr Gary Loh's wife). SLS Atelier has developed a Cartoon Series titled "SazzyPets" ("SazzyPets") TV animation series.
About DiMuto
DiMuto is in the business of creating trust. We provide global supply chains with a trade technology platform built on 4Ts: Tracking, Tracing, Transparency and Trust – thus demystifying global trade and enabling collaborative commerce.
The DiMuto Track & Trace blockchain platform creates end-to-end trade visibility and forms building blocks for further value creation in trade financing, product marketing and data analytics. Since 2018, DiMuto has successfully tracked and traced over millions of pieces in produce and millions in dollars of trade value on our platform. We work with a global portfolio of clients in over seven countries and five continents.
DiMuto is founded by executive chairman Mr Gary Loh, who is also the Executive Chairman of First Alverstone Group. For more information, please visit www.dimuto.io.
About Global Mangrove Trust
Global Mangrove Trust is a non-profit organisation based in Singapore, led by a team of multidisciplinary innovators, educators and environmentalists; and supported by an advisory board of forward-thinking individuals and organisations. Our goal is to plant as many trees as possible, as quickly as possible, and ensure those trees grow into forests. To achieve this, we are building a peer-to-peer funding, financial traceability, and forest growth verification platform that will drastically lower costs in the market for sustainability impact. Come join us at www.globalmangrove.org
##
For media queries, please contact:
HuiMin LEE
Phone : +65 6275 1611
Email : contact_us@dimuto.io
–
As featured on the news: