Sustainability can be simply defined as "meeting the needs of the present without compromising the ability of future generations to meet their own needs." How can AgriFood companies of today achieve this seemingly loft vision?
Across industries, companies are now dedicated to regularly measuring their sustainability performance through sustainability reporting. According to KPMG's biennial Survey of Sustainability Reporting 2022, a whopping 96% of the world's 250 largest companies have reported their sustainability or ESG (environmental, social, and governance) matters.
Despite such high sustainability reporting rates, it's difficult to determine if companies are becoming inherently more sustainable. This is especially alarming given the increase in global carbon emissions to record highs of 415.7 parts per million in 2021, which is 149% of pre-industrial levels. This is because of the complexity of global supply chains, especially more so for larger companies that often rely on partners, vendors and suppliers around the world to fulfil products and services, making it difficult to match reported metrics to what's actually happening on the ground.
It is no wonder that scientists are still issuing looming warnings of the impending climate crisis, and time is too early to tell if the pivot to green investing and ESG investing yields actual positive impacts.
The FAO estimates that 31%, or 16.5 billion tonnes of carbon dioxide equivalents, of greenhouse gas emissions comes from the Agrifood supply chain. With the AgriFood industry being one of the key contributors to global emissions yet one of the least digitized industries, we need to make sure sustainability reporting, when adopted by AgriFood companies, results in actual positive sustainability changes.
Image: Person holding compost bin
How can DiMuto help?
DiMuto offers a farm-to-fork solution that captures critical data points with our solutions, that can eliminate data silos to form an accurate picture of sustainability levels. Our blockchain-powered solution helps to ensure immutability, showing the who, what and when of data inputs and creating foundation of trust.
We help to record:
Farm Management Data
Such as fertilizer, water, electricity usage
Production Management Data
Such as raw materials used for packaging, utilities and more
Trade Management Data
Such as carbon footprint from sea shipments and air shipments
Inspection Management Data
Such as quality rejections, disposal levels and more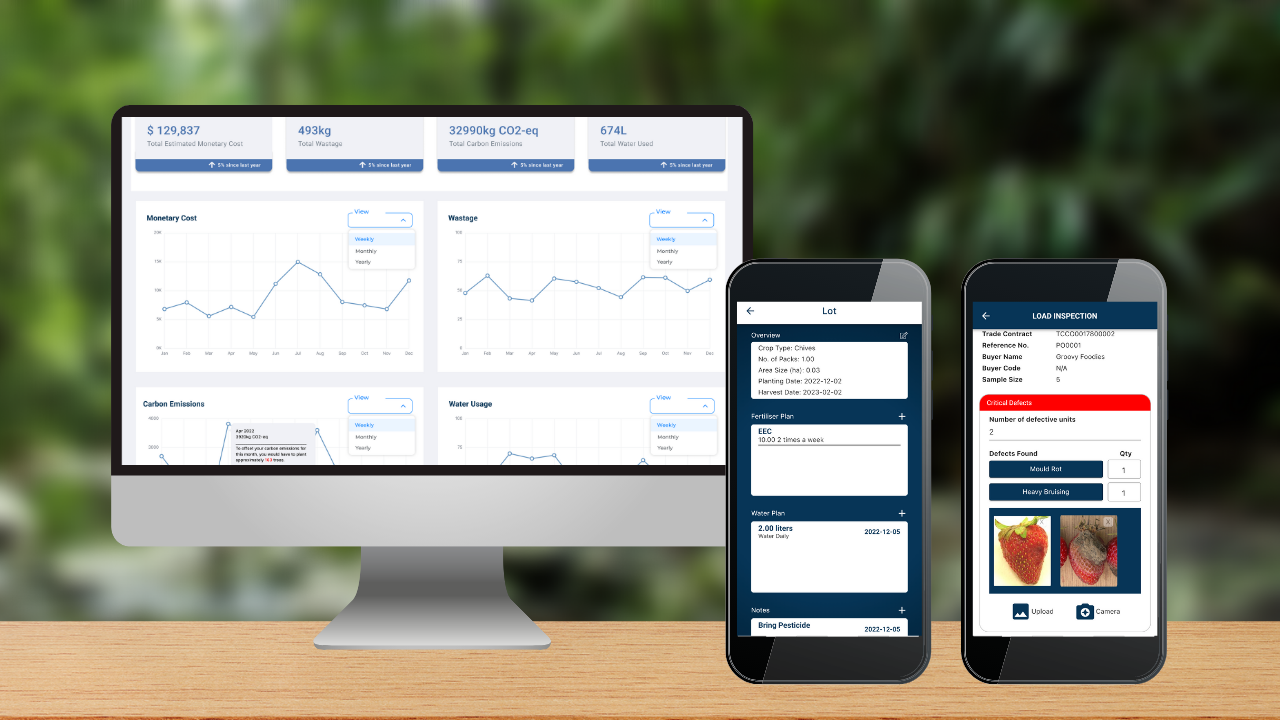 Image: L to R, DiMuto's Sustainability Management Dashboard on Desktop, DiMuto's Farm Management on Mobile Application, DiMuto's Inspection Management on Mobile Application
For instance, the DiMuto Farm App records harvest and field data of smallholder farmers, connecting it to the packhouse production data and procurement data. This is especially important as 94% of agriculture workers are involved in the informal economy, according to the OECD.
Our solution also captures pre-shipment and post-shipment rejection data points to calculate real-time food waste level data, helping AgriFood companies to easily gain visibility on not just upstream but also downstream impacts, enabling more accurate Scope 1, 2 and 3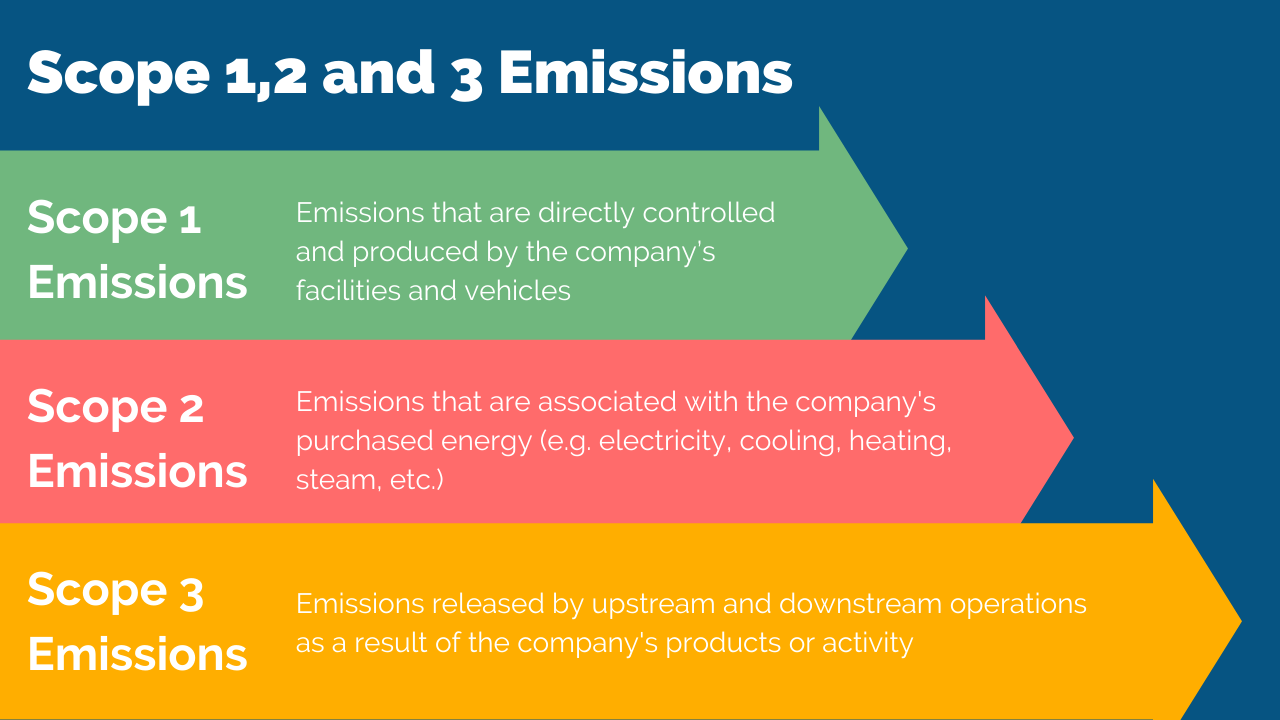 Image: Infographic of Scope 1, 2 and 3 Emissions
4 Key Metrics we help to measure and help AgriFood business owners to gain visibility on:
Monetary Costs
Show opportunities to improve efficiency, sustainability, and long-term cost savings
Food Waste
Highlight source of unnecessary greenhouse gas emissions and waste
Carbon Emissions
Understand energy efficiency of their products' carbon footprint
Water Usage
See water footprint of their products and help ensure a resilient and safe water supply
These 4 key data types are then aggregated automatically on DiMuto's Sustainability Management Dashboard. This dashboard helps Agrifood business owners to easily see the environmental impact of their operations and follow product lifecycles in real-time with useful metrics, which can be immediately generated into a report for it to be shared with relevant parties.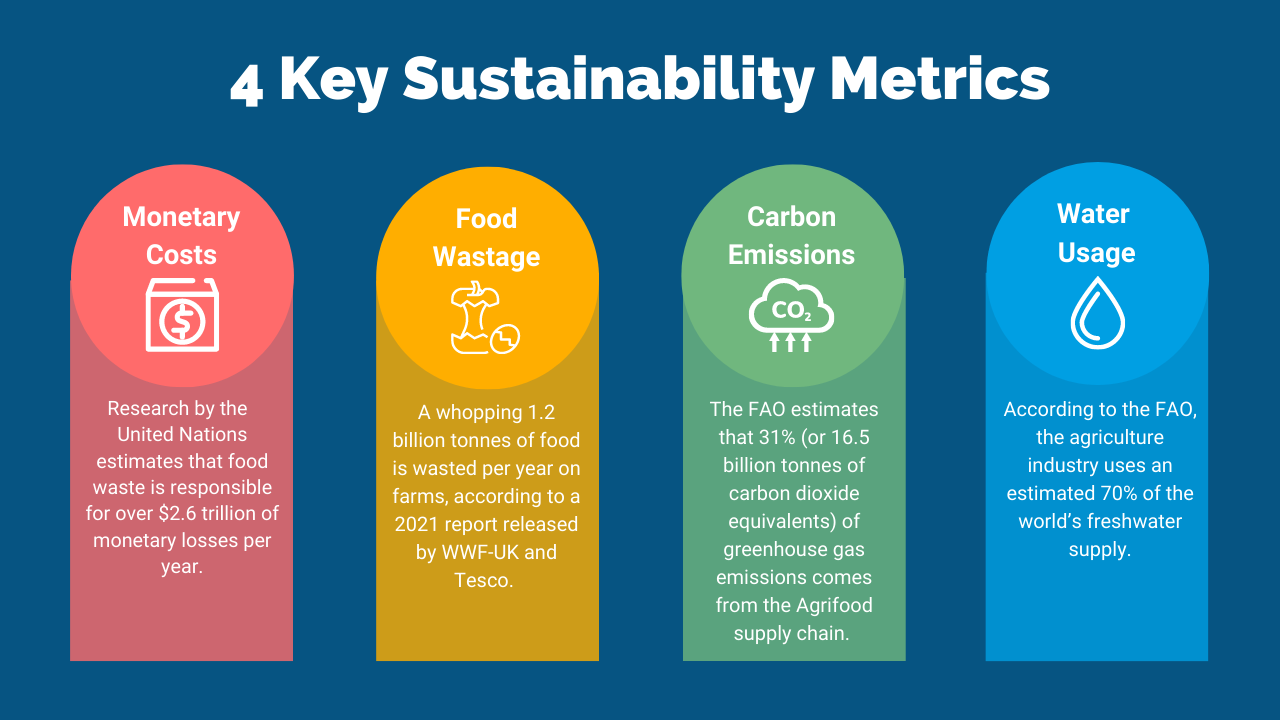 Image: Infographic of 4 Key Sustainability Metrics with statistics
AgriFood companies can now track and record accurate primary data, ensuring the reliability and efficiency of sustainability reporting of environmental metrics.
Capturing and analysing this data regularly and reliably empowers Agrifood business owners to identify opportunities for sustainable improvements, assess their progress, and determine new targets, helping to fuel a data-driven movement of food sustainability.
This is not to say that DiMuto is a magic bullet that can solve food sustainability, but working towards shedding light on real-live on the ground data through the supply chain, will help to build a more accurate picture on our sustainability progress, and allow us to work towards creating better standards of sustainability for the AgriFood industry.
If you are interested to learn more about how DiMuto helps improve sustainability of food systems for global AgriFood trade, reach us at sales@dimuto.io.