Colombia, 24 April 2023 – DiMuto, a global Agri-FinTech company, strengthens its presence in Latin America with the latest financing of Colombian fresh produce exporter Montana Fruits. The deal will first see DiMuto leverage its AI-powered financing solution to finance Montana Fruits' exports to Europe, before expanding to its other export markets such as United States and Asia.
DiMuto Financial Services provides data-backed, AI-powered trade financing solutions to AgriFood companies conducting international trade. The solution uses live, transactional data regarding product quality, payment timeliness and status, and disputes all tracked on the DiMuto Platform to accurately assess creditworthiness of applicants.
Montana Fruits is a Colombian packer and exporter of high-quality fresh produce items including avocados, as well as tropical items such as passionfruit and Tahiti limes. As part of its commitment to sustainability, Montana Fruits work with bees in its crop pollination process to support bee populations, and the diversity of food crops. Montana Fruits also supports the well-being of their farmers and provides training and fair market rates for harvests. The company holds a wide range of industry standards and certifications that include Global Good Agricultural Practices (G.A.P), Sedex Members Ethical Trade Audit (SMETA), Rainforest Alliance Certification. The company's main market is in Europe, with up-and-coming markets including United States and Asia. Montana Fruits processes around 400 containers a year, and exports over US$7 million worth of fresh produce.
"We are grateful to have DiMuto as our financing partner. Their expertise, experience, and commitment to providing financing for the AgriFood trade is invaluable to our business. With their support, we can continue to grow our export operations and reach new markets," said Mauricio Moranth Zuluaga, General Manager of Montana Fruits and Board Member of Colombia Avocado Board (CAB).
DiMuto Financial Services utilizes a two-tier AI algorithm to determine financing risks for each trade. The company's proprietary Product Quality AI will be applied on every single carton of fresh produce tracked with DiMuto QR labels to get visibility on overall pre-shipment and post shipment product quality. In addition, DiMuto Trade Health AI will execute financial health scoring based on not just historical financial statements, credit reports, business performance data but also the real-time trade information and documents uploaded on the DiMuto Platform.
This helps financiers to gain deeper visibility on the operational and financial profile of borrowers, as well as allow financing applicants to have more accurate risks assessments and more flexible terms. DiMuto Financial Services can be a game-changer for AgriFood companies looking to improve cash flow and unlock capital to further support business growth.
The data-driven supply chain visibility created by DiMuto also provides significant sustainability insights via the DiMuto Sustainability Management dashboard. With its ability to track every single carton of products from farm to fork, DiMuto can accurately estimate the carbon footprint of AgriFood companies. Such data regarding sustainability metrics can also be made readily available to financiers, who can now conduct due diligence with data visibility and ensure funds invested fulfill sustainability objectives.
"Data-backed sustainable financing is a key focus in DiMuto's mission to redefine global trade. We want to make sure that we have on-the-ground visibility of the companies we finance as they put in the good work on their sustainability journey. That is why we are very pleased to announce the financing deal with Montana Fruits," said Gary Loh, Founder and Chief Executive Officer of DiMuto. "We look forward to supporting the growth of Colombian agricultural exports with our financial services."
In Colombia, the fresh agricultural export sector continues to perform strongly with exports of Colombian produce expected to grow despite the global economic slowdown. For instance, exports of passionfruit grew 25.8% during the first seven months of 2022 while Colombia's exports of Hass avocados to Europe grew 41% between 2016 to 2021 and 58% in the US just last year.
Montana Fruits is also working with DiMuto via the DiMuto Marketplace, a B2B AgriFood marketplace, to tap on the company's strong network in Asia and grow their export business. The innovate DiMuto Marketplace connects traceable buyers and sellers in the AgriFood industry, providing access to high quality products with supply chain visibility. The marketplace offers a wide range of fresh produce, manufactured foods, and seafood products for potential buyers, enabling quick and efficient sourcing.
DiMuto's financing deal with Montana fruits follows closely after the announcement of their financing deal with Grupo Paisano, a Mexican grower-exporter of fresh produce items ranging from avocados, berries, mangoes, limes and more. The move is part of the company's efforts to bolster its presence in Latin America as it works to power global AgriFood trade with data visibility and finance for a more sustainable food system.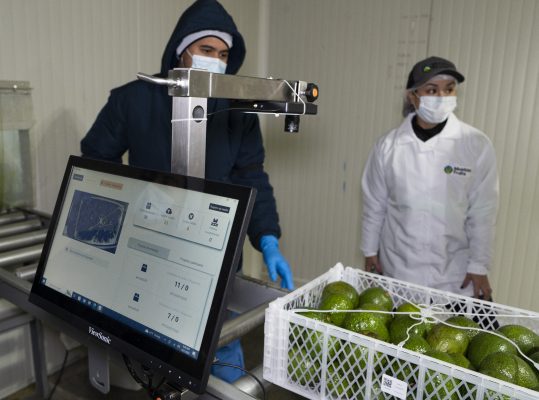 DiMuto DACKY device and DID labels implemented on Montana avocados in Montana's packing facilities.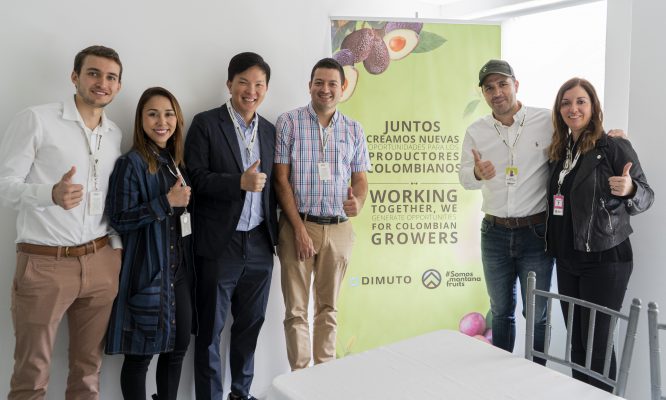 DiMuto and Montana team (L to R: Miguel Giraldo (Regional Account Manager, DiMuto), Natalia Moranth (Co-founder & Sales Manager, Montana), Gary Loh (Founder & CEO, DiMuto), José Aristizabal (CEO, Montana), & Mauricio Moranth (Co-founder & Production Manager, Montana), Julie Escobar (CCO, DiMuto))
-end-
About Montana Fruits
Montana Fruits was established in August 2018. We are a Colombian company dedicated to the export of carefully selected passionfruit, avocado, and lime, always offering the best quality products to meet the highest standards. Our team is made up of an interdisciplinary group of experts, in different areas of the supply chain, from planting crops, through supply, selection and packaging, logistics, until the final commercialization.
We differentiate ourselves in the market due to our high-quality standards, as well as offering technical support and accompaniment to our producers and clients.
Our goal is to be recognized nationally and internationally for our quality standards, rigorous certification process, secure supply chain, and trust in our customers and suppliers.
Visit www.montanafruits.com for more information.
About DiMuto
DiMuto is an AgriFood Trade Solutions that powers global AgriFood Trade with Visibility and Financing. With its three pillars of Marketplace, Trade Management, and Trade Financing, DiMuto simplifies every step of global trade. From produce, trade to market, DiMuto provide sales, marketing, operations, financing, and insurance tools so agribusinesses can get the data visibility they need to trade better and grow greater.
With Visible Trade, DiMuto powers companies and the world forward with confidence as we help create a more efficient, transparent, and measurable ecosystem of sustainable global AgriFood trade.
Since 2019, DiMuto has successfully tracked and traced over millions of pieces in produce and millions in dollars of trade value on our platform, working with a global portfolio of clients in over ten countries and five continents. DiMuto is founded by Chief Executive Officer Mr Gary Loh, who is also the Executive Chairman of First Alverstone Group.
For more information, please visit www.dimuto.io