This is the third article in the series "The Digital Supply Chain". This series explores what is digitalization, reasons for digitalization and best methods for digitalization of agri-food supply chains.
Trade Financing is Essential to Global Trade
According to the WTO, trade financing powers over 80% to 90% of global trade worth $15trn a year.  Importers, or buyers, naturally want to make payments as late as possible, often having longer payment terms while exporters, or sellers, need to obtain payments for their goods immediately – creating a conflict of interest at the crux of this business relationship. Thus, import and export transactions are heavily dependent on trade financing, which facilitates the trade process of exporters receiving payments and importers receiving their goods.
Challenges faced by fresh produce growers doing global trade
For the fresh produce trade, valued at $115bn in 2017, the sheer volume of transactions and transportation which must be conducted across borders in order to ensure buyers have consistent supplies of fruit can cause severe cash flow issues in otherwise healthy accounts receivable. This is compounded by the fact that revenue streams are affected by the seasonality of the industry, making managing cash flow critical for sustainable growth in the produce trade. For instance, without additional working capital, produce exporters would find it challenging to reach their goals of expanding to new markets and strengthening their relationships with current customers.
Challenges faced by SMEs
Small and medium businesses often have very limited access to loans and other forms of interim financing to cover the cost of goods they plan to buy or sell. Even with a confirmed purchase order, many banks typically still will not provide loans for such transactions. A global survey conducted by Asian Development Bank, reveals a global trade finance gap of a staggering $1.5 trn in 2019, with over 40% of SME trade finance applications being rejected by banks.
According to a report from the International Trade Centre, a joint agency of the WHO and United Nations, main barriers to SME financing include long and tedious process of assessing, monitoring and managing SME loans translating to high costs of SME loans. This is due to a lack of readily available and verifiable information on the company's background, financial statements, credit histories, as well as a lack of available collateral and an efficient way to verify the quality of the collateral.
Thus, for small and medium agrifood and produce players, getting the trade financing they need to grow their produce trade business is a problem.
How Digitalizing Produce Can Solve The Problem
Digitalized produce can help small and medium produce businesses overcome such barriers and get access to trade financing. As mentioned in our previous article, digitalised produce is simply a physical produce that has a digital identity. At DiMuto, we help to digitalise produce by tagging each fruit or vegetable with a QR Label. The QR Label acts as a digital identifier for each fruit and contains data pertaining to the fruit.
Hence, when you digitalize physical assets such as produce, asset tracking is now possible – the identity, movement and condition of individual products and cartons can now be easily tracked and traced, improving the economic lifetime of such physical products as found in a study by the Community of Practice consisting of Rabobank, Allen & Overy, Schiphol Group, Avery Dennison on behalf of the NBA (The Royal Netherlands Institute of Chartered Accountants), Circularise, Everledger, Fairphone, Sustainable Finance Lab and Circle Economy. Transparency on the information, movement, and condition of assets gives produce companies a better grip on their assets and hence might improve the value of the asset as collateral to underwrite a loan. As tracking of these assets improves the accuracy of forecasted cash flows and control over assets, it lowers the risk profile of produce businesses and increases their chances to obtain funding.
DiMuto helps agrifood and produce companies to digitalize their produce by providing physical asset digitalization – meaning we assign a digital identity to every single physical produce, and are able to capture a photo of each carton and product before each carton is sealed, upload this photo and associate it to the specific sales order it was packed for. The visual photo ascertaining the quality of the produce, as well as the ability to trace and track individual physical produce can make the verification of collateral quality more efficient and verifiable, lowering the barriers to trade financing for agrifood players, particularly small and medium growers, packers, and buyers that do not traditionally have such access to such financing.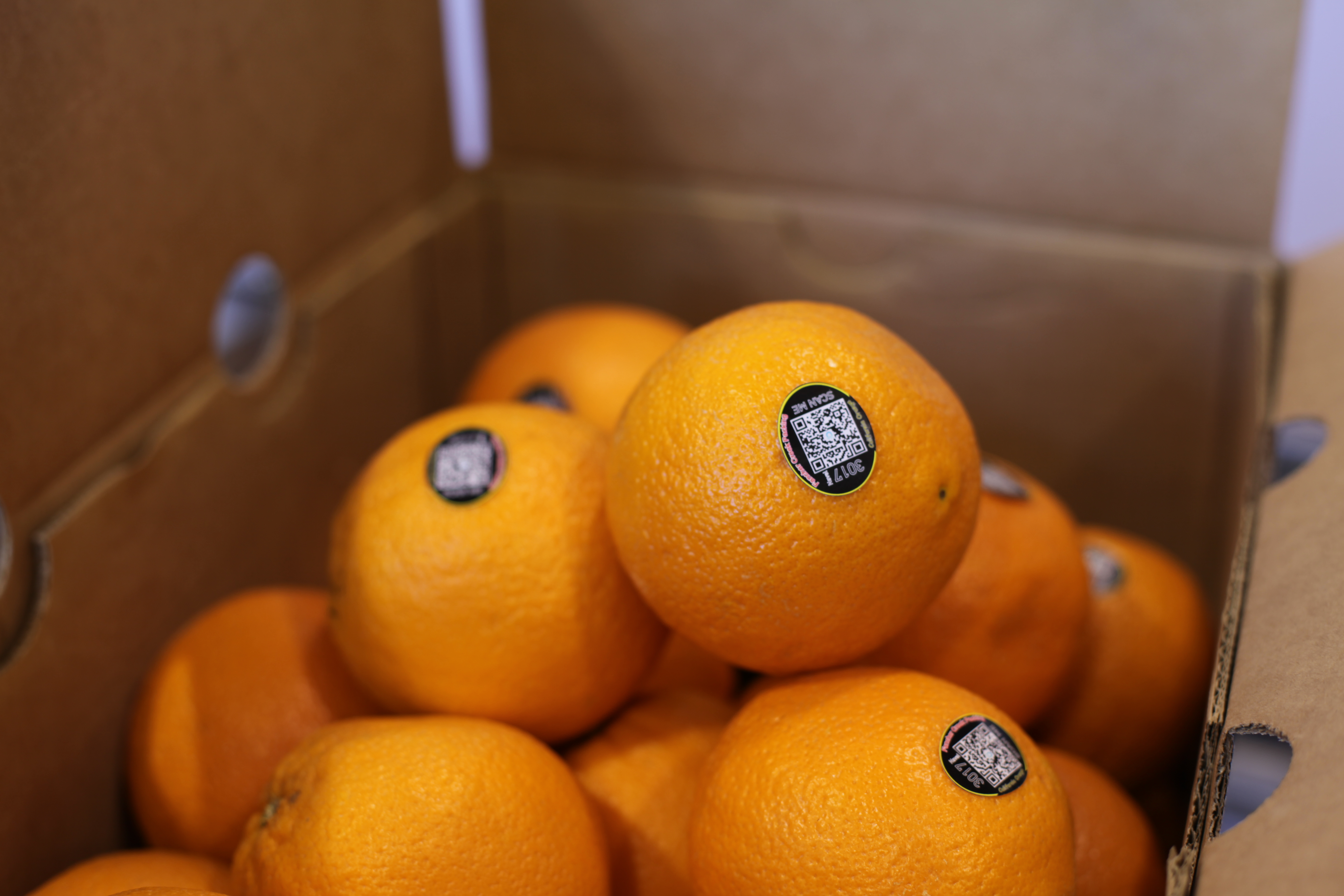 Every fruit now has a digital identity thanks to DiMuto QR codes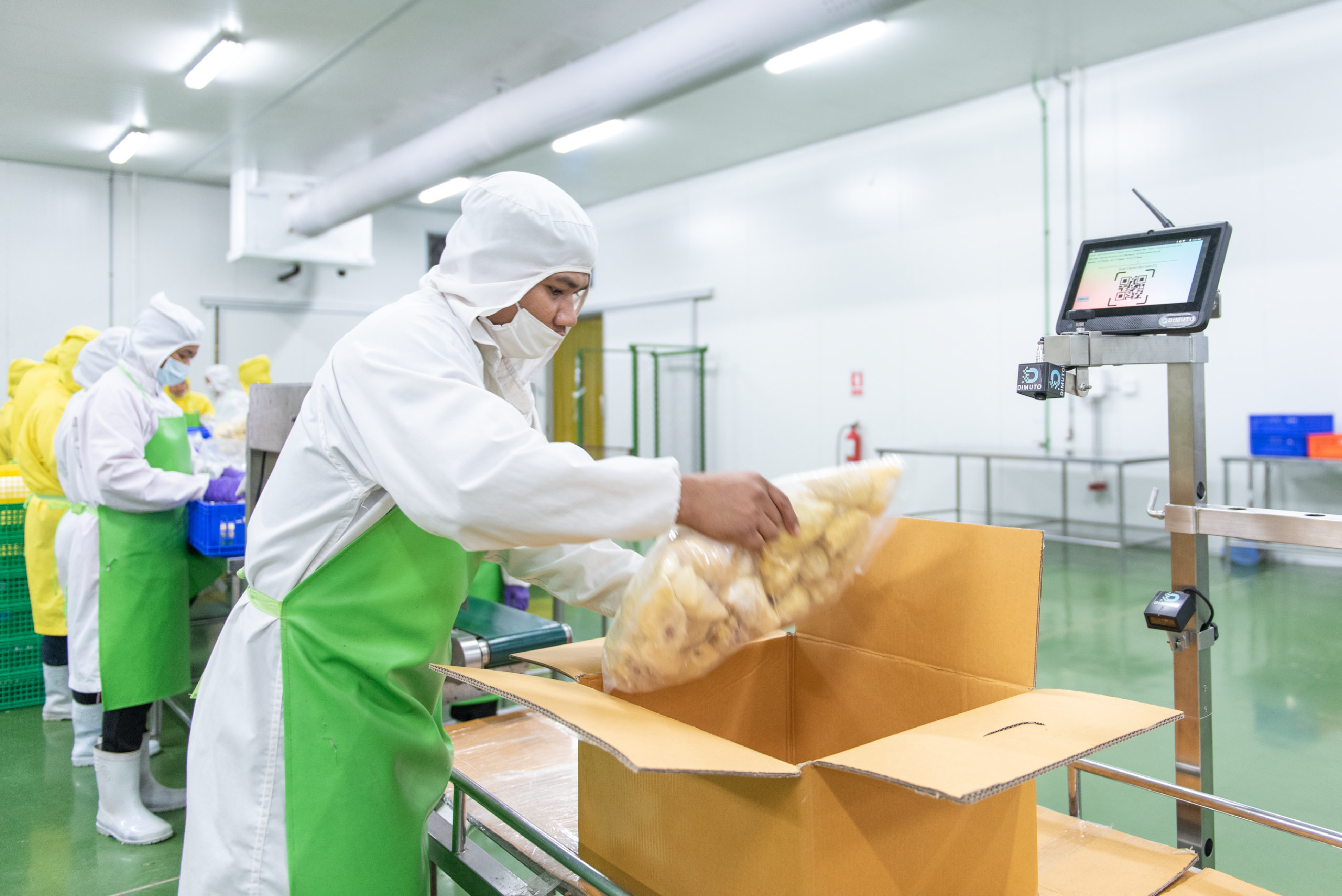 At the packhouse: Our Digital Asset Creation machine, otherwise known as DACky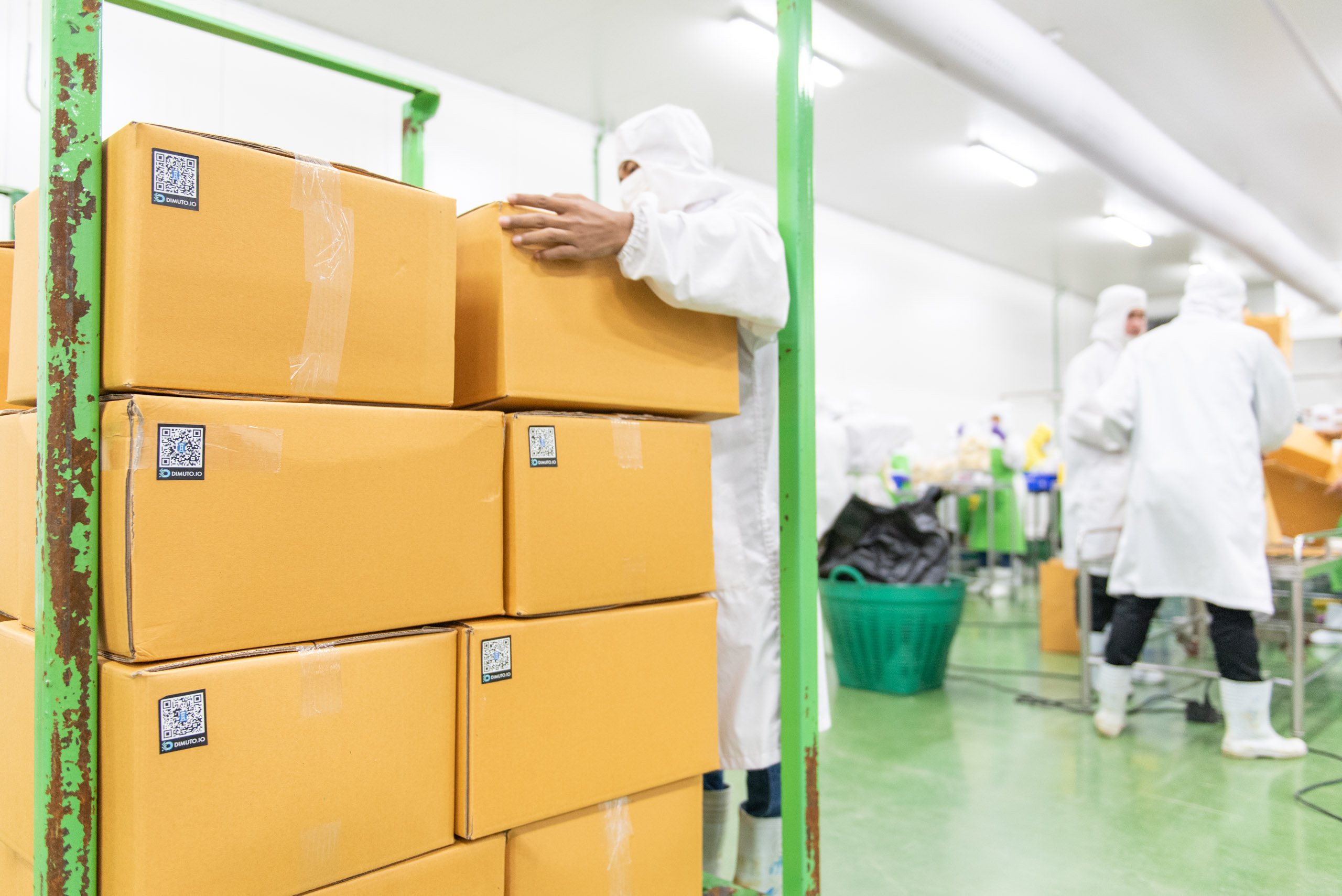 Every carton has an identity and can now be tracked
Learn more about how we digitalize produce via the video above
DiMuto Trade Solutions
However, digitalizing produce is just one part of the equation. A platform that is able to collect and verify all the information regarding the produce is equally important. That is why DiMuto's trade platform is blockchain-enabled. With its ability to upload immutable trade documents, blockchain has the potential to share verified documents relating to each trade in a secure and efficient manner.
The moment a physical asset like fresh produce can be digitalized, businesses can easily track not only the movement of the product but also critical product information such as quality, health certificates, certificate of origins, product photos tagged to the specific individual product, as well as relevant trade documents surrounding each supply chain transaction.
Such data is first captured in secure, sequenced blocks of information under the product's digital identity and automatically uploaded onto our blockchain-powered Track & Trace Trade Platform. This means that all the related information needed when trying to apply for trade financing is now readily available on our platform.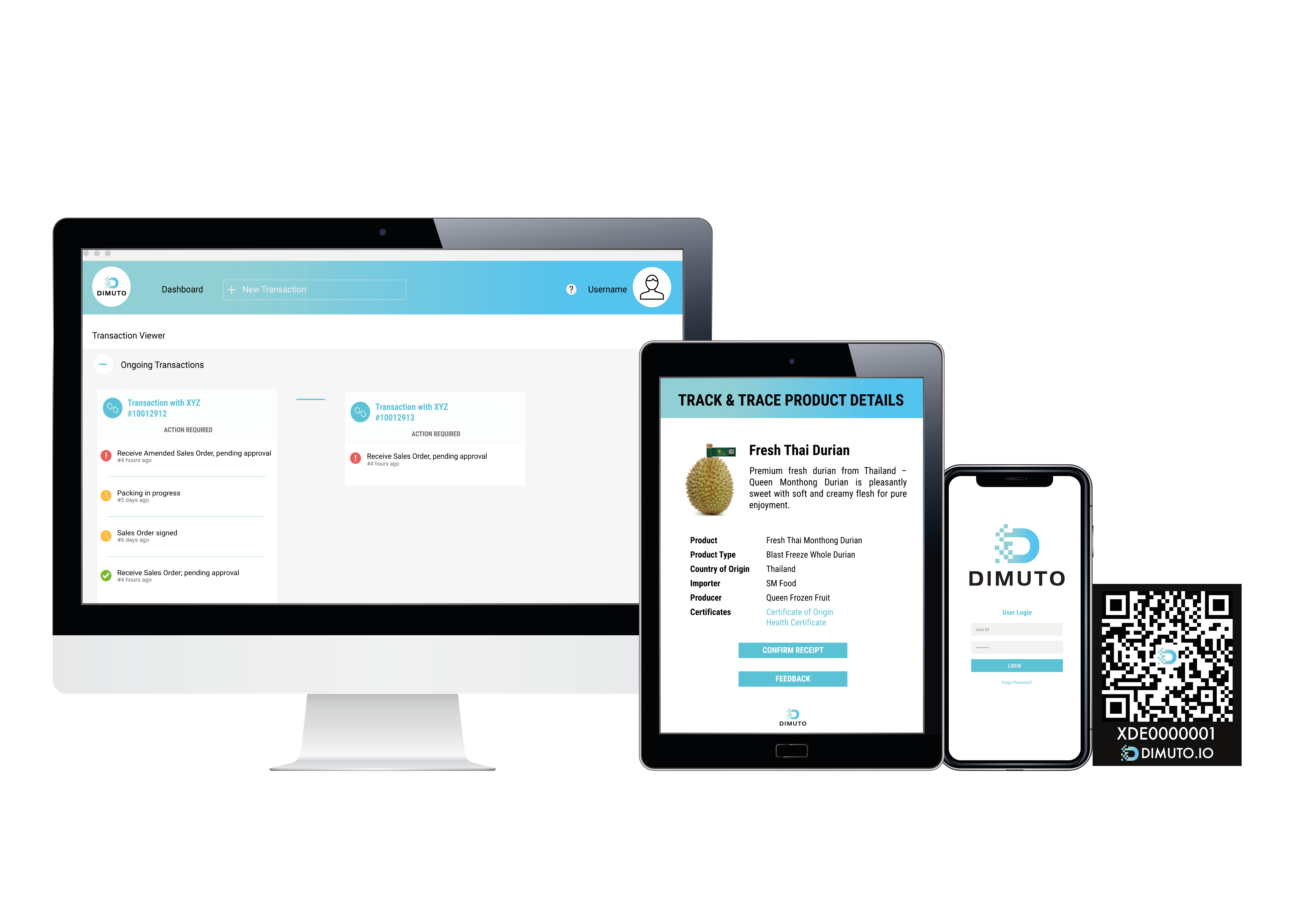 We then work with financiers, who because of the transparency of information gathered onto our platform, have greater confidence in providing financing for such produce trades of our customers. We recently helped to finance US$2 million worth of durian trades, which you can read more about it here.
If you are interested to learn more about how DiMuto helps create traceability for fresh produce, please reach us here or drop us an email at sales@dimuto.io.