One of the key benefits of digitalizing agrifood supply chains is being able to trace and track food products more easily, thus having more visibility of food supply chains. In lieu of food safety scares, food fraud and food sustainability, food traceability has become a prominent area of focus for many food industry players, food and health authorities, as well as solutions providers.
Consumers Want Greater Levels of Traceability
There has been a burgeoning focus on food journeys and origins as consumers now want to know more about the origins of foods they're purchasing and consuming. A survey done by the International Food Information Council (IFIC) Foundation found that over half of US consumers surveyed indicated that recognizing the ingredients and understanding where food is from as key factors that affect purchasing decisions. In the UK, 8 in 10 consumers check the origin of their food when purchasing them – ensuring that their food originates from where it is advertised as coming from is important to them.
And the need for traceability and focus on food origins is likely to continue growing. The Center for Food Integrity predicts the number of consumers concerned about the origin of their food will hit nearly 50 million by 2021, with a significant number of them from the younger generation, who are typically more concerned with ethical food choices.
Information about origins and methods of production, with its storytelling ability, comes with huge marketing opportunities to shape the narrative of our foods. Research conducted by the University of Copenhagen's Future Consumer Lab found that consumers tend to think food tastes better when they know where it came from and how it was made.
Thus, there is a real need for players in the food ecosystem such as food manufacturers, produce growers and suppliers, retailers to meet the demand for such information about their products.
Food Safety Concerns Continue in Asia
According to the FAO, food safety continues to be a concern in Asia. The infant milk powder fraud in China back in 2008, otherwise known as the melamine milk crisis, resulted in the death of at least six babies and a swift response to improve food safety regulations and practices throughout Asia. During the world's first Food Safety Day in 2019, FAO said that the Asia-Pacific region has a poor track record when it comes to preventing foodborne illnesses, resulting in the deaths of 225,000 people each year, and affecting over 275 million people annually. This shows that there is much to be done still when it comes to food safety.
In Singapore, food safety is also top of mind. The government set out a 30 by 30 mandate in 2019, aiming 30% of Singapore's food supply has to be homegrown to bolster its food security by 2030. A new statutory board, Singapore Food Agency, has also been created to focus on food safety and food security.
Food safety scares also carries heavy burdens on companies –  Food recalls cost companies an average of $10 million in direct costs alone and reputational damages. Consumers are wary to purchase products that were previously recalled or deemed unsafe for consumption –  A Harris Interactive survey shows that 16% of consumers would never buy a recalled food product again, and 17% of people impacted by a recall would not buy any product from the same manufacturer.
Challenges of Food Traceability Due to Globalized Supply Chains
Between 2000 and 2016, world agricultural trade increased more than threefold in value, rising to USD 1.6 trillion in 2016. While this burgeoning trade provides more food options on our plates, it also creates new risks. With longer and more complex supply chains giving rise to the "Messy Middle", tracking from farm to fork requires increased scrutiny and accountability throughout the process.
The difficulty here is that each stage of the supply chain depends on one another for full visibility. One weak link could break the whole flow of information, which traceability heavily relies on. It is more difficult to ensure that ingredients and finished products are safe to eat when the responsibility for food safety is spread over many different business partners, as most do not know each other and information is all over the place, yet they all have to work as one to ensure food remains free from contamination at every stage of the supply chain.
Traceability Technologies
With the challenges of food traceability, several traceability technologies have popped up to tackle the problem. There are four aspects to traceability:
1. What is The Data Being Captured 
Details about the product information such as origins, company involved, product health certificates and certificates of origins should be captured.
At the same time, product information is closely related to trade information – i.e. purchase orders, sales orders, invoices all should be captured alongside the product information such that we can easily track and trace the movement of the product as it exchanges hands.
2. How is the Data Being Captured
It would be infinitely complex to try and capture all this information at every single stage of the supply chain. A clever way to capture essential information would be to capture the data at a point of aggregation in the supply chain. For instance, DiMuto helps packing houses to digitalize their fresh and frozen produce, and capture relevant product and trade information for each product and it has worked because packing houses would have the relevant farm information from the farms they purchase from.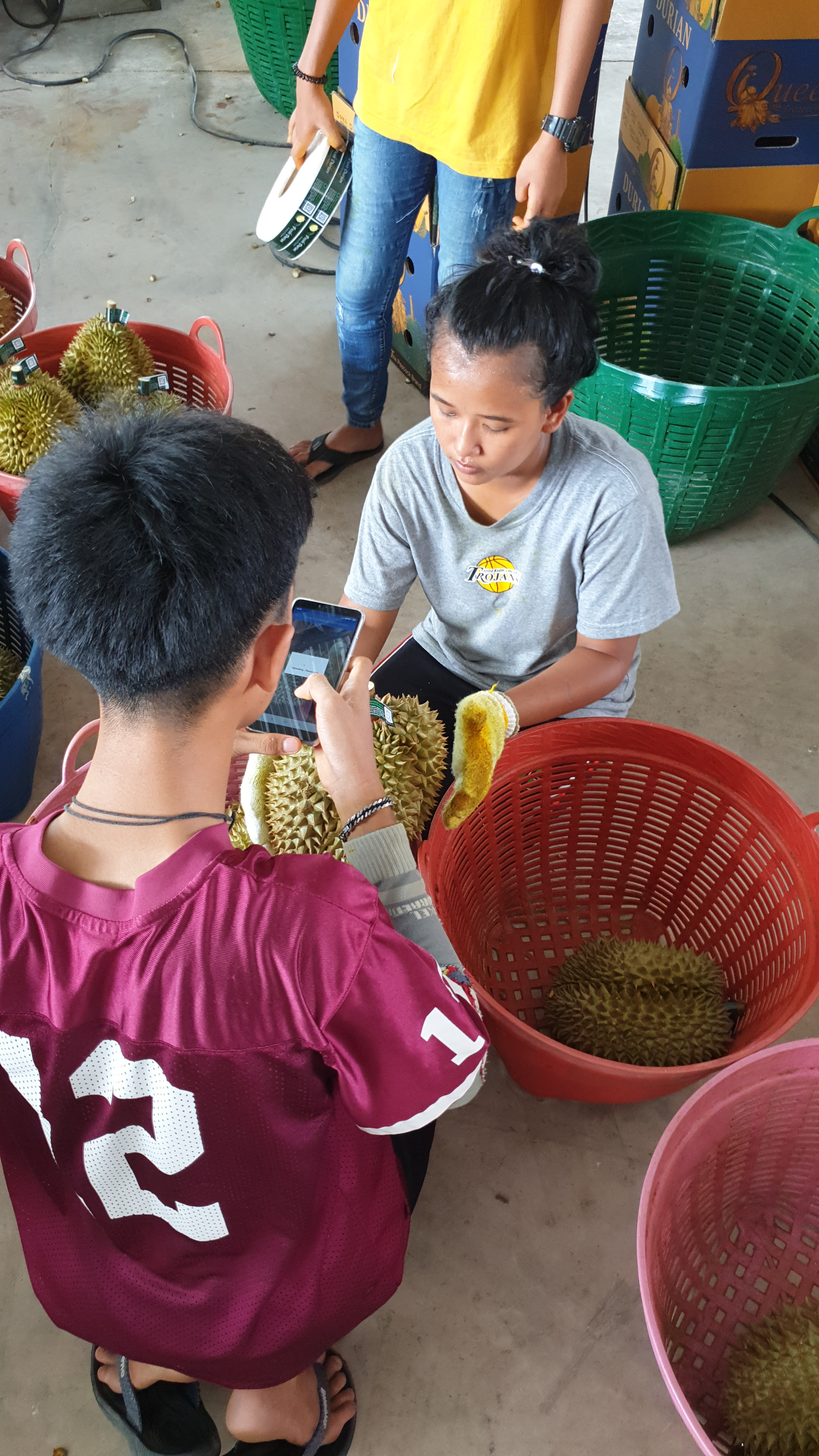 DiMuto technology used at the largest Thai Durian exporter's packing house
Then the question of how to efficiently digitalize each product and associate to the data that we are capturing arises. The operational aspect of tagging and tracking each physical item also comes into question as every company has different operations across the various markets.
Firstly, easy-to-scan produce codes have to be implemented to allow easy, digital identification of products. Universal standards have to be created and adhered to so that the identification code can easily be used and read by all partners in the supply chain, including consumers. For instance, GS1, the most widely-used supply chain standards system in the world, has introduced a GS1 QR Code standards that DiMuto has adopted.
Then, using our propriety DACky machines, DiMuto is able to assign a digital identity to every single physical produce, and are able to capture a photo of each carton and product before each carton is sealed, upload this photo and associate it to the specific sales order it was packed for. Thus linking the physical product to the relevant digital data for traceability of both product and trade.
3. Where is the Data Stored
Supply chain players have turned to blockchain technology as a new, effective way to build trust due to its ability to validate, record, as well as distribute transactions in immutable, encrypted ledgers.
DiMuto uses blockchain, AI and IoT in our Track & Trace platform to provide supply chain partners full visibility. It is important to note that blockchain does not prevent errors, but instead places responsibility on the supply chain players with regards to what they declare. What anyone declares, whether it is right or wrong, voluntarily or not, will be analyzed and processed thanks to the immutability of the source of each data. Thus, we are able to show who made the error, and what was the error, if any, in each trade.
4. How Can We Communicate the Data Effectively? 
At the same time, besides solving traceability amongst B2B supply chain partners, traceability solutions have to link back to the end consumers who are ultimately the ones demanding for higher transparency. This is where the easy-to-scan codes come in, as the DiMuto QR labels are easily scanned by consumers to access the relevant information about the product.
We also provide a consumer marketing solution that can help companies to brand their products.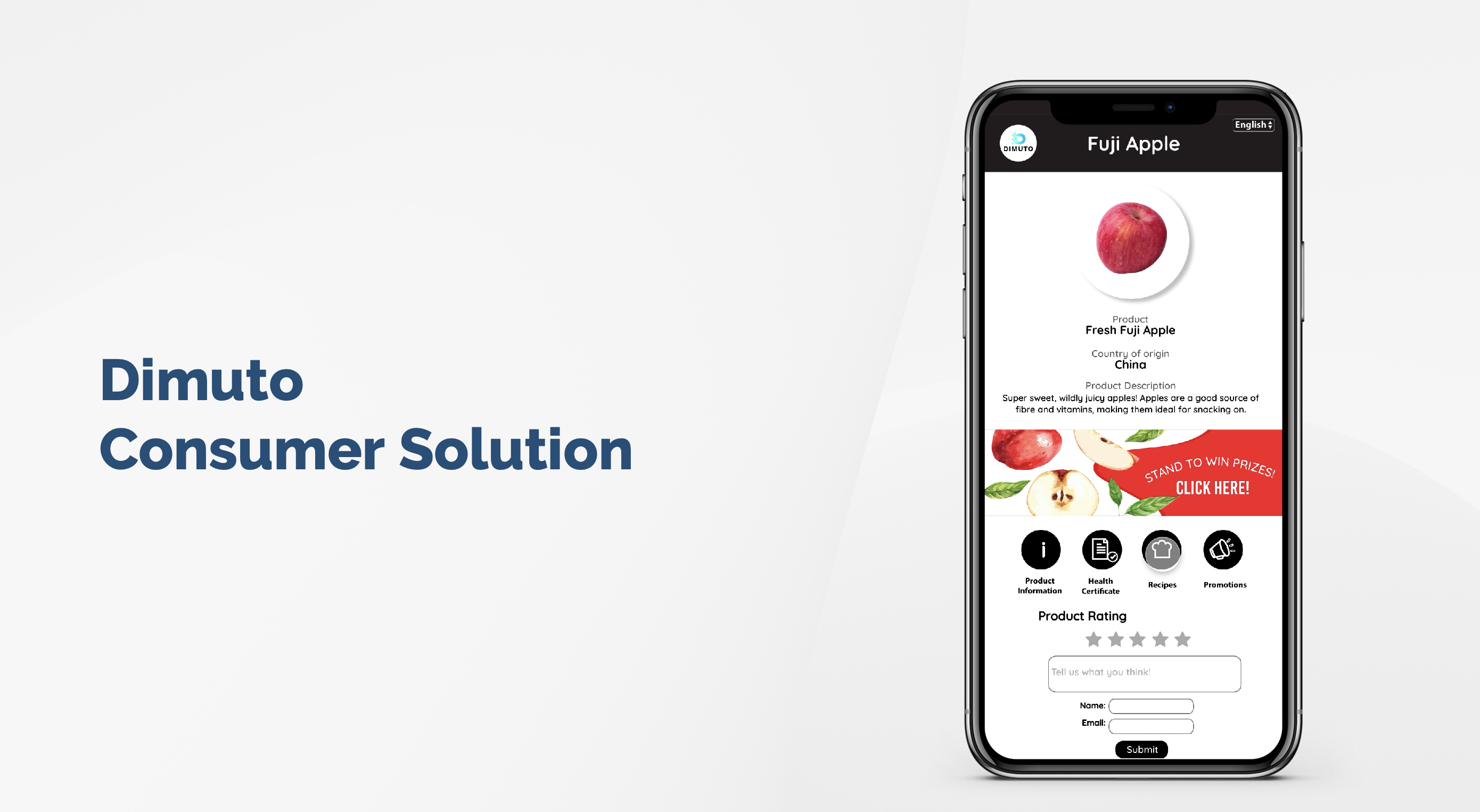 DiMuto Consumer Marketing Solution
A Need for Applicable, Interoperable & Customer-Centric Solutions
At the same time, we cannot ignore the fact that many companies will choose to adopt in-house solutions for traceability. However, given the interconnectedness of our agrifood supply chain, solutions that will work in a scalable manner will have to be interoperable and be able to speak to different systems while still maintaining the truth. That is why DiMuto solutions are interoperable, and we work with IBM Food Trust such that our customers can easily provide important information mandated by major retailers like Walmart and Carrefour while using the DiMuto system.
The application of traceability technology has to be well thought out. Data being captured, shared and verified with the blockchain, can now be used for a multitude of purpose – trade financing, data analytics, QR marketing, trading with new trusted partners and more. That is why DiMuto offers a 360 trade solutions so that we can help our customers better their trade from all aspects.
Food Traceability is a promising and exciting space. Allied Market Research has predicted that the global food traceability market will reach some US$22.3bn in 2025, growing 9.3% from US$11mm in 2017. Thus, it is likely we will see new developments in Food Traceability in the next few years.
If you are interested to learn more about how DiMuto helps create traceability for fresh produce, please reach us here or drop us an email at sales@dimuto.io.