Covid19 has hit the world hard, and many countries are still reeling from devastating impacts. One region that has the global consensus of being the leaders in covid19 response is Asia.
As we have seen throughout this year, China and the Asian region in general have demonstrated a greater recovery in economic terms from the current Pandemic. China has managed to keep its cases under control and has been beginning to open trade with new markets and reinforcing the existing ones with the same Asian countries. Throughout the pandemic, China has grown by 1.2 percent, although the number is relatively low, which China has been able to maintain at a positive number, has demonstrated its economic strength. For 2021, the IMF predicts China's economy will grow by 9.2 percent, leading all major economies.
The future is in Asia
In the current coronavirus climate, the International Monetary Fund (IMF) has predicted that only emerging Asia will see growth in 2020 and Asian Development Bank has stated that growth in Asia will rebound next year.
Over the past 10 years, GDP in emerging Asian economies have expanded 160%  while global growth measured about 30% according to IMF. With a strong foundation of economic growth in the last few decades, Asia is on track to top 50% of global GDP by 2040 and drive 40% of the world's consumption, representing a real shift in the world's center of gravity.
In China, the world's largest economy, economic growth has exploded over the last 30 years. China's economy has enjoyed 30 years of explosive growth, making it the world's largest. At the moment, despite the pandemic, China´s economy have been recovering, and companies have also been shifting towards Southeast Asia as global supply chains continue to shift – a region that has US$5.3 trillion of global trade passing through each year. There is only a matter of time that Southeast Asia to become the fourth largest single market in the world by 2030 – putting it behind only the US, China and the European Union.
DiMuto Trade Network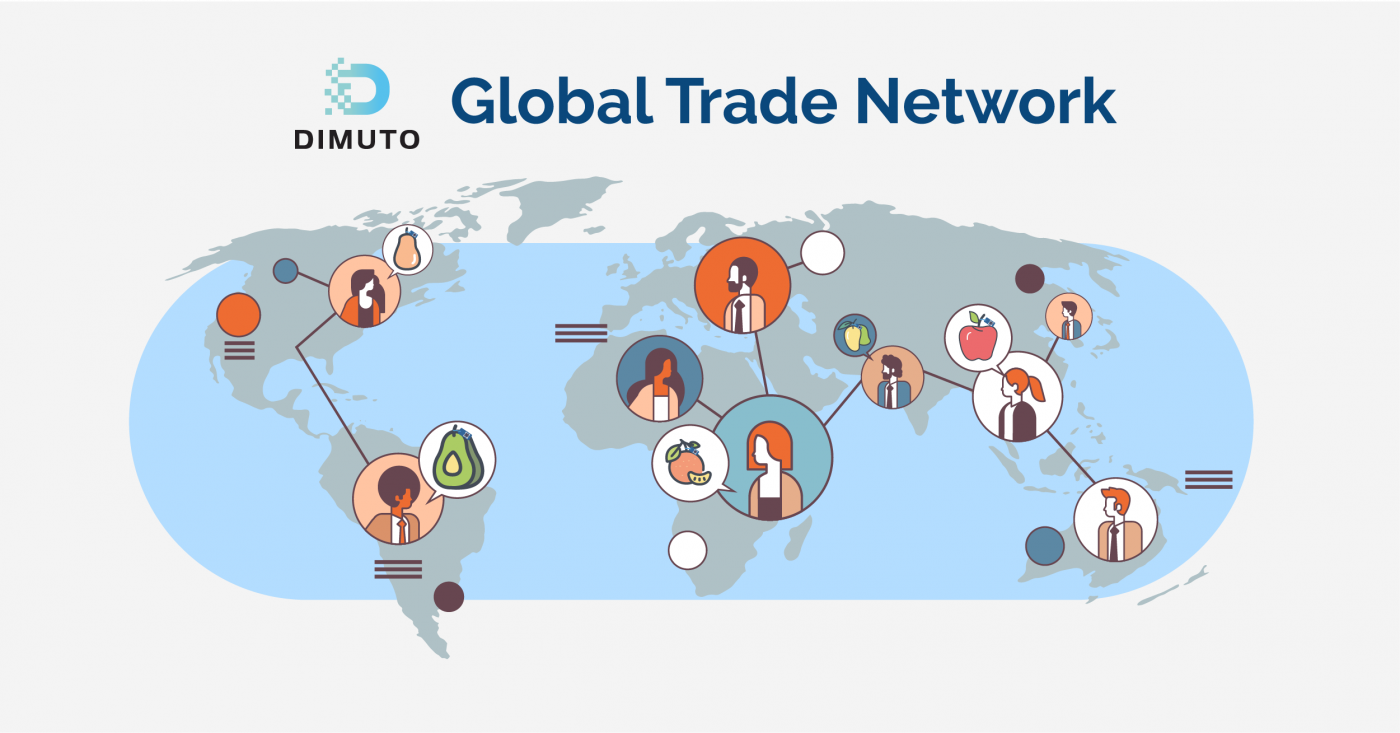 DiMuto understands the many difficulties in conducting cross-border international agrifood trade, and the various risks involved, due to the disconnected flow of information across global supply chains where buyers and suppliers are often located in very distant geographical areas.
With DiMuto and our trusted network of buyers in the region, you can trade agrifood products and fresh produce products with peace of mind. DiMuto Global Trade Network is made up of an exclusive network of trusted buyers and suppliers conducting traceable trade on the DiMuto Platform. With full supply chain visibility, growers and retailers are able to buy & sell fresh produce more effectively and efficiently. By joining our network, you deal with traceable, trackable fresh produce that has been digitized on the DiMuto blockchain-powered platform, creating data-backed trust and peace of mind when you conduct global produce trade.
Now more than ever, the coronavirus has disrupted trade, so the need for alternative suppliers & buyers is imminent. With our Global Trade Network you can find Suppliers/Buyers in different regions of Asia, so you can expand your supply chain network of trusted trade partners.
Tackling the Messy Middle Nightmare
Doing business with Suppliers / Buyers that are far apart can eventually end in a nightmare – creating what is called the "Messy Middle" where miscommunications, misinformation and trade disputes thrive due to the lack of data and information flows in the supply chain.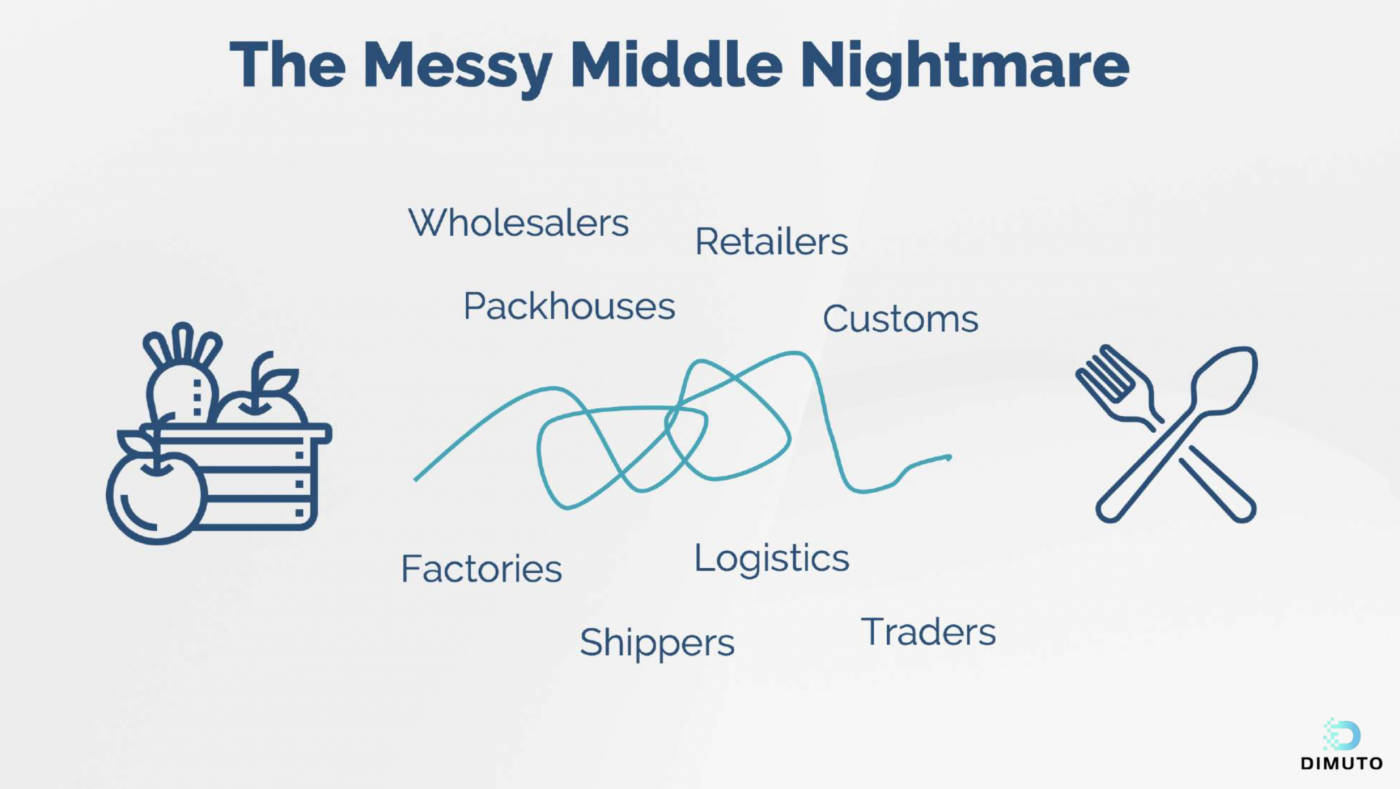 The Messy Middle of agri-food supply chains
Due to this Messy Middle, there is a lack of transparency, so packers and suppliers find themselves facing heavy burden of proof when it comes to proving that they have packed produce of order-specified quality to buyers and retailers.
It's worth pointing out that Asian countries, especially China, have become increasingly important destination markets for Latin America's agricultural exports. Therefore, agricultural products are exposed to larger transit times, composed of unreliable cold chains and a complicated mix of on-land, maritime and air logistics. It is impossible to successfully and safely arrive in Asia without Midstream Technologies providing packaging, shelf life support, traceability and know-how to support the product during its journey to the end-consumer. It's very likely a consumer will receive a fruit that has travelled for 30 days but that doesn't mean they won't expect the same quality as one that was locally harvested.
With DiMuto 4T traceability solutions, you are now able to have visibility over the provenance of the food products moved from farm to table, all stored on the blockchain on a single platform.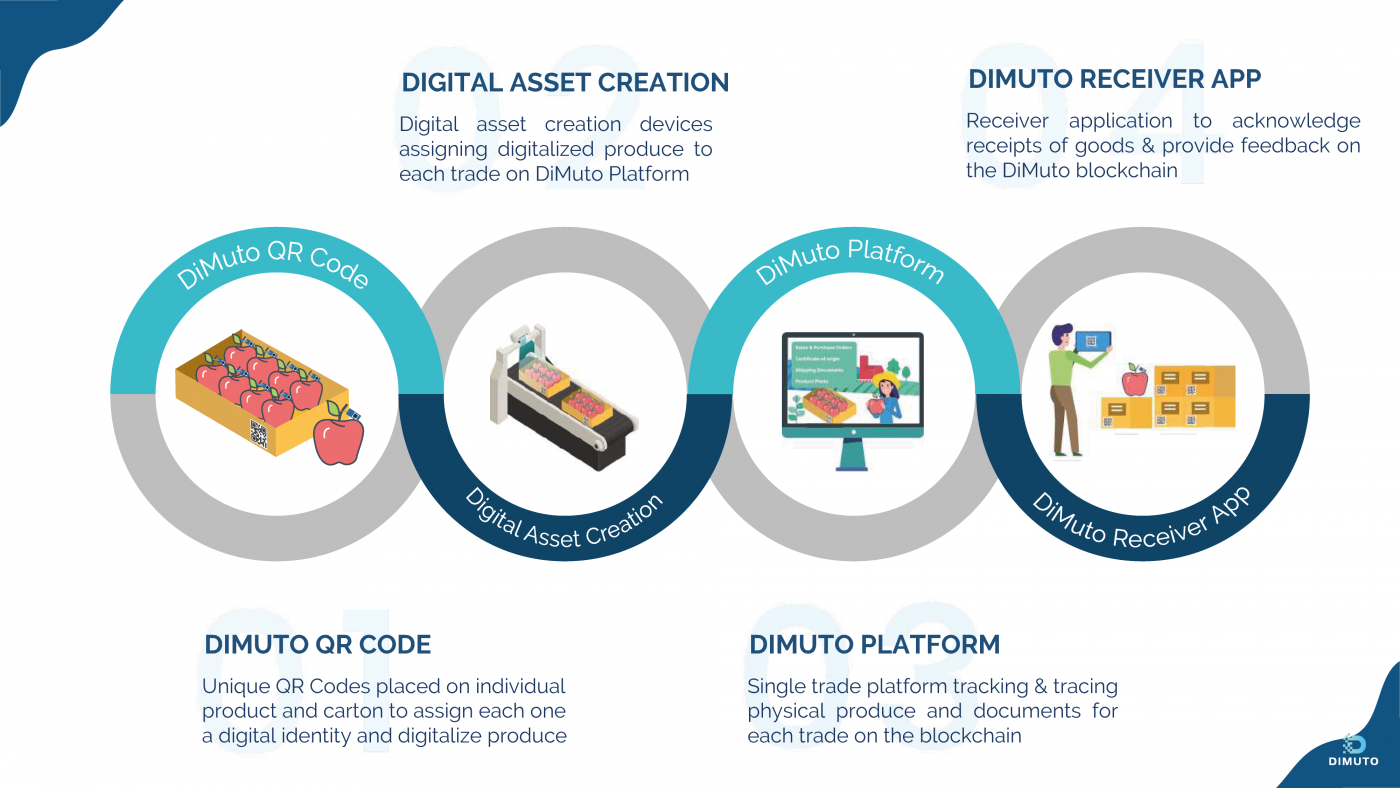 When buyers receive the products, with the Dimuto Receiver App, the buyer has to scan the QR code of the carton boxes and take pictures of them as proof that the shipment has been received. This allows the buyer to provide feedback of the quality of the products or report defects if it is necessary. On the other hand, the supplier has the chance to prove they have sent their products in good conditions, being able to upload all the photos at the carton level into one single platform. So it is able to track quality issues down to individual cartons.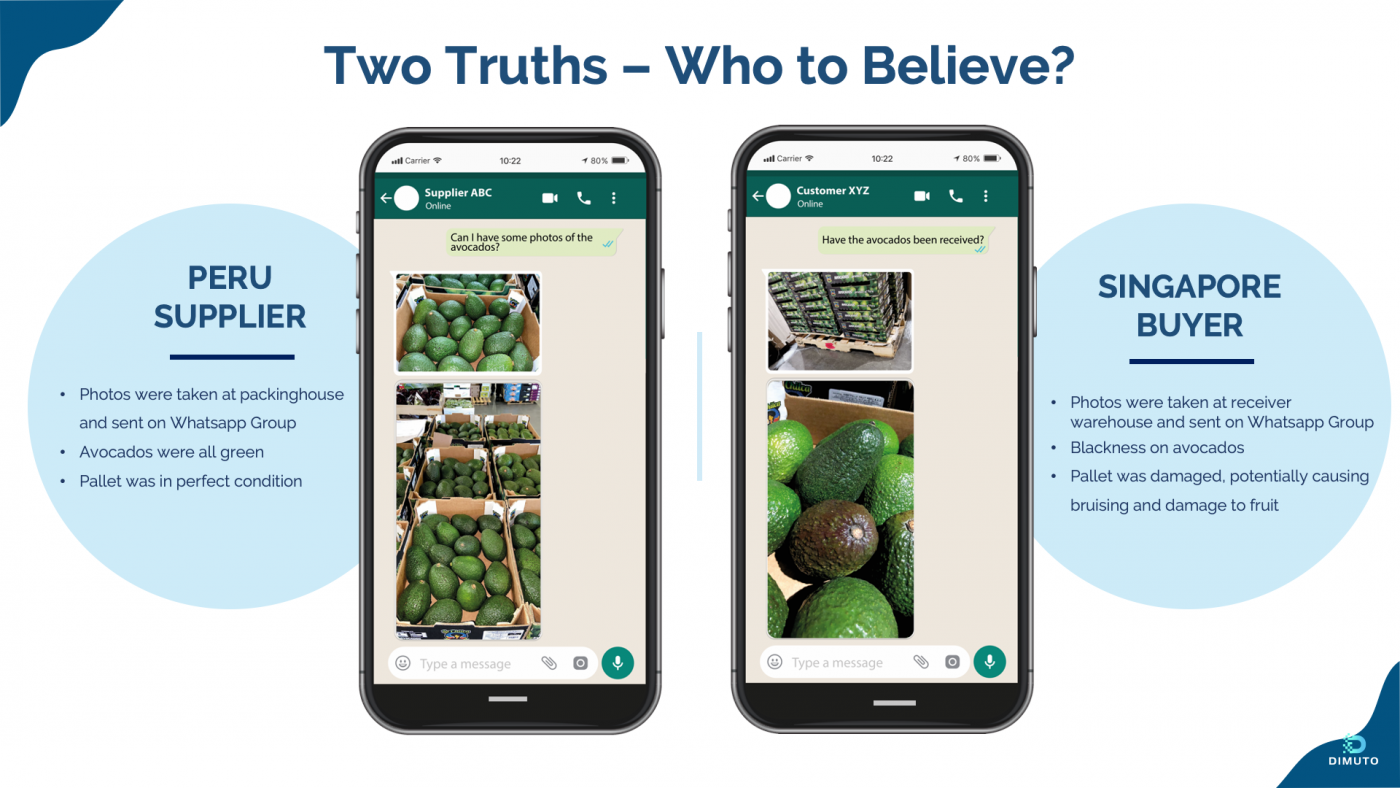 With our Digitalization solution packers and suppliers are now able to see the quality of the product before the products are shipped off, and access the information easily according to each sales and purchase order, reducing trade disputes. Learn more about how DiMuto has helped a Peruvian supplier with their avocado trade disputes here.
–
If you are interested to learn more about how DiMuto helps create traceability for fresh produce, please reach us here or drop us an email at sales@dimuto.io.