This article is a part of the series "The Digital Supply Chain". This series explores what is digitalization, reasons for digitalization and best methods for digitalization of agri-food supply chains.
–
An Urgent Need for Digitalization of Food Supply Chains
The digital food supply chain has been in the spotlight for a while now, and we've previously talked about the need to digitalize the food supply chain being made even more obvious during the ongoing pandemic, as well as benefits of digitalization (think better cash flow management and better food safety controls). A digital food supply chain would be more resilient to potential disruptions and allow players in the food system to navigate any uncertainties with data-backed decisions.


Full Supply Chain Visibility is Inevitable
McKinsey predicts a future where "digital platforms enable full transparency and traceability across the food value chain—creating an environment in which actors in the value chain can more easily buy and sell to each other, compare prices, and review and rate suppliers."
According to PwC, food supply chain visibility is also an "increasingly standard expectation" from consumers.
A study published by LogisticsIQ states that the digital supply chain market is expected to reach $75-plus billion by 2030, with major drivers of growth entail Big Data, demand for greater visibility and transparency and the adoption of artificial intelligence (AI) and blockchain technologies.
Thus, it seems like a digital food supply chain with full supply chain visibility is no longer a matter of if, but a matter of when.
So what does a digital food supply chain mean? What would it look like for the different players in the food system, and more importantly, how can companies prepare for digitalization so that they won't be left behind?


The Implications of Digitalization
Supply chain transparency would likely reduce inefficiencies when it comes to the buying and selling of agrifood products, allowing all relevant information to be shared in a timely, verified manner between stakeholders.
For instance, DiMuto's 4T Suite Solution allows procurement teams, purchasing managers and retailers to physically "see" the quality of every single carton of food products at the point of the packing house before the products are sent further downstream. Not only so, all trade documents are also tagged to each order, so both physical product information and documentation information can be shared between trade partners easily on our platform. Find out how we digitalize each product here and watch our explainer video here.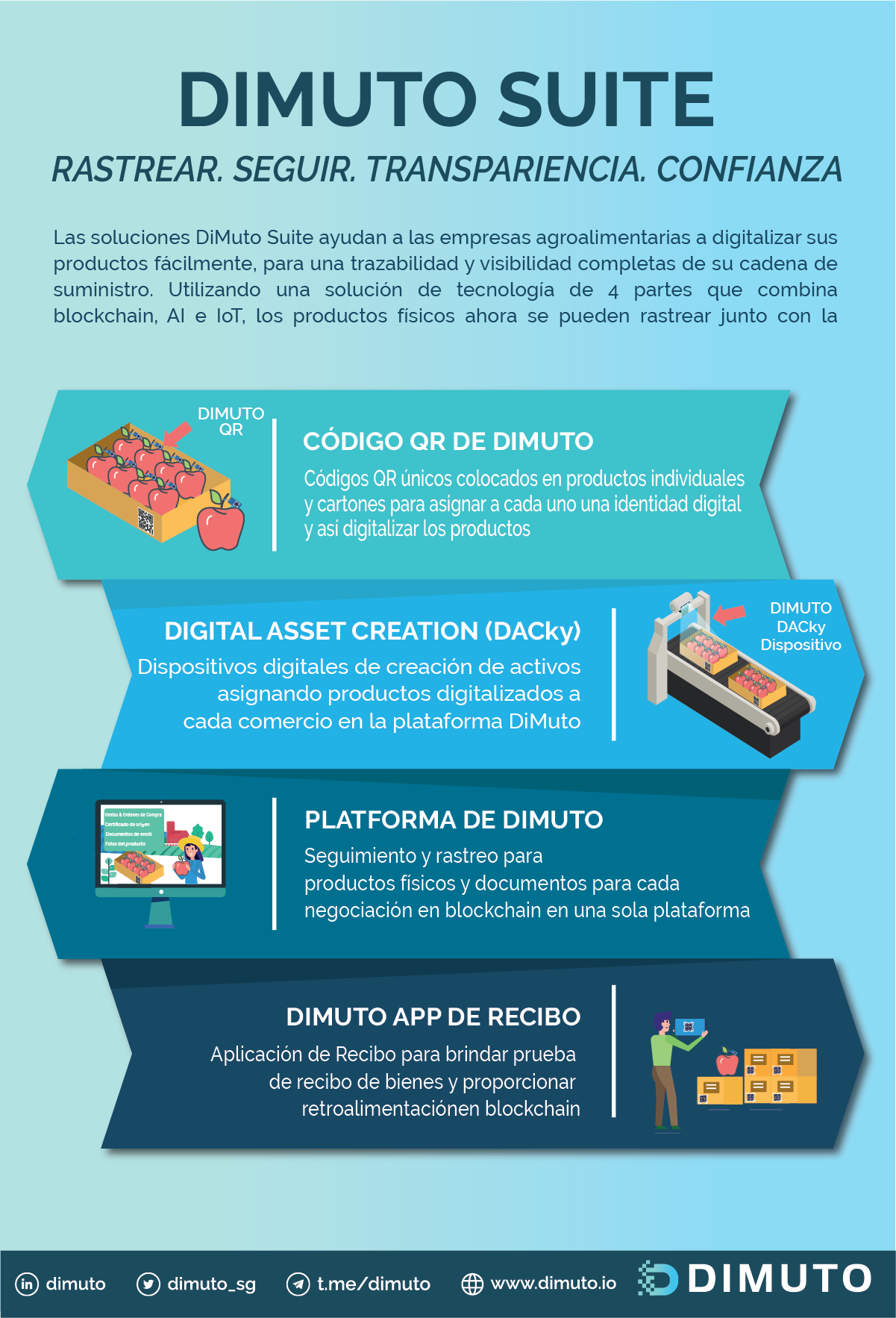 DiMuto 4T Suite
Supply chain visibility also creates trust between buyers and sellers and helps to facilitate open agrifood online marketplaces. Sooner than later, buyers would expect full traceability down to the individual product level and this would likely become the market expectation, fuelled by expectations of end consumers. DiMuto's Global Trade Network helps to connect buyers looking for traceable produce to DiMuto-verified produce growers & exporters.
At the same time, transparency could also mean lower returns for traditional intermediaries such as distributors and traders that have traditionally thrived due to market conditions of information asymmetry and lack of trust. Acoording to McKinsey, trading margins of agriculture commodities have been shrinking, dropping from 15 percent in 1998 to just 9 percent in 2018. In lieu of lower margins, it is now more important than ever for agrifood intermediaries to be cost-competitive and reduce unnecessary losses. This can be achieved by adopting digitalization technologies like DiMuto's 4T Suite Solution that can help reduce food wastage from trade disputes over quality.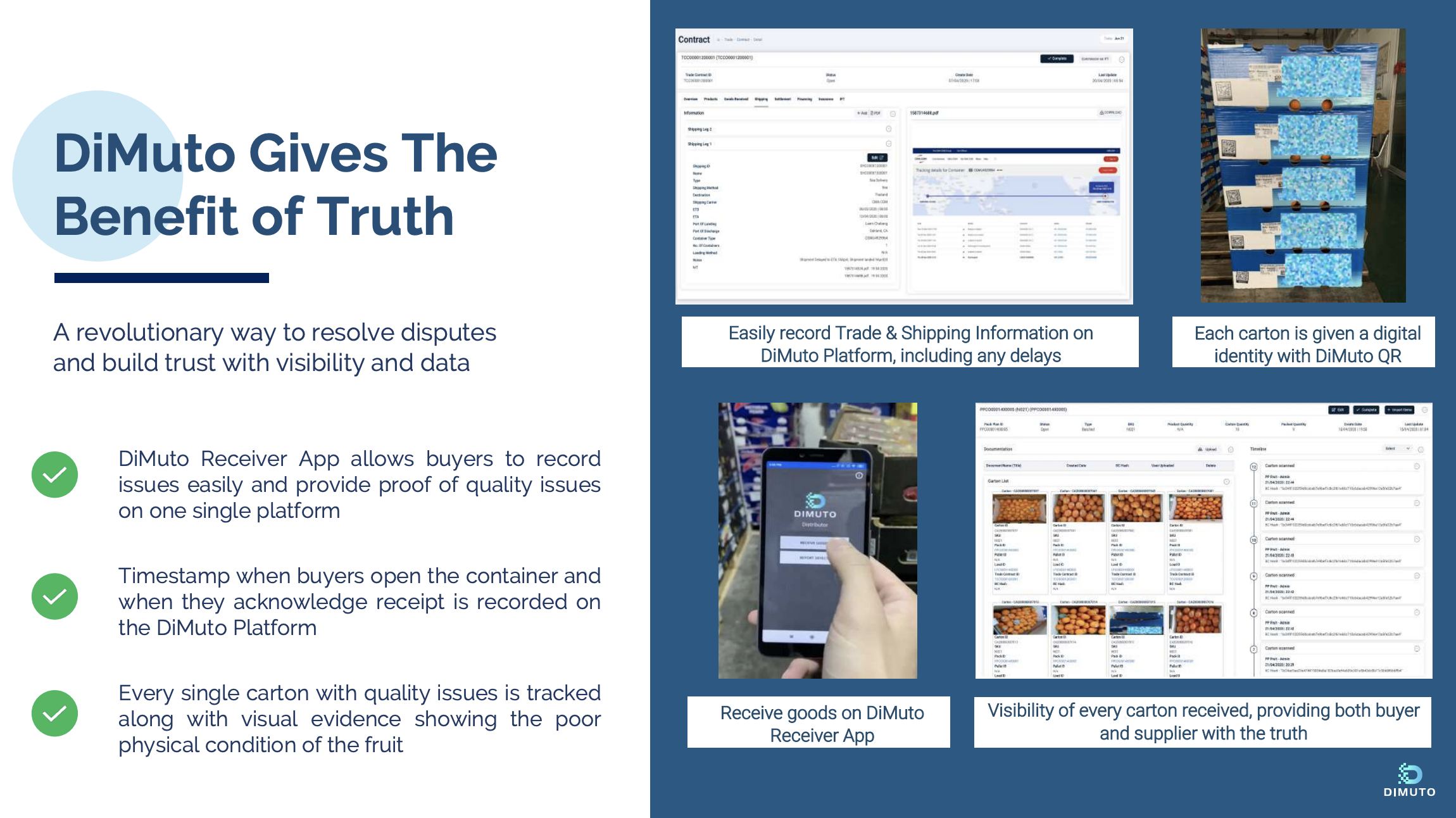 Learn more about how DiMuto has helped a produce buyer to simplify the trade dispute resolution process here.
Thus, with the advent of digitalization, it is important for agrifood companies to adopt holistic trade technologies that will prepare them to navigate and overcome future disruptions.
–
In light of the current coronavirus crisis, we remain committed to helping agrifood players trade better and build a more transparent food supply chain. If you are interested to find out how DiMuto can help your business, please reach us here or drop us an email at sales@dimuto.io.