Mercy Relief is now able to create gain visibility for the entire disaster relief operation – from purchasing of relief supplies to receipt of supplies by affected communities.
About Mercy Relief
Headquartered in Singapore, Mercy Relief was established in 2003 to respond to human tragedies and disasters in the Asia Pacific. Today, we are Singapore's leading independent disaster relief agency with dedicated leadership, capacity building expertise and an affiliate network operating across the entire disaster management cycle.
Mercy Relief provides emergency aid within 72 hours of an international appeal in the aftermath of a disaster. The objective of our longer-term sustainable development programmes is to uplift and empower communities in five key areas: water and sanitation, shelter, sustainable livelihoods, healthcare, and education. For the past 17 years, Mercy Relief has responded to more than 84 human tragedies with more than $44.6 million in relief across 26 countries. We have implemented more than 65 post disaster projects and impacted over 2.5 million lives.
Location: Singapore
Industry: Humanitarian aid
Present in over 26 countries
Provides emergency aid within 72 hours of disasters, delivering emergency aid to affected communities
DiMuto Results
DiMuto Digital Asset Creation (DAC) helped to create digital identities for humanitarian aid items for remote traceability purposes
DiMuto blockchain-powered traceability platform provided line-of-sight on operations of humanitarian response in Indonesia and Bangladesh
Key Challenges: Inability to Travel During COVID-19 Made Operations Oversight and Accountability Challenging
Before covid-19, as part of their international response effort, Mercy Relief used to deploy a member from their programmes team as part of their disaster response team to disaster zones. Having a personnel member to oversee the humanitarian aid response, it allowed Mercy Relief to ensure that the ground operations was flowing smoothly and work closely with local partners to provide help needed.
However, the Covid-19 pandemic meant that travelling down to disaster zones was no longer an option. This made oversight of the NGO's humanitarian response in the different countries challenging.
"Travel disruptions brought on by COVID-19 have made it difficult for our team to be physically present at disaster zones. Partnering with DiMuto helps us maintain transparency and accountability in all our disaster response efforts and assures timely relief to communities most in need," said Carol Lee, Executive Director of Mercy Relief.
How DiMuto Helps
All aid items will be tracked using DiMuto's traceability solutions. With its full-fledged traceability solution, DiMuto is able to create visibility for the entire disaster relief operation – from purchasing of relief supplies to receipt of supplies by affected communities.
Aid items will be digitalized using DiMuto QR labels and tracked on the DiMuto Platform. Relevant shipping and transaction information will be associated with the relevant aid item. This means that Mercy Relief will be able to see the exact resources and documentation information for every single relief effort, down to individual aid items. To ascertain that funds provided to local partners in disaster areas are being used to help affected families and communities, the receipt of aid by affected communities will also be tracked via the DiMuto Receiver App. All records made on the blockchain-powered DiMuto Platform will be immutable and verified, safeguarding accountability and transparency for the entire disaster relief effort.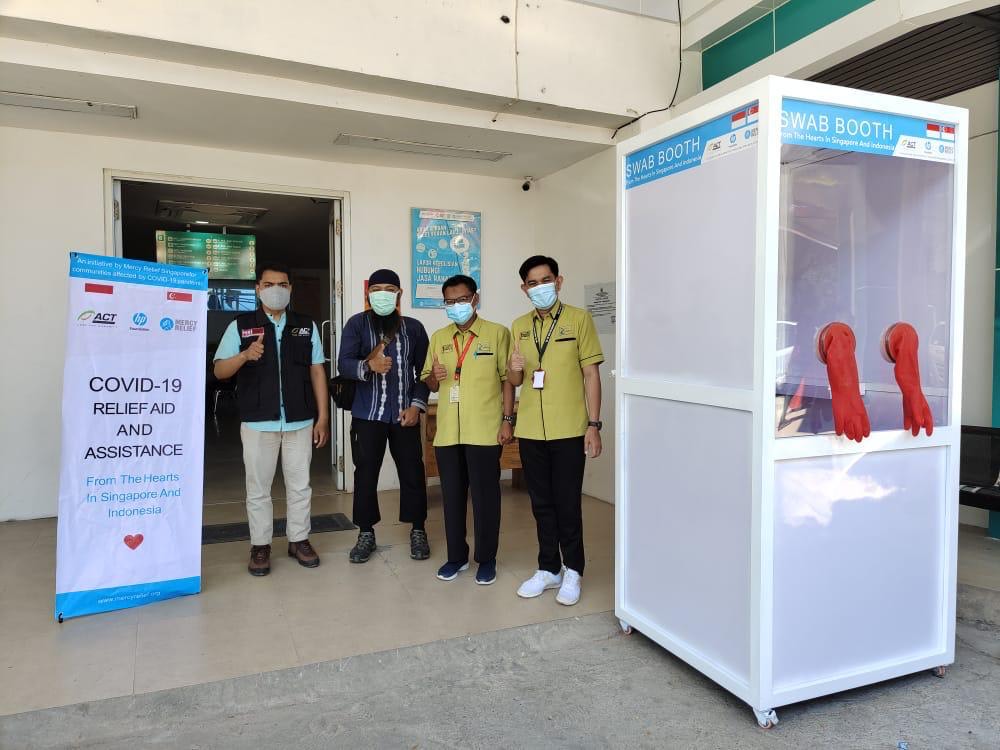 Mercy Relief provided Covid-19 swab booths, that were tracked and traced by DiMuto
For instance, as part of their Covid-19 Relief Aid & Assistance programme, Mercy Relief supplied 10 hospitals in South Sulawesi, Indonesia with covid-19 swab booths. With DiMuto, they were able to create a unique digital identity for each of the swab booth, and track their distribution on our blockchain-powered platform.
The locally made swab booths allow people with coronavirus symptoms to get tested while bolstering the safety of the medical team and their other patients, helping the hospitals to manage covid-19 cases more effectively.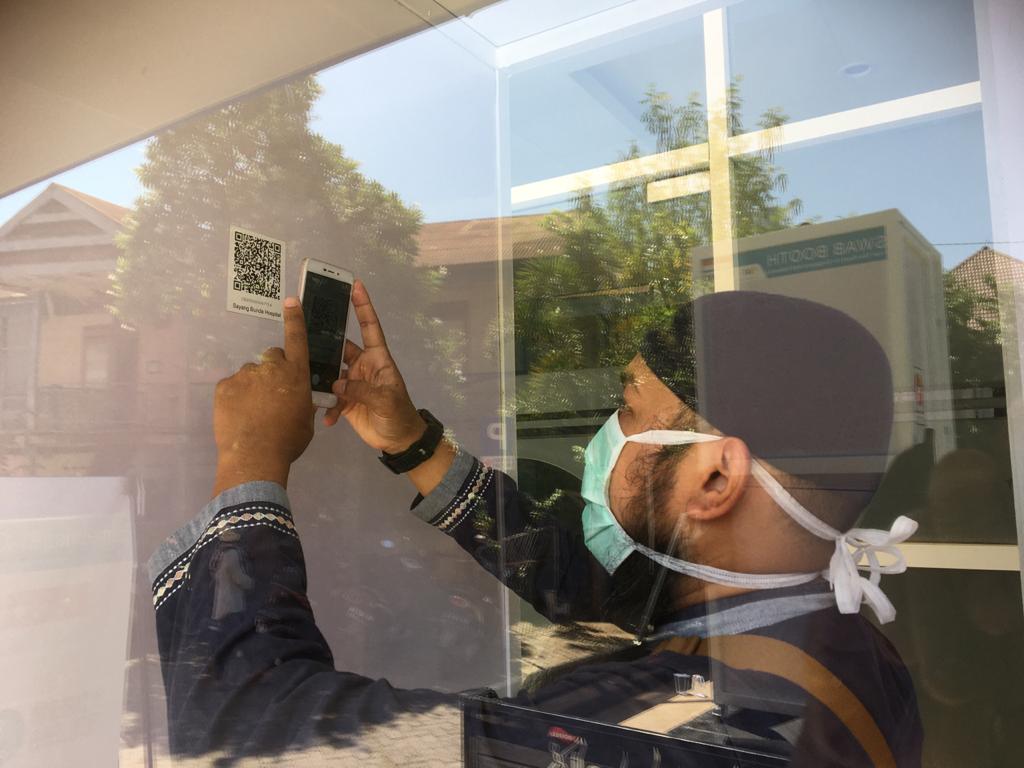 Mercy Relief team scanning QR codes for traceability of their ground operations on DiMuto platform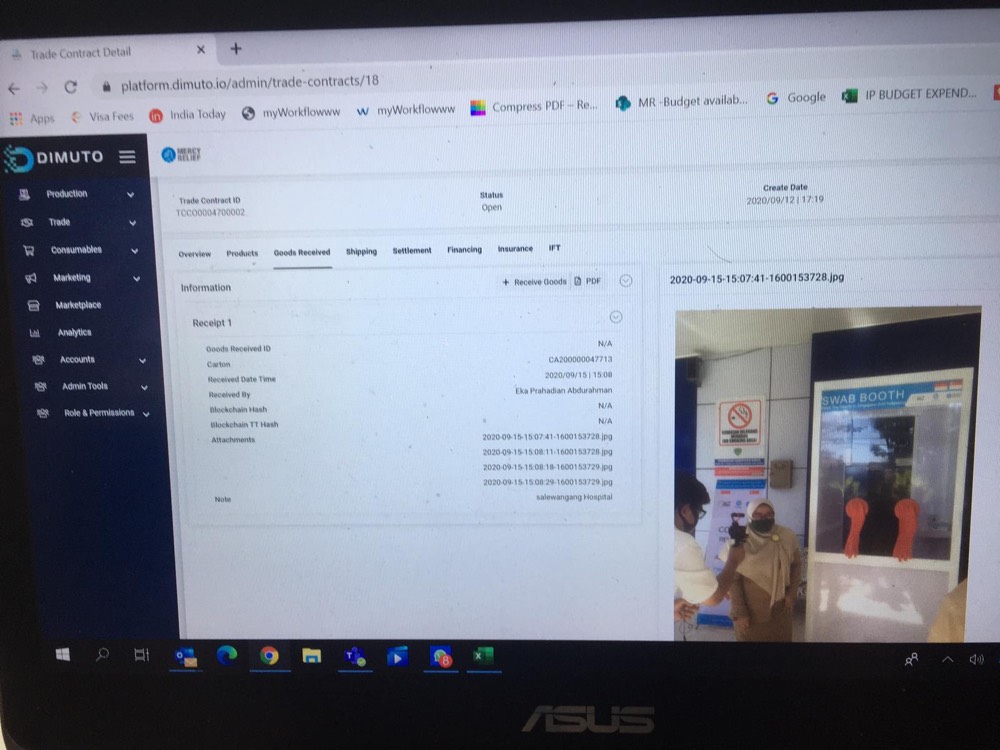 Covid-19 aid relief items individually tracked on the DiMuto traceability platform
DiMuto provided Mercy Relief operations team the ability to track individual aid items and maintain accountability in their covid-19 response. By deploying DiMuto blockchain traceability, Mercy Relief can continue to ensure receipt by intended beneficiaries, creating transparency and building trust on-the-ground despite ongoing travel restrictions.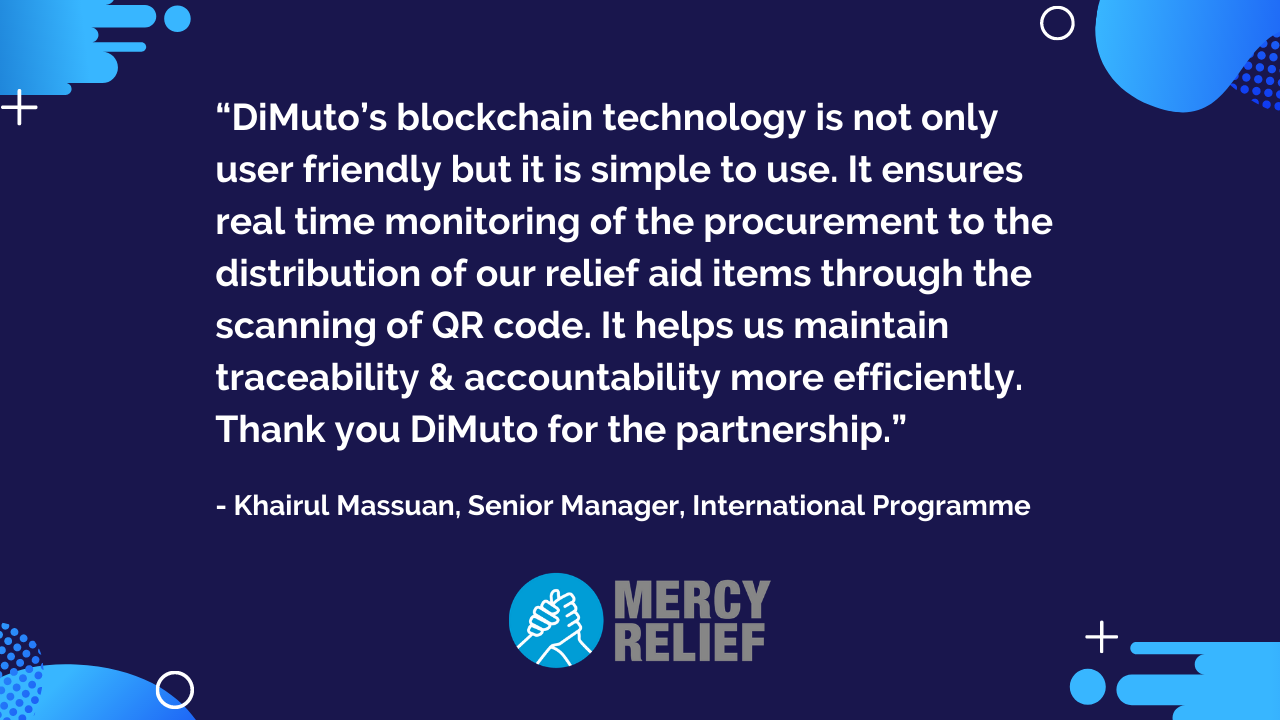 Khairul Massuan, Senior Manager, International Programme of Mercy Relief, commented, "DiMuto's blockchain technology is not only user friendly but it is simple to use. It ensures real time monitoring of the procurement to the distribution of our relief aid items through the scanning of QR code. It helps us maintain traceability & accountability more efficiently. Thank you DiMuto for the partnership."
With DiMuto, Mercy Relief is now able to efficiently maintain traceability & accountability for their international humanitarian response throughout the region, even with travel restrictions brought about by the coronavirus.
–
If you are interested to learn more about how DiMuto can help create visibility and traceability for your business, please reach us here or drop us an email at sales@dimuto.io.