During the first ever digital edition of the Asia Fruit Logistica (AFL) last week, the fresh produce industry took a look at the future of Asia and Southeast Asia for the fresh produce industry.
Recovery of Asian markets
Like we predicted in our previous article, Asia's fresh produce trade is set to bounce back and recover from the global pandemic according to the panel of experts in Asia Fruit Congress 2020. As the Fruitnet report on the event states, even a tourism-based economy like Thailand is beginning to see signs of recovery, and consumers in Asia are already veering towards e-commerce well before the coronavirus.
Demand for traceable produce
More and more consumers in Asia are expecting traceability when it comes to fresh produce, according to key findings in a Southeast Asian market report from The Australian Trade and Investment Commission (Austrade) shared during AFL. Consumers in Singapore, Malaysia and Thailand are looking for traceable, high quality and premium fresh produce.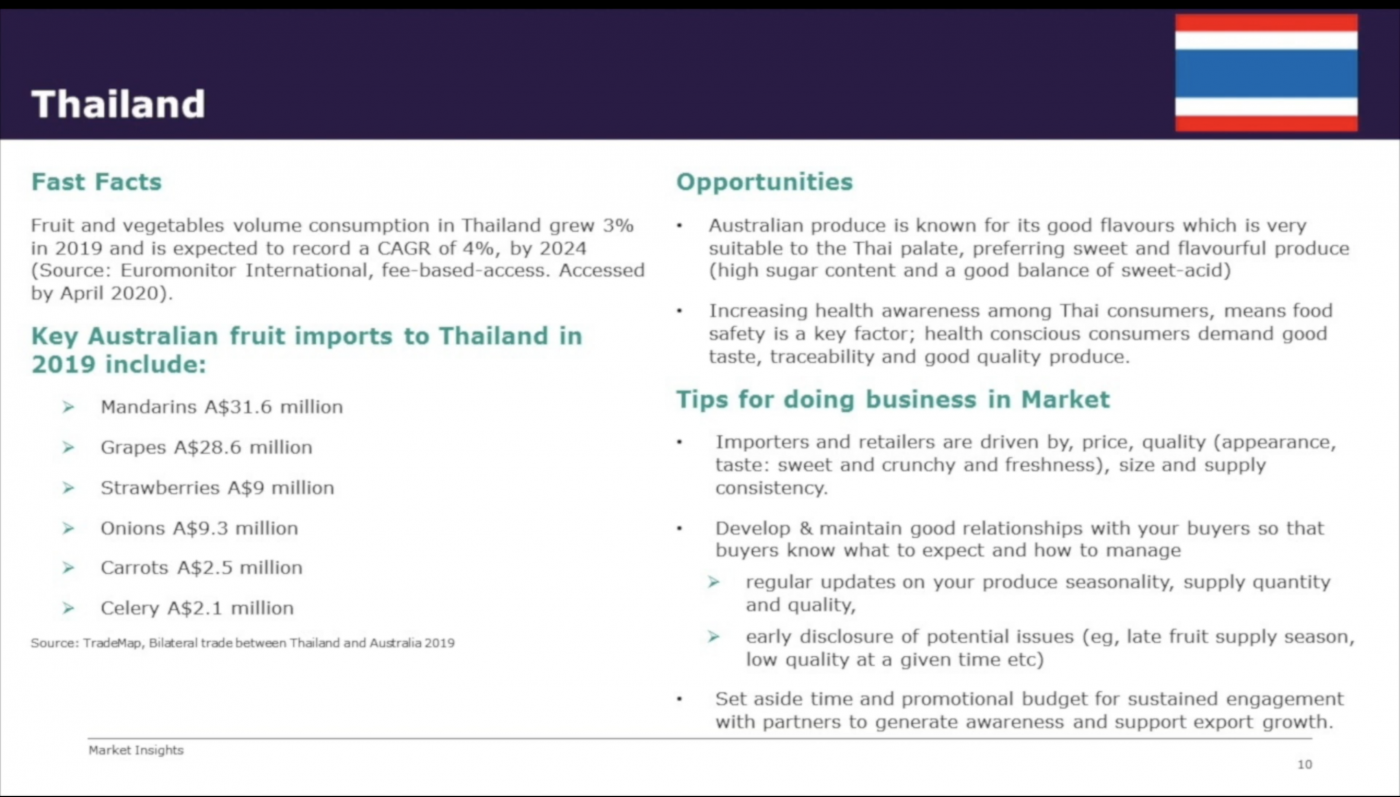 Excerpt from AusTrade sharing session during AFL2020
Opportunities for fresh produce suppliers
For produce grower-exporters looking to enter the different Asian markets, this presents a great opportunity to leverage traceability as a way to differentiate your brand of fresh produce from others in the market.
In order for traceability to make sense to producers, the value it can bring to the table has to be outweigh the cost of implementing new technologies and adapting existing work flows. Thus, "will consumers pay a premium for traceability?" is a big but necessary question that producers ask when it comes to the topic of traceability. According to a scientific study published by the Europe PMC, about 70% of consumers in China are willing to pay a premium for traceable fresh pork, and quality certification mattered most. A report by the Label Insight and Food Marketing Institute found that 75% of consumers are more likely to switch to a brand that provides more in-depth product information beyond what is provided on the physical label. 73% of consumers are also willing to pay more for such information transparency, and 56% of them trust brands that provide these information more.
By engaging end consumers at the retail level and showing them that your produce has been tracked and trace from farm to fork, producers are able to build trust with end consumers and strengthen their brand with an ability to command higher price premiums and more loyal customers.
Getting Started – First Trace, then Communicate
How to get started? Firstly, producers will need to deploy traceability systems to make sure that they can see all the important supply chain information in one place.
This means that the information on the fruit level has to be tracked and recorded throughout the supply chain, beginning from the packhouse or farm and continue as it travels towards the consumer. Information here includes fruit quality, product certificates stating origin, good manufacturing practices and more.
It is also important to ensure the integrity of the information, so that producers can communicate information that is verified – which is why many grower-exporters have been looking at blockchain for its ability to preserve and record information in a shared, immutable manner.
QR codes on fruit labels that give the ability to communicate to consumers directly
Then, there is the issue of communicating such provenance information to consumers. How can producers directly engage end consumers around the world? The answer lies, simply, in QR labels. When producers label every single fruit with a QR code, consumers can then scan the code with their mobile phones to retrieve and access such information.
DiMuto SMART Marketing Tool – Traceability with a Story
DiMuto helps produce suppliers to digitize, organize and capitalize their product and trade data. With our trade solutions, producers can track and trace their products, down to every single carton and every single product on one single platform. This product level of granularity is then combined with the relevant trade information such as shipping information and buyer receipt information on the blockchain.
As part of our trade services helping suppliers to capitalize on their traceability data, the DiMuto Sales & Marketing Retention & Awareness Tool (SMART) Marketing solution then helps brand owners and suppliers to communicate this traceability information to end consumers.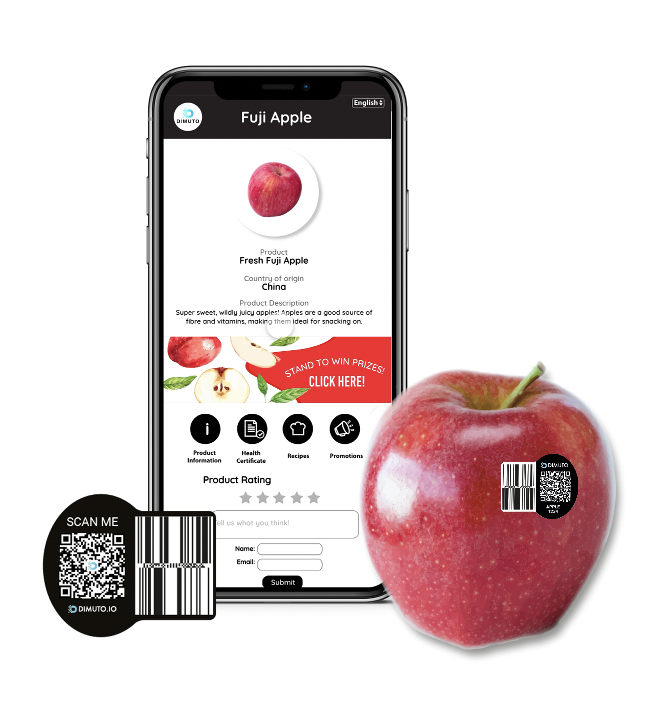 Our product page allows you to conduct cost effective marketing campaigns to engage end consumers – consumers will be able to see verified product origins, obtain information about the farm and growing practices, as well as learn new recipes and participate in exciting lucky draw promotions conducted directly by growers and brands. Consumers are also able to leave feedback on the produce quality, giving suppliers important information about the product quality and consumer experience, something that producers were previously unable to learn about due to supply chain complexity.
Consumers are able to access verified traceability story of their produce with DiMuto
We have helped suppliers like Newton Orchards, Morning Glory Farms and Pukuna Farms to engage end consumers with our solutions. Click on the links to read their customer success story.
–
If you are interested to learn more about our solutions, please contact sales@dimuto.io.