The Problem with Trade Documents in Global Trade
In today's digital age, it may be surprising that the document trail for international trade is still very much physical.
Due to the complex nature of cross-border trade transactions, there are often many different parties involved across multiple geographies involved, most of whom use fragmented systems that do not harmonize with each other.  The continuance of paper-based processes persists because currently there is no easy way to verify the authenticity of these trade documents.
Time and money spent on paperwork continues to be a significant cost of conducting cross-border trade – Research done by IBM and Maersk has shown that the costs associated with trade documents processing can cost up to one-fifth of the actual physical transportation costs. Today, exporters need to dispatch the physical documents to consignee in their destination markets, despite having already sent the documents on other digital channels like emails and messaging applications. Thus, it is not uncommon that the goods can be shipped faster than the documents are processed.
The usage of physical trade documents inherently poses a high level of risk, mainly from falsified documentation. According to CNBC article, there has been a rise in falsified trade documents in the last five to ten years. High-tech photocopiers can duplicate trade documents like the bill of lading, in the original ink colours, and add fake information.
Due to the difficulty of distinguishing the real documents from forged ones, fake documents can be used to obtain loans from the banks and increases the risks for all involved parties including legitimate buyers and financial institutions providing trade financing services. The 2020 high-profile case of trade finance fraud by Hin Leong Trading, a Singaporean oil trading company that allegedly forged an email and documents, is proof that reliance on physical documents is a huge vulnerability.  The adeptness of forgers are forcing banks like OCBC to look into going digital and using blockchain for the US$9 trillion global trade finance industry.
What is TradeTrust?
Together with the International Chamber of Commerce (ICC), the Singapore government launched TradeTrust, a set of globally-accepted standards and frameworks that is connected to a public blockchain supporting the exchange of electronic trade documents between governments and businesses.
TradeTrust aims to digitalize global trade and eliminate the inefficiencies caused by manual trade documents and verification processes. TradeTrust works to ensure there is legal harmonisation across multiple countries and jurisdiction for legal validity of digital trade documents, and promote internationally accepted standards that facilitates interoperability of digital documents exchanged across platforms.
Most recently, the Australian Border Force (ABF) started a blockchain trial with Singapore Customs and Singapore Infocomm media Development Authority (IMDA) to digitally verify electronic Certificates of Origin (COO).
How DiMuto uses TradeTrust
The Tradetrust verification is integrated onto the DiMuto Platform. Trade documents that are uploaded onto the DiMuto Platform are automatically pushed onto TradeTrust, allowing users and relevant parties to verify the authenticity of their documents.
When a trade document is uploaded on the DiMuto platform, it is identified uniquely by a Document Hash and saved as a signed TradeTrust JSON file – this JSON file serves as a unique fingerprint that is then recorded on the public Ethereum blockchain.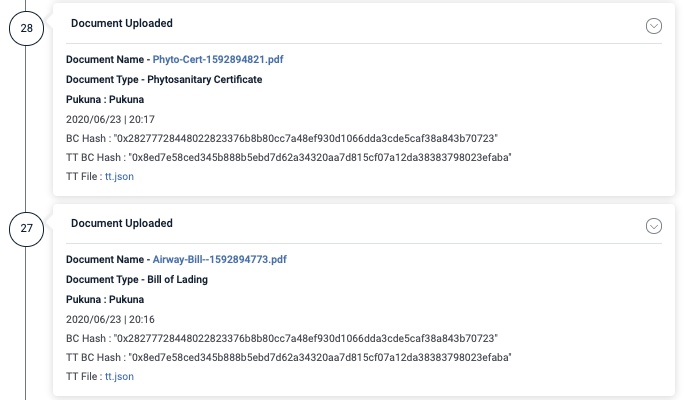 DiMuto's Trade Contract Timeline captures the documents uploaded and our platform automatically creates a TradeTrust identifier that can be easily verified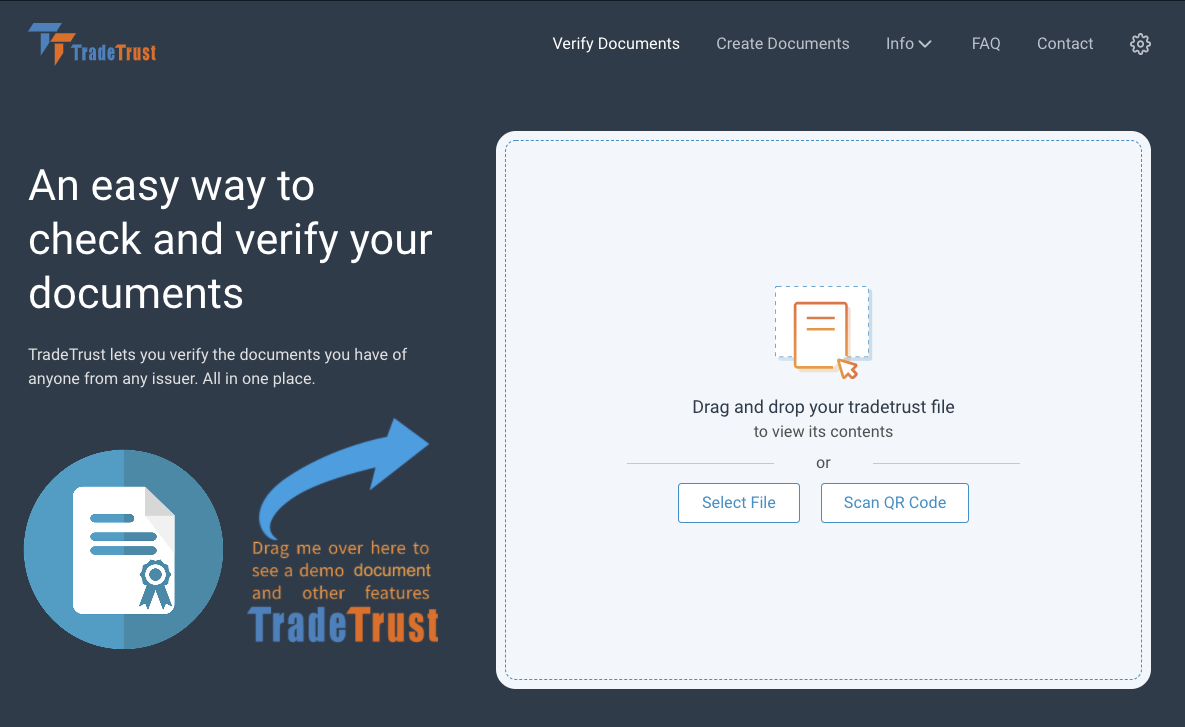 This record will be visible on the DiMuto platform to users and relevant trade parties, who can then drag and drop this JSON file onto tradetrust.io and verify the file.
Users will be able to see that a DiMuto certificate of authenticity that verifies the document has been uploaded on the blockchain
Due to the usage of the public blockchain, this allows any relevant parties that have this JSON.file to verify the validity of the trade document on TradeTrust, creating greater level of trust in digital trade documents. By integrating TradeTrust onto our system, DiMuto helps to create trust between trade partners and strengthens the validity of the digital trade documents.
This can help government agencies and authorities that issue certificates and want to verify the validity of these certificates.  For instance, agricultural ministries that issue Certificate of Origins, and global certification bodies like the Global G.A.P that is recognized in over 100 countries, can simply utilize TradeTrust verification tool to verify certificates that have been uploaded on the DiMuto platform. Due to the unique identifying quality of the TradeTrust file, as well as the immutability from using the public blockchain, this can significantly reduce the room for fraudulent certification and speed up the time it takes to verify certificates, reducing the friction brought about by physical documents for global trade.
–
If you are interested to learn more about our solutions, please contact sales@dimuto.io.