A Growing Demand For Sustainable Foods
It has been a year of living with the Covid-19 pandemic, and it has impacted consumer preferences and business practices when it comes to food sustainability and food labelling.
Clean Labels are a key trend this year – As countries around the world enter various states of lockdowns, more consumers are looking to buy healthier, more sustainable foods to cook at home, turning their attention to food labels for information on the origin and ingredients. Between 2013 and 2018, sales of products with sustainability claims increased 29%, according to a study by NYU Stern center for Sustainable Businesses and IRI.
Consumer's Distrust of Sustainable Labels
Yet, consumers are not finding the information they need or trust on the labels. In Singapore, while 35% of consumers are willing to pay a premium for sustainable alternatives, 23% do not trust the sustainability claims of businesses. In the US, a FoodThink study showed nearly half of consumers who regularly buy food for their households do not trust the industry to do the right thing. Worldwide, due to the lack of transparent product-level information, there has been increased skepticism amongst consumers that brands are simply greenwashing their products.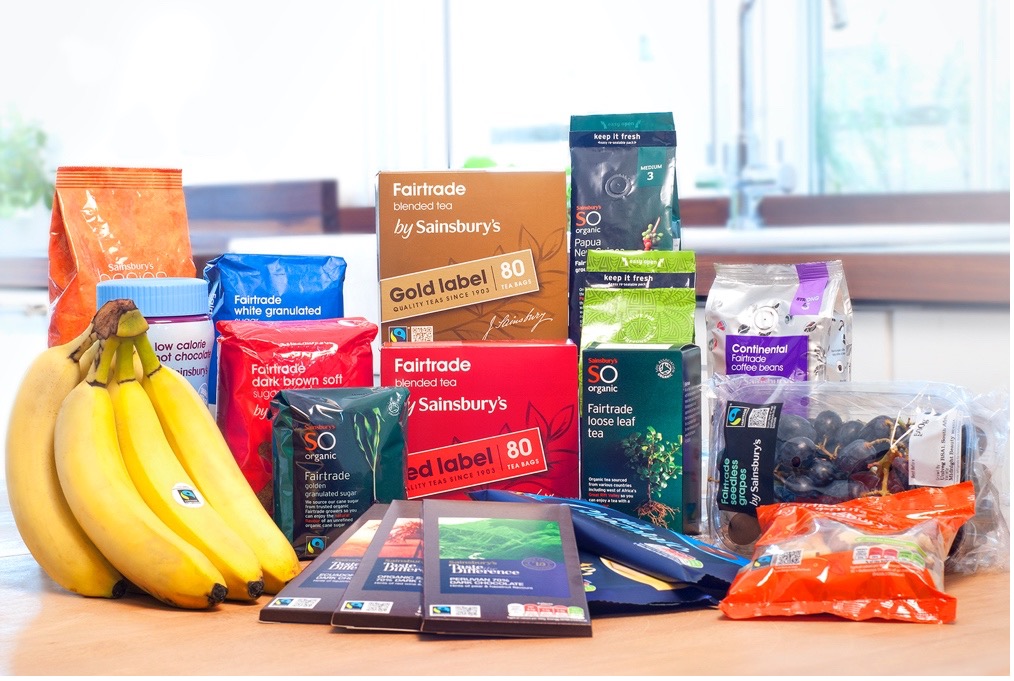 Foods Labelled as Fairtrade  (Source)
This problem is evidenced by the low level of influence current sustainable label packaging has on consumer food choices. Research has shown that while consumers view sustainability as an important issue, when it comes to individual food choices, sustainable logos do not play a major role in consumers' food choices.
One explanation for this curious paradox might be that consumers do not trust current sustainability labels. In his book Organic: a journalist's quest to discover the truth behind food labeling, Peter Laufer details how sustainability labels are hardly regulated and untransparent, making it difficult for consumers to verify these labels.
Sustainability Certification is Not Enough
At the same time, the disruption of global food supply chains caused by the pandemic has renewed the impetus for businesses to make their supply chains more sustainable and resilient. Increasingly, they are turning to certifications as a way to show consumers that they are taking active steps to address sustainability.
While effective in ensuring the adoption of more sustainable practices in certified entities, it is clear that sustainable certification alone is not enough.
Due to the complexity of modern food supply chains, there is an inherent disconnect between sustainability practices done on the upstream at the farm, and the product data that the end consumers at the tail end of the supply chain receives. There is thus a need for fully transparent sustainability labels that is able to show sufficient provenance information.
DiMuto Traceability Labels
With DiMuto, agrifood companies can now track food products from farm to fork, combining the physical product movement along with documentation.
This visibility can be achieved down to each individual product and carton, by labelling every product and carton with the DiMuto Traceability Label. Product movement through critical supply chain milestones like the packing, transport and receiving stages is then tracked on the blockchain and combined with relevant certificates and trade documents. This ensures an immutable, holistic view of product provenance.
DiMuto Traceability label
All these traceability information tracked can be easily communicated to consumers using the same label. By simply scanning the DiMuto QR code on food products like fresh fruits and produce, consumers are brought to DiMuto SMART Marketing Product Page, where they can now view the DiMuto Product Passport.
The DiMuto Product Passport
With the DiMuto Product Passport, consumers are able to access a passport showing verified, important provenance data  related to the product that they just purchased. Supply chain data tracked on the blockchain-powered DiMuto Platform can now be succinctly shared as part of the DiMuto SMART Marketing Product Page.
DiMuto Product Passport
They can view and verify product-related certificates such as organic certifications using the Singapore-government backed third-part validation tool TradeTrust. (To learn more about how DiMuto uses TradeTrust, click here) Consumers can also access the product movement timeline showing each supply chain milestone.
Not only so, the SMART Marketing Product Page allows brands to do more than just share verified traceability data. Brands can also communicate their brand story, sharing more regarding where the fruit was grown, and how the process is organic, sustainable or fair-trade, and even get feedback or host campaigns on the same page.
DiMuto SMART Marketing
With this, agrifood businesses can now easily communicate their product-level traceability information to end consumers. DiMuto can help companies improve consumers' trust in their sustainability labels. It is likely we will see more consumers make sustainable food choices with transparent, verified sustainability labels, helping to make the global food supply a truly sustainable one.
–
If you are interested to learn more about our solutions, please contact sales@dimuto.io.