SunMoon Food Company Limited is a consumer-focused distributor and marketer of branded high-quality fruits, vegetables and products.
SunMoon collaborates with a global network of suppliers to provide creative, natural, sustainable, and nutrient-dense foods for today's health-conscious customers. They have implemented improved global procurement strategies, and manage a carefully controlled certified supplier program. Fruits from certified plantations are selected according to the 'SunMoon Quality Assurance' standard.
Building Consumer Trust
With a promise to provide the best quality fruit from around the world, SunMoon wanted to find a way to verify and convey their quality assurance standards to their consumers.
DiMuto's AgriFood Trade Solutions provided a cost-effective way to communicate supply chain traceability information in an engaging way. In particular, SunMoon Indonesia utilised DiMuto's SMART Marketing feature to share traceability information on their Fuji Apples and run campaigns that engaged SunMoon Indonesia's end consumers.
The Asian Consumer Perspective: Growing Demand for Safe & Traceable Foods
More than 40% of Asian consumers care about where their food comes from and regularly source-check, according to a survey done by PwC, Rabobank, and Temasek. Furthermore, 51% of Indonesian consumers regularly check the source of their foods, according to the Asia Food Challenge
Consumers across Asia are demanding stronger reassurance that food is safe and are loyal to trusted brands. Some consumers are also willing to pay a "trust" premium for these food brands. Thus, there is growing pressure on food brands to be able to leverage technology for safe and traceable food solutions in order to build trust and credibility with consumers.
Utilising DiMuto SMART Marketing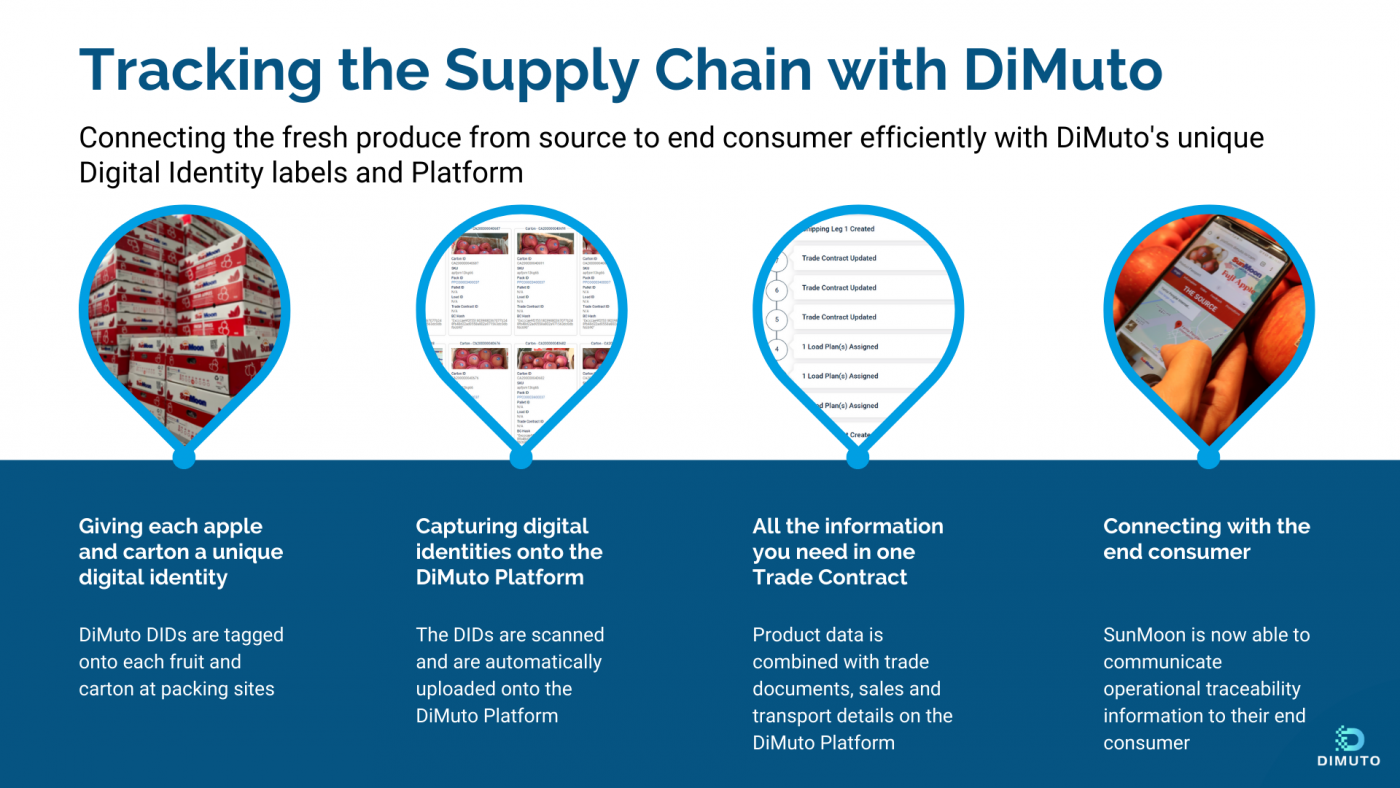 DiMuto SMART Marketing gives marketing teams the ability to seamlessly communicate traceability data that has been recorded by their operational team and display it to their consumers in the form of a Product Passport.
The Product Passport is able to showcase selected Product Certificates that have been uploaded on the blockchain, as well as critical supply chain stages such as Farming, Packing, Shipping and Receiving stages. This helps produce brands to showcase product provenance and build consumer trust.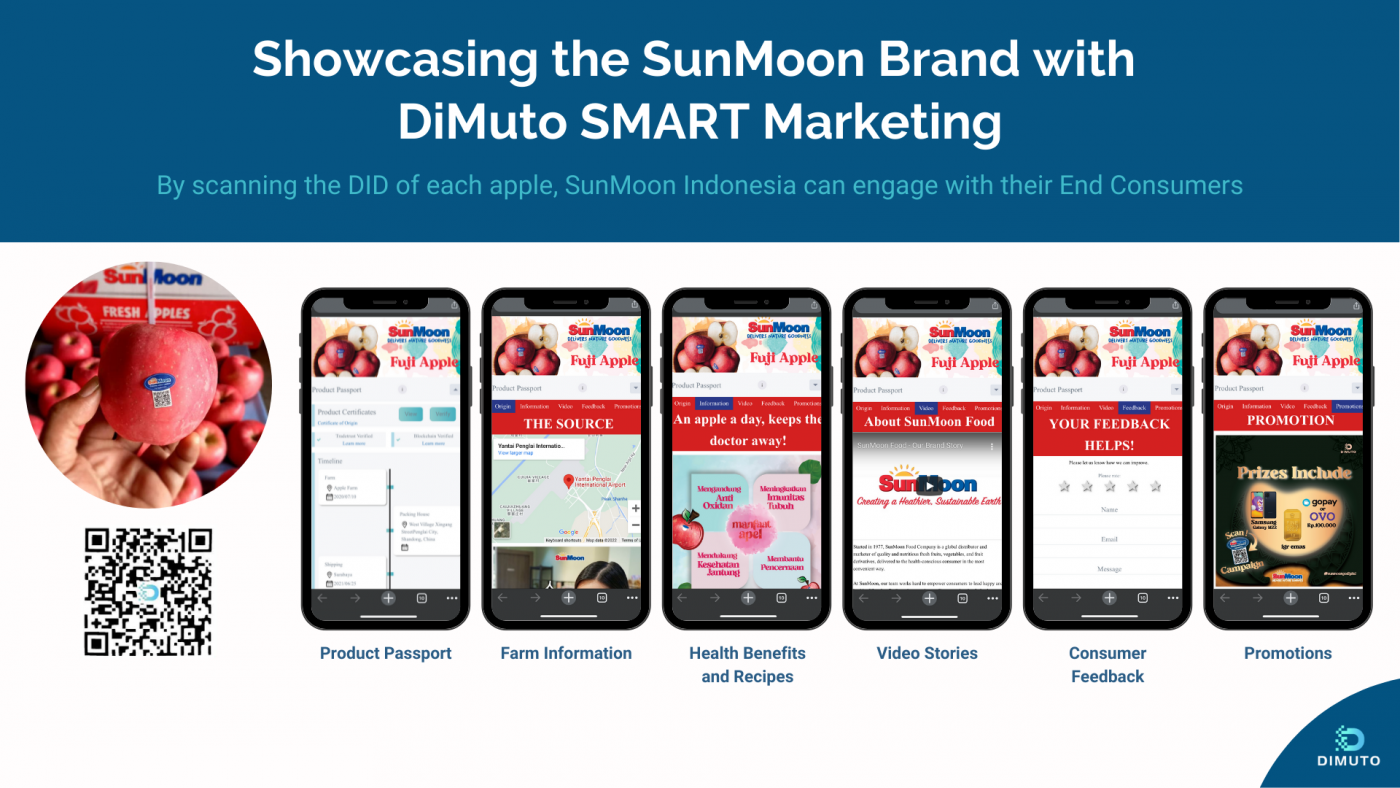 With DiMuto SMART Marketing, SunMoon can meaningfully execute brand marketing campaigns, host promotions and lucky draws, and collect product-specific feedback from their end consumers.
Consumer feedback helps SunMoon to better understand their customers and improve their products. This valuable information is crucial in allowing SunMoon to close the loop, ensuring that they deliver the high product quality they promise to.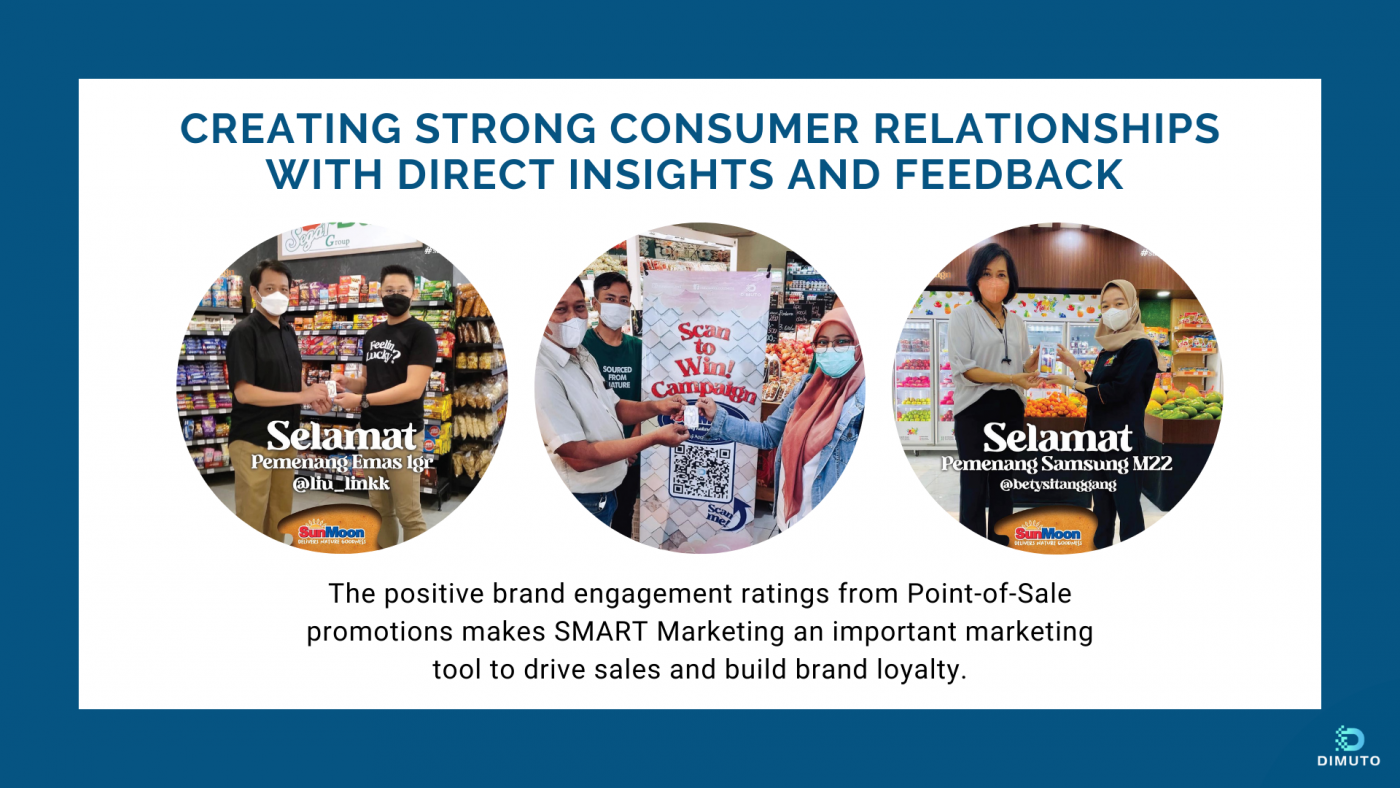 Introducing DiMuto's Solutions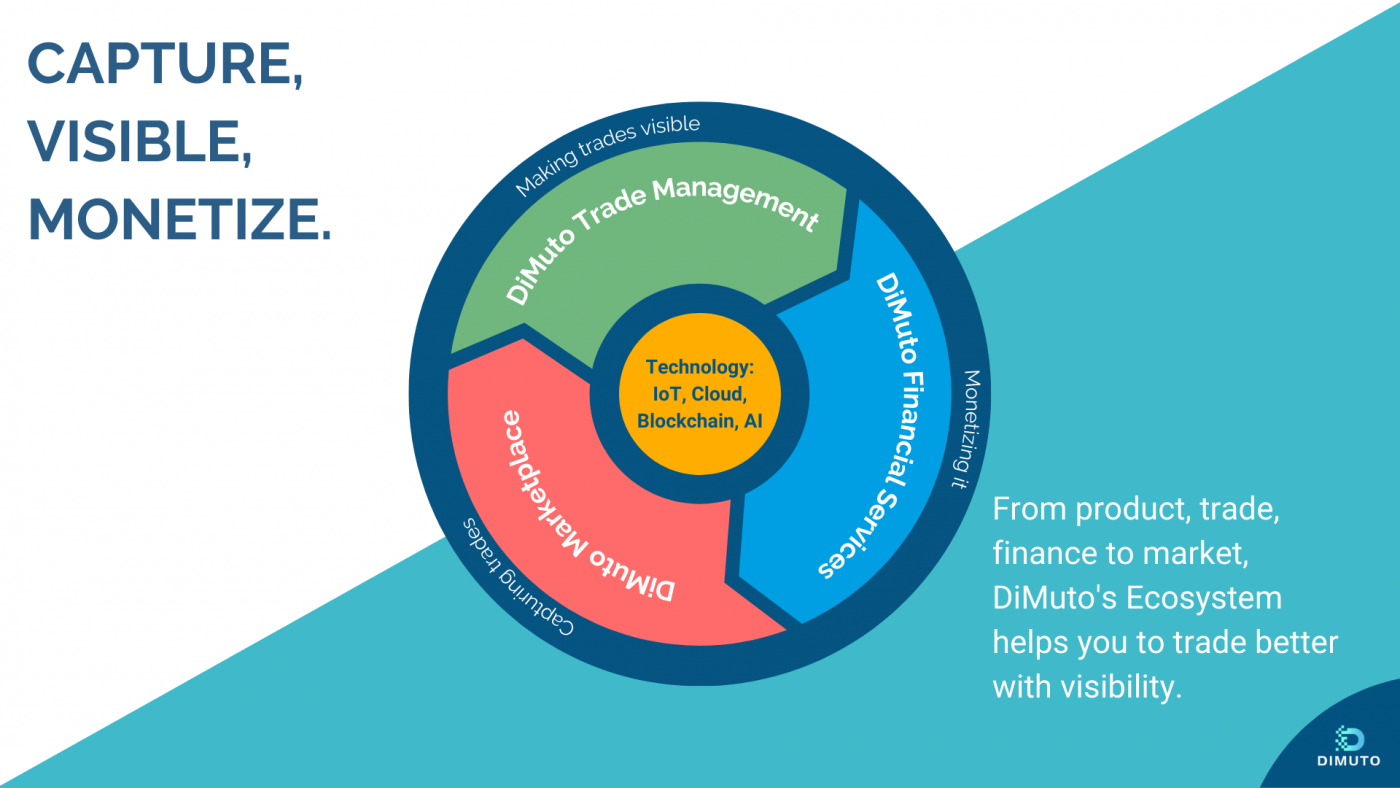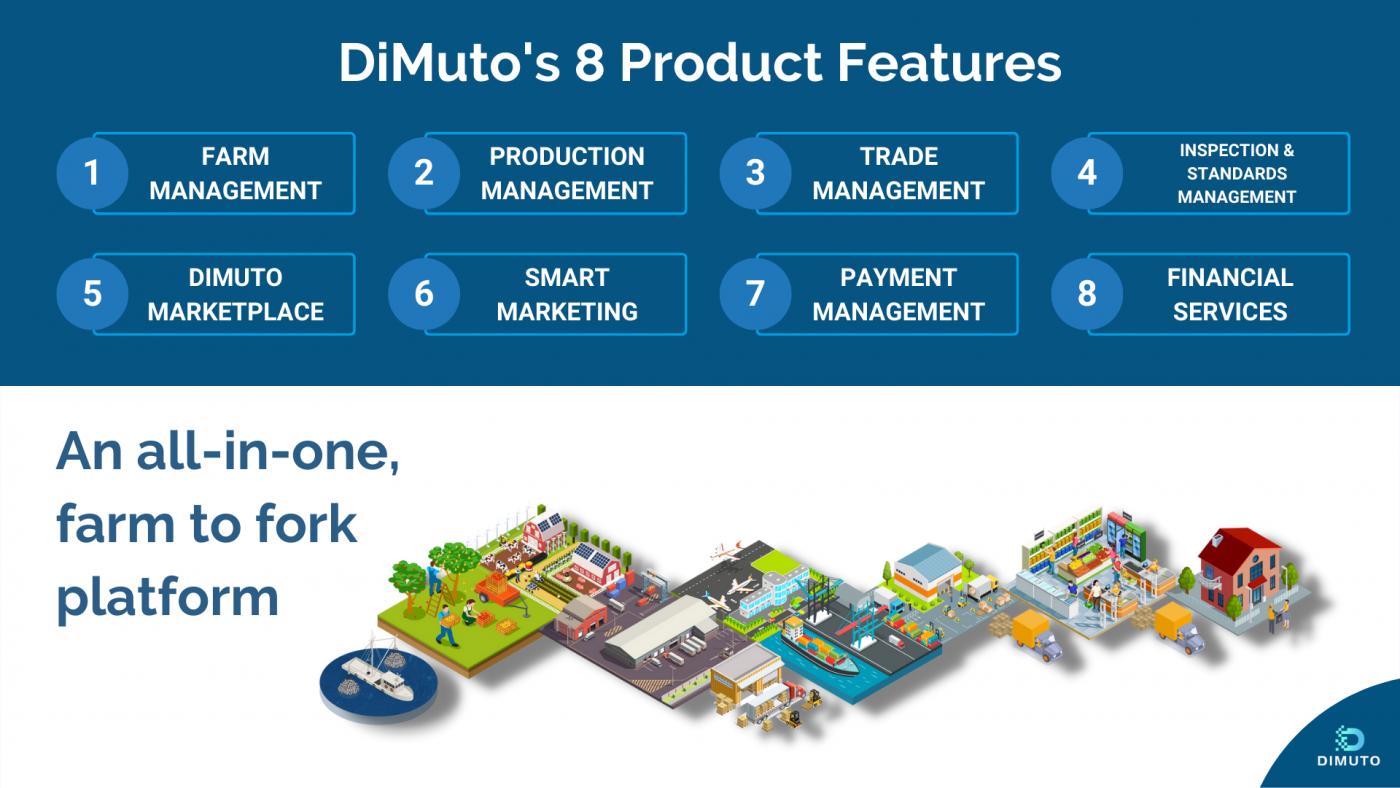 Secure Blockchain for Food Traceability
The DiMuto Platform automatically records each transaction onto the blockchain. Trade Information recorded by different SunMoon departments are secured with a blockchain hash to ensure transparency and immutability.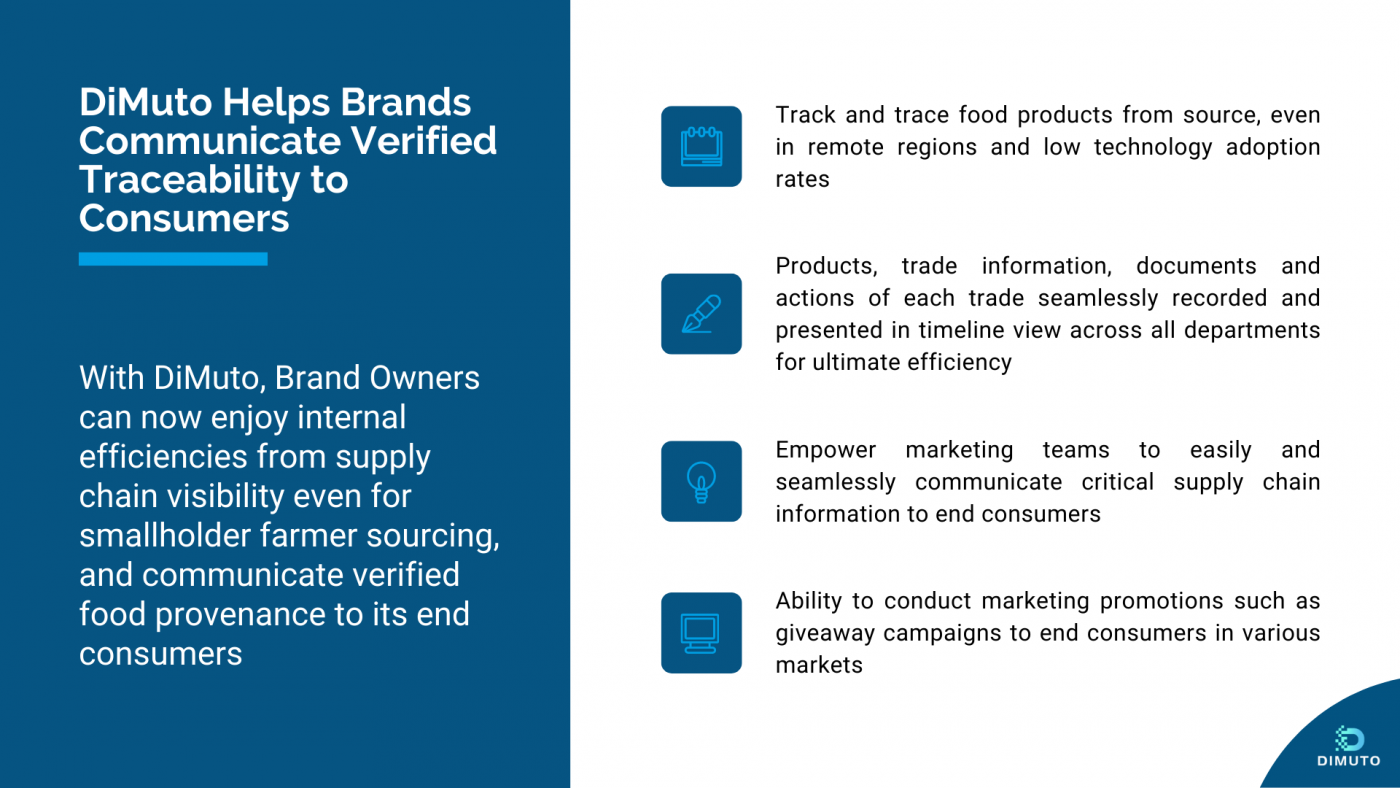 Read more of our Real-Life Case Study about How Farm to Table SMART Marketing Enhances The Brand Identity of a Fresh Produce Company in Indonesia here:
If you are interested to learn more about how DiMuto helps Agri-Food businesses leverage on blockchain traceability to create consumer engagement, please reach us here or drop us an email at sales@dimuto.io.