Singapore, 26 July 2022 – DiMuto, a global trade solutions platform, partners with Aleta Planet, a Singapore-based FinTech provider of B2B cross-border payment solutions, to support digital payments in and out of China on the DiMuto Platform to strengthen its Trade Financing services.
The collaboration will leverage Aleta Planet's UnionPay SME Commercial Account services, offering a new payment and remittance option for physical goods trade payments to China and 141 other countries, as well as the ability to execute Local Deposits from 42 countries through Payment Rails such as UnionPay, WeChat Pay, Visa, Mastercard, JC and Discover.
The partnership will add to the DiMuto Payment Management module, with AP's China-centric payment gateway making cross-border payments more efficient and transparent. Trade-related payments and financial transactions made using DiMuto's Payment Management will be tracked seamlessly on a single Platform.
"DiMuto is pleased to partner with Aleta Planet to provide a seamless and secure experience when making cross-border payments in and out of China. Our customers now enjoy greater flexibility and visibility with the addition of this payment gateway option to our Payment Management module," said Gary Loh, Founder and Chief Executive Officer of DiMuto. "Strengthening our ability to track trade payments will greatly open up opportunities for financing of trades on our platform."
Cross-border trade finance is largely paper-based and vulnerable to fraud, due to the complex flow of transactions and multiple number of parties involved. This makes it challenging to ensure adequate oversight and prevent fraud and crime. The collapses of Hin Leong, Agritrade and Greensill has seen a tightening of credit facilities and a preference for financing larger players as part of a "flight to quality" trend, making it more difficult for small to medium traders and companies to get access to supply chain finance.
The DiMuto Payment Management allows financiers to gain visibility on payments made and received by the borrower companies for financed trades, on top of existing trade documents and product visibility enabled by the DiMuto Trade Management Platform. In addition to such visibility, the primary trade data and payment data collected on DiMuto Platform will be applied to DiMuto's proprietary Trade Health AI model, to create objective and efficient trade health and credit scores. This actively reduces the risk of financing and enables offering of competitive rates for AgriFood SMEs that cannot rely on Letter of Credit for their trades and are unable to get traditional financing.
Building on a successful financing deal involving the import of Vietnamese Basa Fish into China, DiMuto will be working with Asia Capital Pioneers Group, the parent company of Aleta Planet, to accelerate its trade financing services.
"Asia Capital Pioneers Group's partnership with DiMuto reflects our commitment to creating a digitalized trade finance ecosystem, where physical agricultural assets can now be tracked throughout the supply chain, to give greater assurance that these transactions meet the criteria set out in our
sustainability financing frameworks," said, said Mr. Ryan Gwee, Chairman of Asia Capital Pioneers Group.
The financing partnership will drive forward the digital payments and financing aspect of DiMuto Trade Management Solutions, and the firm is expecting to finance more AgriFood companies that track their trade on the DiMuto Platform and is looking to raise funds to scale its financing solutions.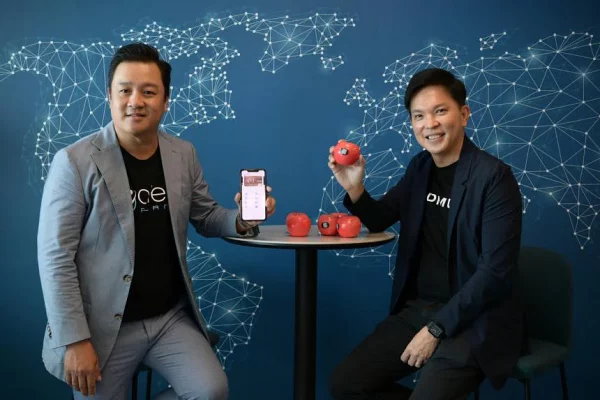 Mr Ryan Gwee (left), founder of Aleta Planet, and Mr Gary Loh, founder of DiMuto. ST PHOTO: NG SOR LUAN
-end-
About Aleta Planet
Founded in 2014 in Singapore by a team of professionals with strong business and technology expertise within the banking and finance industry, Aleta Planet is at the forefront of facilitating cross border payments to and from China. It specialises in end-to-end technology solutions for financial institutions and corporates. Aleta Planet provides payment services regulated under the Payment Services Act, governed by the Monetary Authority of Singapore. It focuses on a client-specific, solutions-oriented approach and has successfully delivered leading-edge technology solutions.
Aleta Planet is also a direct acquirer and issuer of UnionPay International, offering cross-border, multi-currency transactions safely and securely. Being a Certified Principal Member of UnionPay International, Aleta Planet enables merchants to accept over 9 billion UnionPay cards issued globally. Additionally, Aleta Planet issues UnionPay commercial and retail cards. Aleta Planet also has presence in Hong Kong, Dubai, Australia and Malaysia and plans to expand to another five markets in next two years.
Aleta Planet is also WeChat Pay and PayNow enabled, a principal member of JCB and a global acquirer for Discover and Diners Club. With this comprehensive offering, Aleta Planet seeks to accelerate networks beyond China to the rest of the world.
For more information, please visit www.aletaplanet.com.
About Asia Pioneer Capital
Founded in 2011, Asia Capital Pioneers Group started as a Hong Kong-based family office to provide wealth management and legacy planning for some of Asia's wealthiest families. It has developed a reputation of delivering above-market returns for its clients, through global investments within high growth industries such as real estate and fintech. As the controlling shareholder for several investments such as Songdo International Business District and payments fintech Aleta Planet, Asia Capital Pioneers Group has leveraged its management expertise, global connections, and business know-how to multiply the value of its investments. It also seeks to identify cross-synergies between its investment vehicles for greater efficiencies and business growth.
For further information, visit www.asiacapitalpg.com
About DiMuto
DiMuto provides agrifood companies with data they can see and trust, down to every single product of every trade, where they can easily see all that is happening for every trade transaction in an organized manner, on one single platform.
DiMuto simplifies every step of global trade – from produce, trade to market, DiMuto provide sales, marketing, operations, financing and insurance tools so businesses can trade better.
Equipped with a data-backed growth roadmap, companies can now navigate the complex global trade landscape with ease and focus on what matters – growing a thriving international business.
With Visible Trade, DiMuto powers companies and the world forward with confidence.
Since 2019, DiMuto has successfully tracked and traced over millions of pieces in produce and millions in dollars of trade value on our platform, working with a global portfolio of clients in over ten countries and five continents. DiMuto is founded by Chief Executive Officer Mr Gary Loh, who is also the Executive Chairman of First Alverstone Group.
For more information, please visit www.dimuto.io.