The use of Artificial Intelligence (AI) in the AgriFood industry has been greatly increasing recent years. According to Markets&Markets, the Agriculture industry's spending on AI technology is predicted to increase from $1bn in 2020 to $4bn in 2026. AI-based solutions have great potential to help Agrifood businesses become more efficient in their operations, make better trade decisions, and provide higher quality products faster. In lieu of such benefits, DiMuto has developed and incorporated AI technology into our Global Trade Solutions to help our customers scale greater heights.
Product Quality AI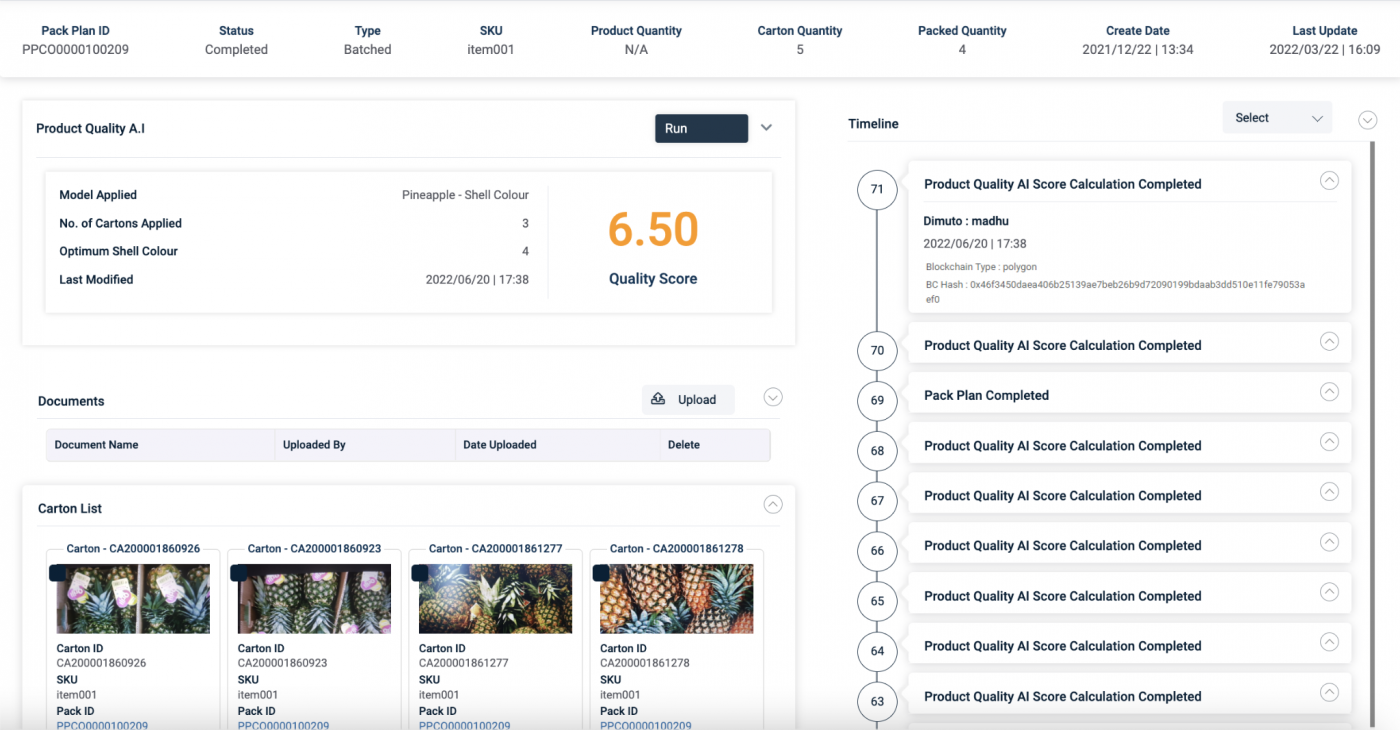 Image: View of Product Quality AI on the DiMuto Platform
Firstly, DiMuto has created a Product Quality AI that helps suppliers deliver a consistent high quality product to their buyers. Agrifood businesses very familiar with carrying out thorough QC inspections on their products to determine the quality of the goods and the presence of any defects. However, this important process can be extremely time consuming within a business' operations and the quality of the goods may be subjective across different audiences.
Using AI, QC Inspections can now be more efficiently and objectively done. DiMuto's Product Quality AI is currently able to analyse fruit products in three critical aspects:
Detecting ripeness based on surface colour of fruit

Confirming fruit size based on length and width direction

Number of products in a carton
This AI analysis is able to be instantly generated on the DiMuto platform when users capture and digitise images of their product onto the DiMuto system. Furthermore, it can also be applied onto a moving conveyer line that utilises the DiMuto Digital Asset Creation devices (DACKY).
Trade Health & Financing AI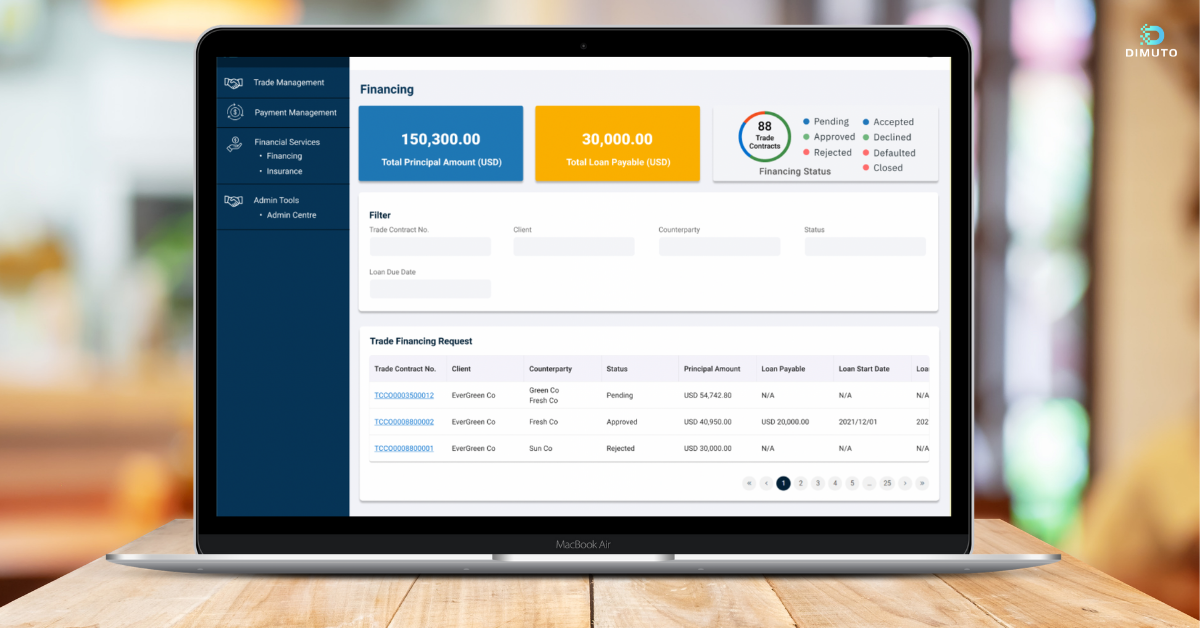 Image: View of Trade Health & Financial AI Homepage on DiMuto Platform
Secondly, DiMuto Financial Services leverages AI to assess trade health and product quality for every trade transaction on our platform. Working with perishables in a digitally disconnected and data-opaque AgriFood industry is typically regarded as fraught with risks by financiers. In order to access this risk, banks and other financing platforms tend to rely on a business' historical financial documents. However, assessing such documents may not be a reliable way to judge the risk of financing a company as they may be altered, forged, or irrelevant to their current operations.
DiMuto uses AI to avoid such issues by providing Agrifood business and financiers with:
Visibility of day-to-day operations

A complete & accurate image of the financial & operational strength of the company

Low-risk lending for financiers, opportunities for buyers/suppliers
Such analyses can be made from the real-time trade data of each trade that is captured on the DiMuto Platform. In combination with the Product Quality AI, DiMuto can generate a financial risk score for each trade and company that can be used for post-shipment financing opportunities. Thus, DiMuto's Trade Health & Financing AI allows for financiers to enjoy deeper visibility and more robust assurance and for borrowers gain more accurate risk assessments and more flexible terms.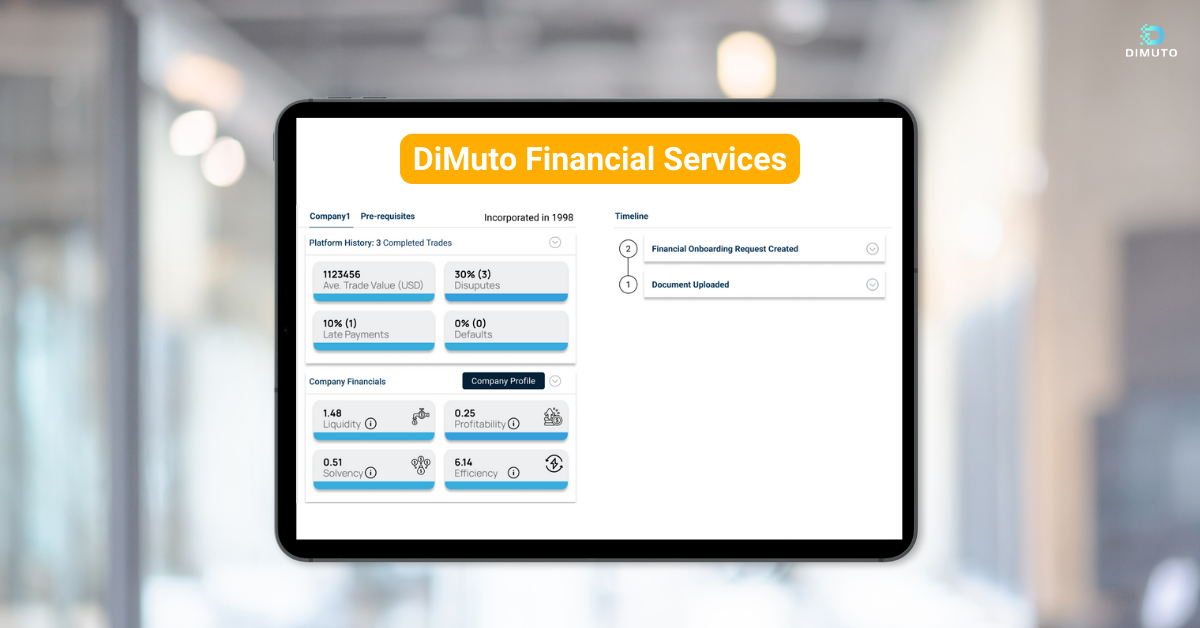 Image: View of Trade Health & Financial AI Screen on DiMuto Platform
At DiMuto, we understand the utility AI can have in empowering Agrifood business make better informed trade decisions to improve their operational efficiency, product quality, and business growth. With such seamless integration with other DiMuto features, we hope to make AI technology accessible and approachable to our customers to help foster a more resilient global Agrifood supply chain.  
A Need For Digital Transformation of Agrifood Supply Chain
In the face of a growing global population and the intricacies of the agrifood supply chain, digital transformation has become a necessity rather than a luxury. The shift from traditional methods to digitalization and automation is vital to enhance efficiency, transparency, and sustainability. By digitizing operations and breaking down data silos, real-time communication and collaboration among stakeholders can be achieved. QR code labels and digital twins, exemplified by DiMuto, facilitate supply chain visibility and data capture from production to distribution. Incorporating technologies like IoT, sensors, and blockchain enables informed decision-making, waste reduction, and increased efficiency. AI and data analytics further contribute by predicting yields, optimizing routes, and tailoring production. Sustainability is a driving force behind this transformation, allowing resource conservation and waste reduction, ultimately leading to a more sustainable food system with environmental and social benefits.
Find out more in this article