How DiMuto Traceability Labels Could Have Helped Food Safety Recalls – The Case of Salmonella in US Peaches
Just this week, the Singapore Food Agency (SFA) issued a recall of fresh peaches imported from the US due to a potential link to the ongoing Salmonella outbreak in the states. Consumers were told to look out for peaches with a specific set of PLU codes on the individual labels. Yet, at the same time, SFA also noted that not all peaches with the particular PLU codes came from the affected packing company Prima Wawona.
And that's where current labelling and packaging practices may cause confusion for end consumers when it comes to food safety issues.
When products are packed in punnets or bags, it is easier for consumers to identify the affected brands of produce such as below: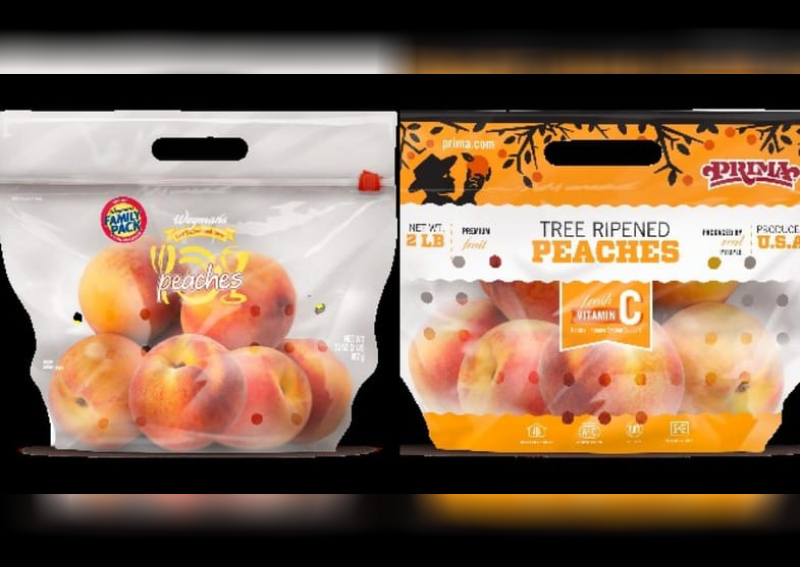 Affected peaches packed in Prima packaging. [Source: US FDA]
However, when produce are loose packed, there is little to no clear indication on the brand or the origin of the fresh produce. Consumers can only rely on the PLU numbers.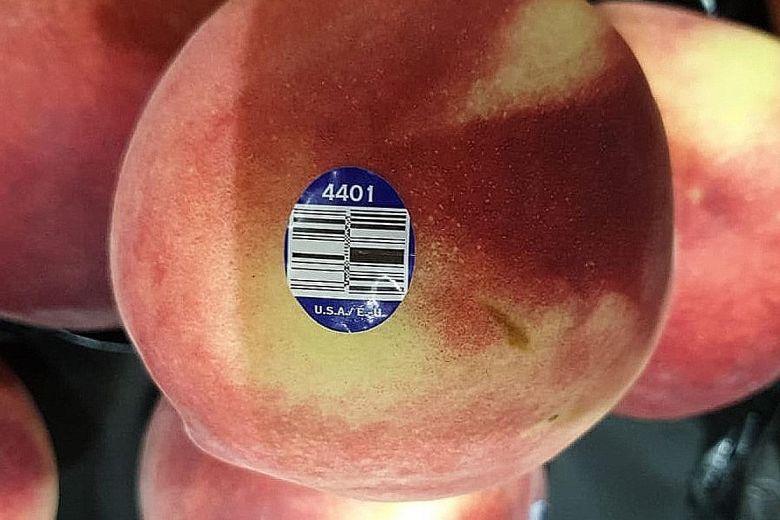 Affected peaches in loose packaging with a typical PLU Label. [Source: SFA]
This is a problem because PLU codes, otherwise known as Price Look-Up codes, are used as an industry-wide indicator with regards to the produce's commodity, size and variety rather than an indicator of which company grew, produced or packed it. That is why SFA noted that not all the peaches with PLU code 4401 come from Prima Wawona.
Additionally, consumers are also often unaware of the meaning of PLU codes as it does not have any significant bearing on their grocery shopping routines. Thus, to decode the PLU codes at the grocery store or supermarket, one would have to rely on memory.
This makes it difficult for authorities and industry players to conduct food safety recalls in a more specific way, i.e. recalling only those affected products in an efficient, accurate manner.
How can we bring more food traceability and visibility to end consumers that would be relevant in situations involving food safety and empower end consumers with accurate, verified supply chain data?
How could using DiMuto Traceability Labels help with food recalls such as this case?
Our DiMuto Traceability Labels, a hybrid of existing barcodes and unique DiMuto QR codes, are an easy way to inform consumers if their produce products have been affected or compromised.
With DiMuto Traceability Labels on fresh produce products, consumers can simply scan the QR label using any mobile phone and be directed to a product page that would provide them with food provenance information so they can know exactly which company produced the fruit or vegetable. If there are any urgent food recalls needed, notifications can also be implemented on the page such that consumers will know if their product is safe to consume.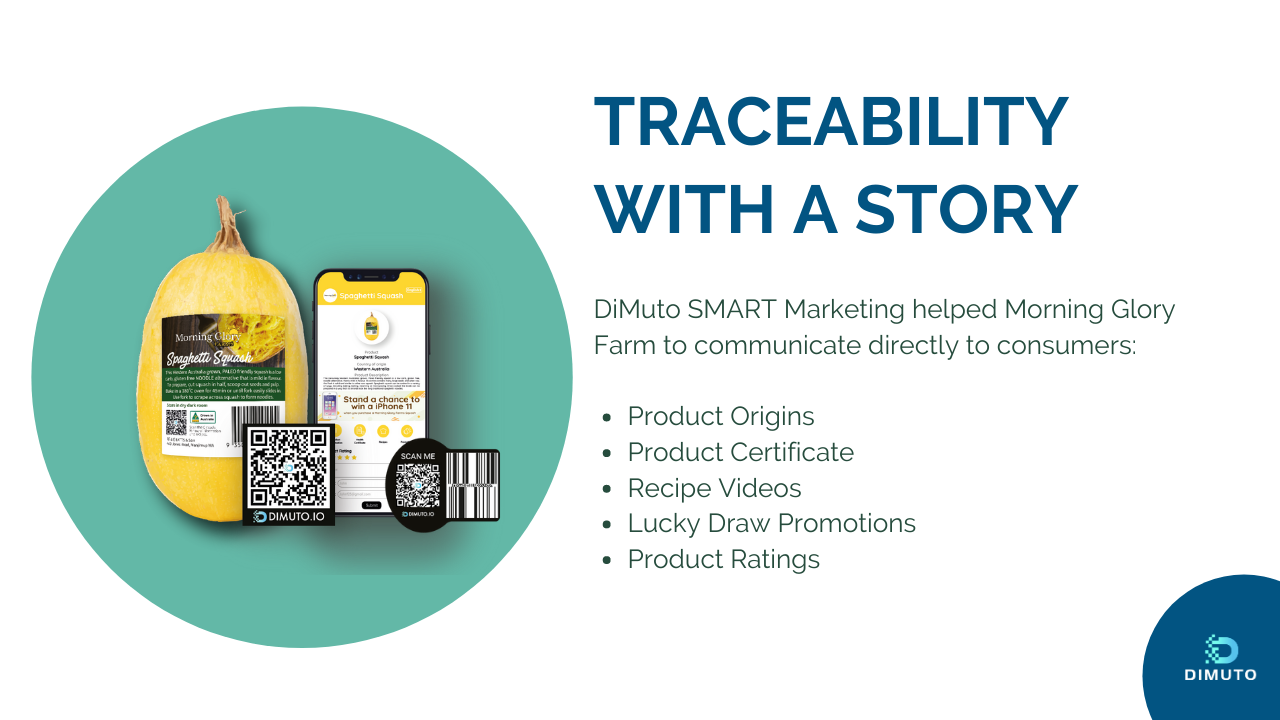 Our SMART Marketing services help agrifood growers, suppliers and exporters to communicate needed product provenance and food traceability information, powered by our DiMuto Traceability Labels. Find out how we've helped Morning Glory Farms, a Western Australia Squash grower with communicating their farm story here.
Scanning of DiMuto Traceability Labels 
Read more about how we've also implemented this in Singapore with Ecuador Pitahayas here.
Australian Apples with DiMuto Traceability Labels
Mexican Avocados with DiMuto Traceability Labels
What's special about the DiMuto Traceability Label is that behind every QR, we are able to track all the relevant supply chain information for every single fruit and carton on the blockchain-powered DiMuto Platform. Thus, when consumers access the product page, the provenance information they see is verified and immutable data that has been pulled from our platform.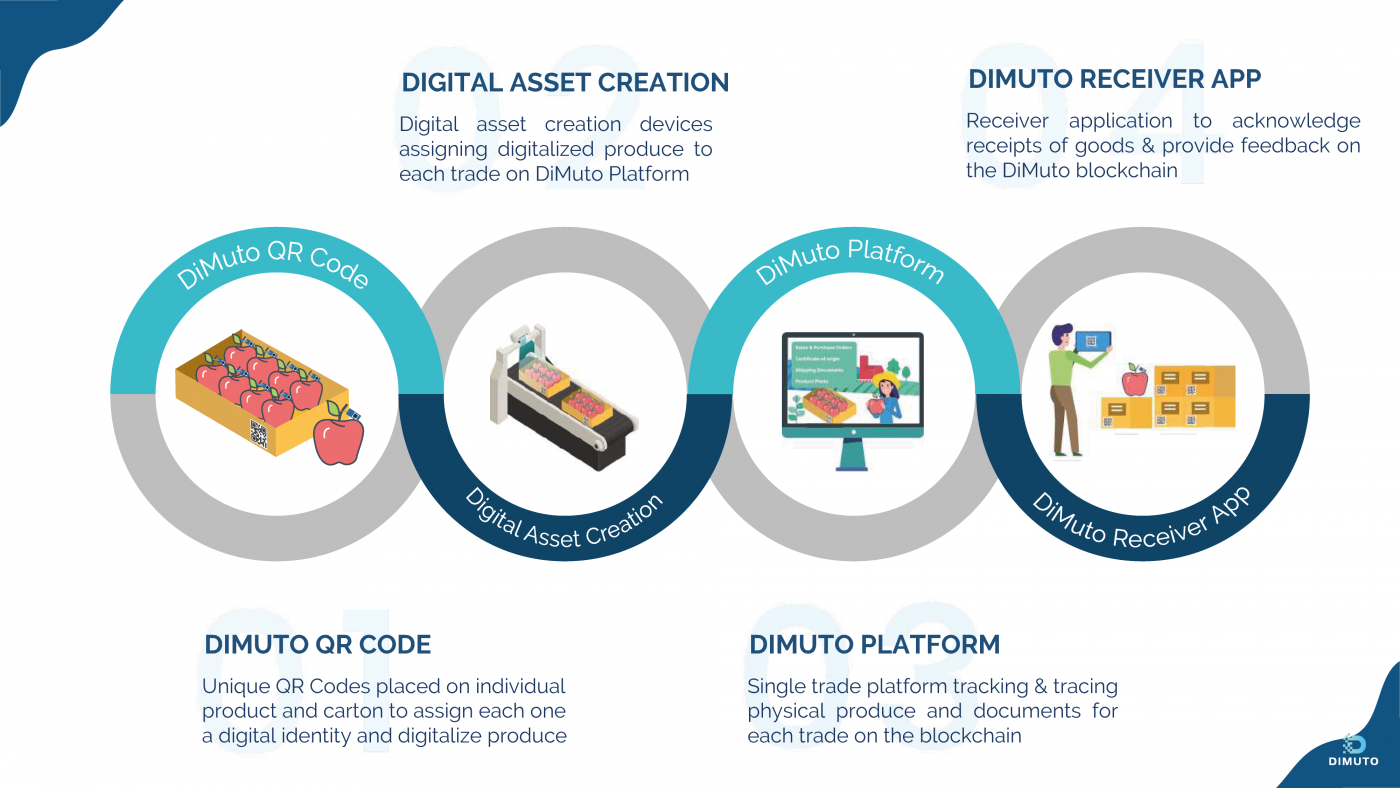 We track every fruit and carton in global food supply chains using DiMuto 4T Suite Solutions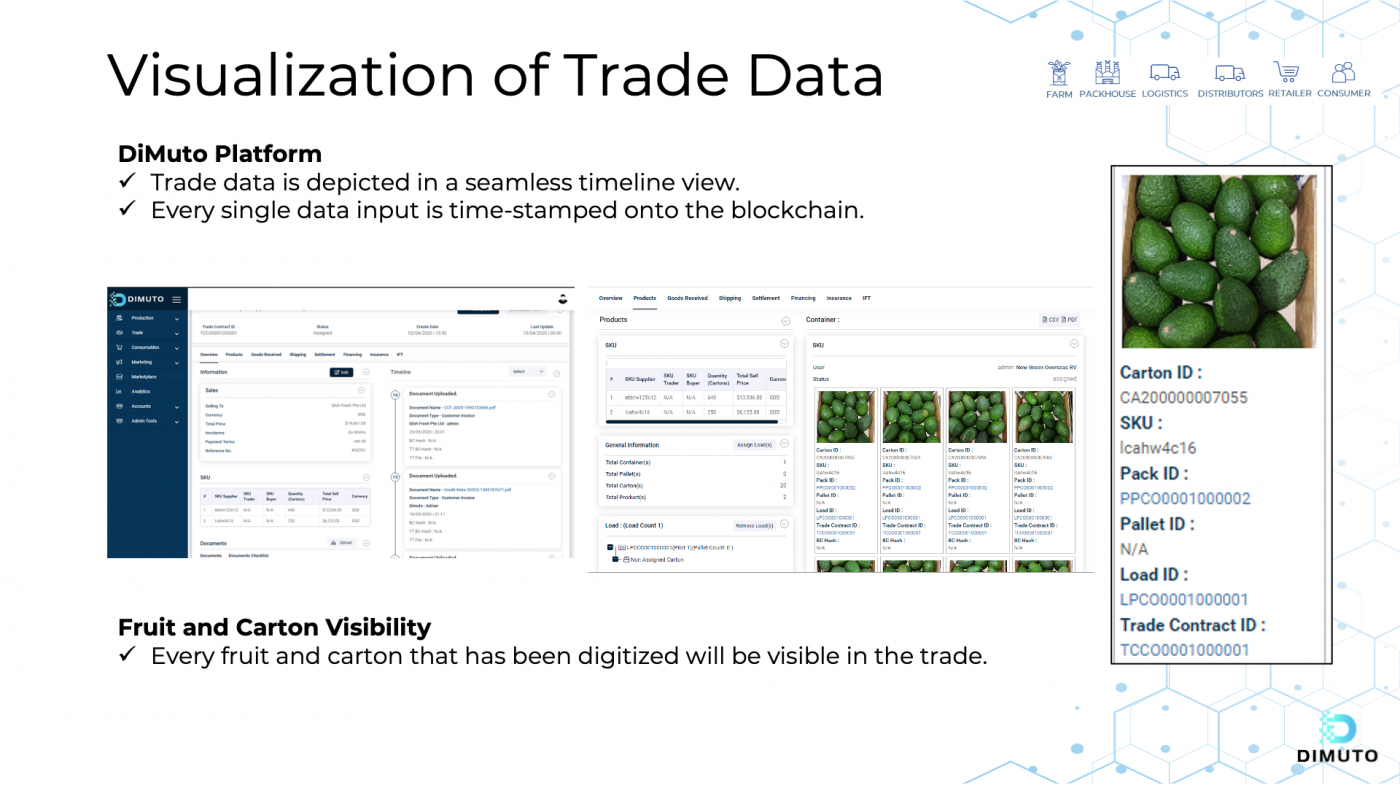 The level of visibility available and information being recorded on our platform is down to individual carton and product level. 
Thus with the granularity of traceability offered by DiMuto, existing challenges of food safety recalls can be easily resolved to create trust and supply chain visibility for all food system stakeholders, even consumers.
–
If you are interested to learn more about how DiMuto can help you with food traceability and supply chain visibility, please reach us here or drop us an email at sales@dimuto.io.