Using Traceability For Brand Engagement
DiMuto SMART Marketing helped Pukuna Farms to communicate directly to consumers
About Pukuna Farms
They produce and exports exotics fruits from Ecuador in an easy and effective way.
They offer a wide range of fresh products of high quality.
Their customers are mainly wholesalers and distributors in Singapore, Hong Kong, the UK and USA .
DiMuto Results
DiMuto Digital Asset Creation (DAC) and Trade Platform provided trade traceability
With DiMuto traceability system and trade network, Pukuna Farms was able to enter into South East Asia Region
SMART Marketing Solutions helped engaged end consumers and strengthen Pukuna brand
Key Challenges:
The main challenge faced by Pukuna Farms was finding a way to expand its market to such an unknown region like Asia, coming from so far away (Ecuador). It is not easy to enter an unknown market and for that, the supplier has to be reliable, where consistent quality is key. Buyers need to be assured that suppliers will sell their fresh produce in good condition and they will be receiving the products as per specified. For that, it is important to have full visibility in the supply chain.
How DiMuto Helps
Thanks to DiMuto's traceability solutions, Pukuna Farms was able to establish transparency of its product quality, increasing their reputation as a reliable supplier when it came to the export market. This helped to differentiate Pukuna Farms since it could provide traceability in its supply chain. Leveraging DiMuto's Global Trade Network of fresh produce buyers, Pukuna Farms was thus able to expand its export market by supplying DiMutofied pitahayas. At the same time, DiMuto SMART Marketing digitalizes fresh produce and captures important supply chain information, telling the brand's story to consumers. With traceability and digitalization, Pukuna Farms was able to improve sales and branding. Each Pitahaya is digitalized with DiMuto QR code so it can be tracked and traced on one single platform to provide full visibility as it moves through the supply chain. Product quality, farm information, trade information is captured on the DiMuto platform. Trade information is visible to supply chain partners in order to establish trade traceability and transparency. For end consumers, when they scan the QR code with a smartphone, they would be able to see all the information of the product and farm and gain knowledge on product provenance. At the same time, consumers can also take part in lucky draws and provide feedback. In this way, Pukuna Farms can close the loop and engage end consumers, boosting their brand.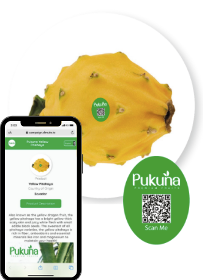 Pukuna Pitahaya with DiMuto QR and Product Page as part of DiMuto SMART Marketing Solution
Consumers are able to scan the QR code to access product traceability information with DiMuto SMART Marketing
Every Pitahaya has been tagged with a DiMuto QR Code for traceability and consumer engagement
Pukuna was able to tell their Farm story to their end consumers through our digitalization solution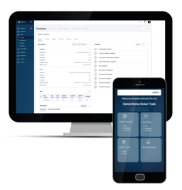 The DiMuto platform is accessible to everyone involved in the business through web and mobile applications.
Reach New Markets
"We are pleased to work with DiMuto to grow the Pukuna brand in Asia and Southeast Asia. With DiMuto's traceability solution, we are able to create trust with our export customers and also communicate our story to end consumers," said Santiago Báez, Managing Director of Pukuna Farms. With DiMuto-verified products and trade, Pukuna was able to access new export markets in Southeast Asia as part of DiMuto's Global Trade Network, and conduct marketing campaigns to grow their brand.