"Disrupting Agriculture" is the theme for Start-up Day 2020, an event organized by Fruit Logistica, the largest global exposition for the fresh produce industry. With the boom in agtech innovation in the last few years, the produce industry is indeed ripe for disruption.
The wave of new technology trends such as vertical farming, agriculture robotics, smart farming is spurred by problems affecting the supply side of our food supply. Vertical farming has been seen as the next big solution to mitigating climate change and climate-related natural disasters threatening food security, while labour shortages have long plagued farmers prompting the adoption of mechanization and robotics technology – As many as 40% of farmers in California have regularly been unable to fulfill labour required for crop production for the past five years.
Export Fruit Trade as Key Driving Force of Agriculture Industry
While there have been many companies coming up with solutions to solve the problems mentioned above, it is also worth looking at the key driving force behind the global fresh produce and agriculture industry. According to a 2018 FreshPlaza report, the total export trade in fresh fruit and vegetables has developed more rapidly than the total global trade in goods in the past ten years. The international trade in fresh fruit increased by an average of 2 million tonnes per year to about 80 million tonnes in the past 10 years, and the five key trade flows pegs Southeast Asia as the growth market. Mutual trade flows in Southeast Asia performed best with the largest absolute growth in global trade flows of fresh fruit to almost 8 million tonnes worth of fruit a year, as well as rapid growth of exports from North America, Latin America and the rest of the world into Southeast Asia.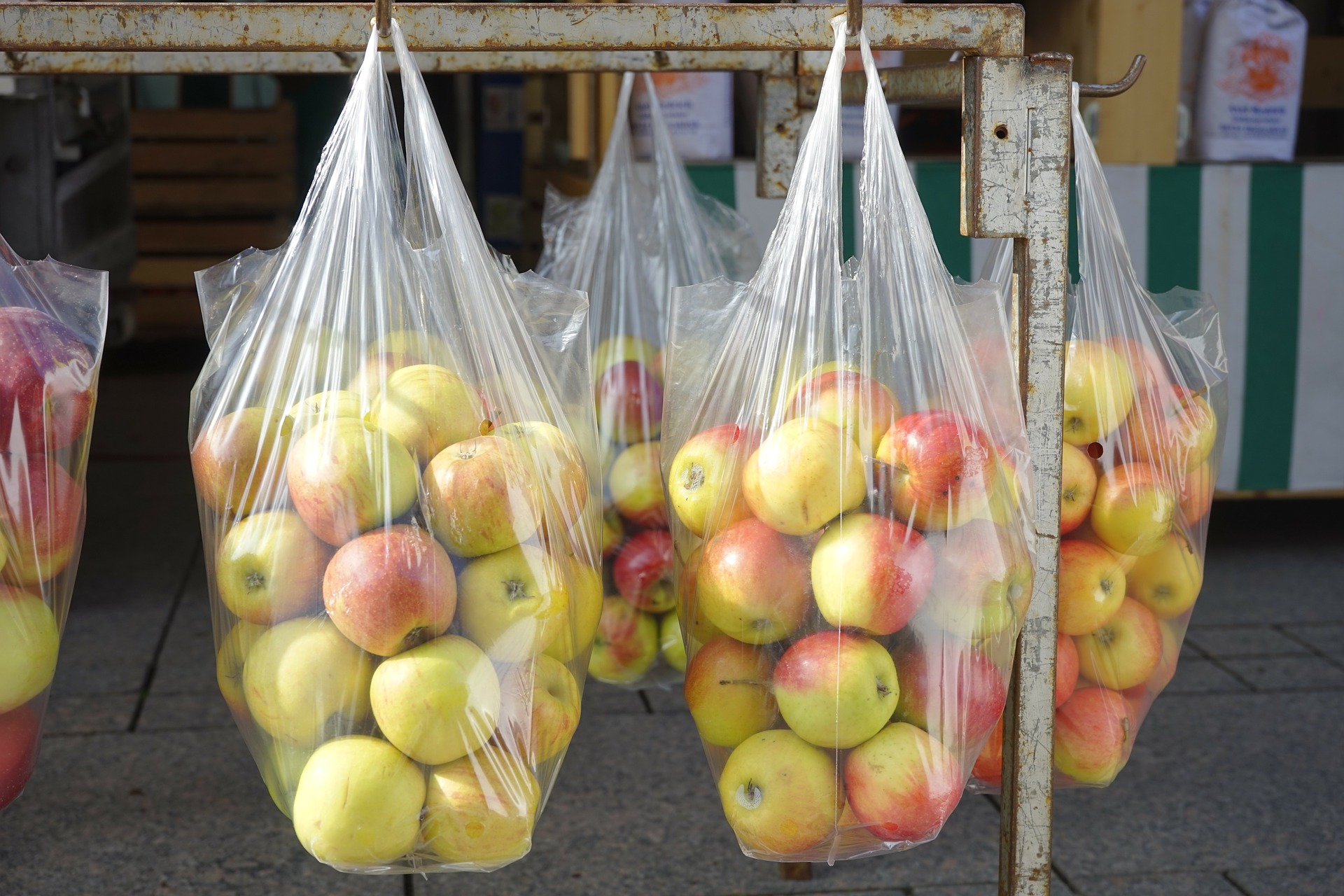 Apples, Citrus, Bananas, Grapes are amongst the top exported fruits. 
Trade Dispute: Huge Problem of Companies Doing Export Trade
The high growth of cross border trade in the produce industry has also magnified the problems of conducting produce trade. Problems like trade disputes over food quality can cause up to 5-10% loss per container of fruit exports. Food safety issues, a rampant problem of the industry, often result in entire batches of produce being rejected or destroyed, creating millions of losses. It is no wonder that the need for supply chain and trade transparency was one of the key highlights during Produce Marketing Association (PMA)'s 2019 Tech Knowledge event to solve the "Messy Middle" of global produce supply chains.
Supply Chain Transparency Solves The "Messy Middle"
Supply chain transparency has been little more than a buzzword due to the overwhelming complexity of food systems. While industry giants such as Walmart, Carrefour and Nestle have started implementing traceability solutions in a bid for more transparency, it has been difficult for supply chain transparency to gain more traction throughout the industry. There are limited players that have adopted traceability solutions. This is mainly because the produce supply chain simply involves too many moving parts and stakeholders, and no one traceability solution has been able to work for all the players.
Getting Supply Chain Transparency to Work
For supply chain transparency to work, it is important to target the meat of the problem – getting the data from physical produce.
What does this mean? Millions of physical cartons of fresh produce products are being moved every day,  yet there has not been a way to effectively and efficiently track them, as well as easily access information related to each carton, nor prove the quality of the produce. A key obstacle would be digitalizing the produce and the carton it is packed in. Without a digital identity, it would be extremely difficult to track. (We previously talked about digitalized produce here)
Operational aspects also need to be considered for digitalizing produce to be applicable.  They include being able to efficiently capture all the digital identities of the produce and cartons as they move through packing lines on the ground so that there are minimal disruptions to existing workflows. Not all packing houses are created equal – some are highly automated, while others are still largely manual. Thus for traceability solutions to work down to the product level, it is important to cater to the needs of different produce companies.
At the same time, digital identities need to be easily readable by all supply chain stakeholders. A good solution would be to adopt GS1 Standards for labels, a common foundation for business by uniquely identifying, accurately capturing and automatically sharing vital information about products.
Thus, a deep level of understanding about the workings of the produce industry is key in coming up with a solution that is truly applicable and scalable. That is why at DiMuto, we have developed different machines to capture product information at the packhouse that we call Digital Asset Creation machines (DACky). Our DACky machines are designed to capture a photo of each carton and each individual produce, associate it to the relevant trade that it is packed for so as to relieve the heavy burden of proof on suppliers when it comes to trade disputes.
Not only so, DiMuto is a GS1 Solutions Partner, and we use QR Labels following GS1 Standards for all our customers, as consumers are able to easily scan the QR code for traceability information related to the product.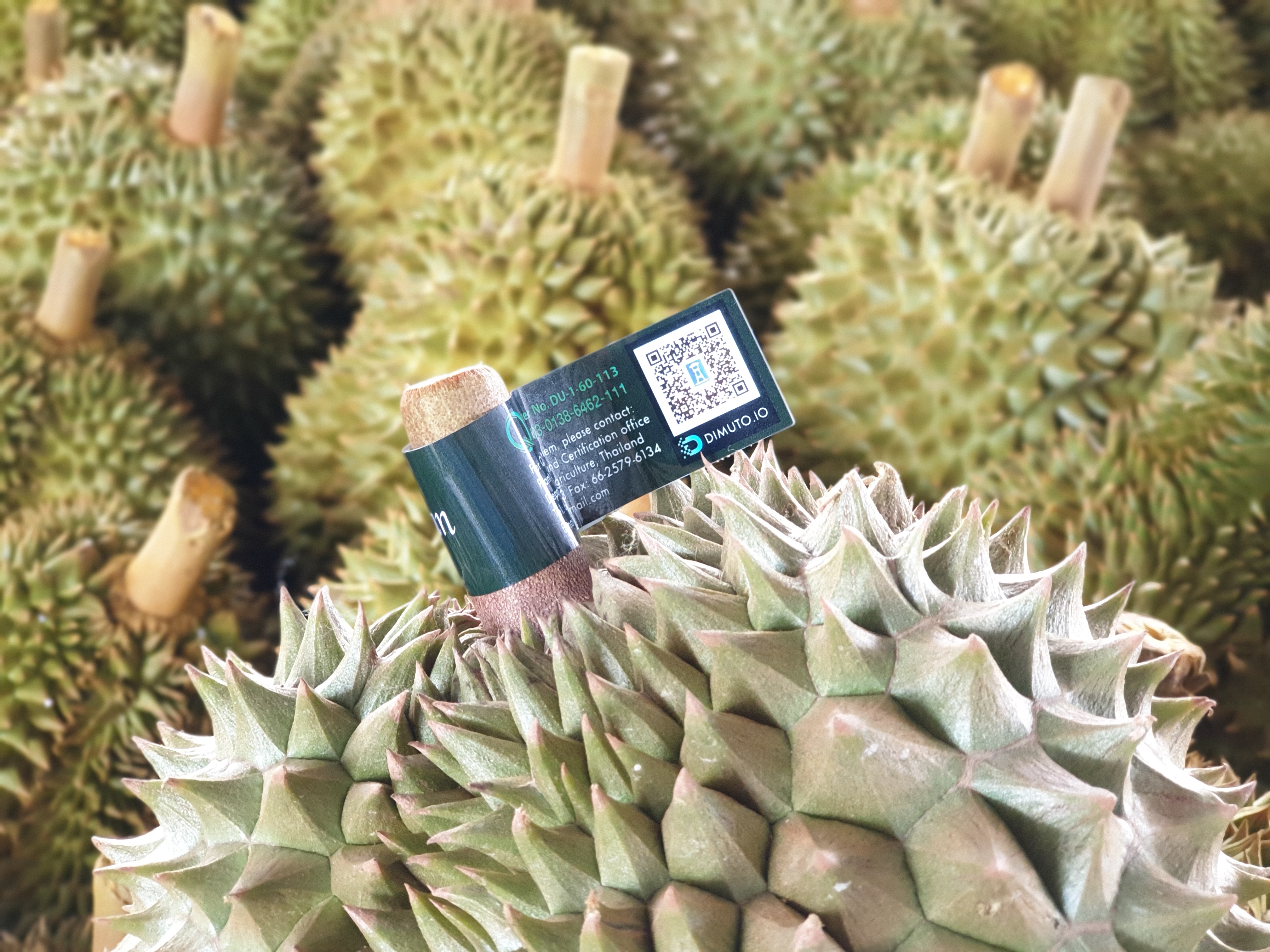 DiMuto QR Labels
Maximizing the Data from Digital Supply Chains for Added Benefits
At the same time, the benefits of adopting traceability technology have yet to be communicated well to fresh produce companies. Traceability alone is not enough to motivate industry players to adopt potential solutions. The ability to do branding with QR Marketing, as well as direct consumer engagement, is also highly attractive to brand owners looking to build their brands in new overseas markets. The potential to capture more personalized consumer data can let producers and retailers understand more about their consumers and facilitate the matching of supply and demand on the consumer level.
Another advantage of digitalizing supply chains would be trade financing – Produce companies, traditionally, never had trade financing opportunities as many financial institutions often consider the perishable industry too complex, and too high a risk. With digitalization and easily accessible supply chain information, financial institutions may be more keen to provide trade financing opportunities to fresh produce companies.
That is why DiMuto offers a 360 trade solutions platform that solves the challenges of suppliers, traders, buyers and brand owners operating in the produce trade. The ability to reduce trade disputes, access to trade financing and the opportunity to do marketing are key motivators for companies looking to adopt traceability and digitalization. Learn how we have helped provide trade financing to Thailand's largest durian exporter here.
It is well-known that Data is king in the era of digitalization. Armed with having trusted, quality data about the agrifood supply chain, then can we truly disrupt one of the biggest driving force behind the produce industry.
DiMuto is one of the twenty startups to be selected to participate in Fruit Logistica's Start-up Day 2020. If you are interested to learn more about how DiMuto helps create traceability for fresh produce, please reach us here or drop us an email at sales@dimuto.io.