DiMuto recently digitized US oranges that landed in Thailand and helped create a new level of visibility for the citrus trade. Read on to find out how did DiMuto help to solve the challenges of moving produce with no visibility.
The Challenge: Resolving Trade Disputes
What happens in the fresh produce trade every day? Currently, global produce trade is being conducted with little to no visibility of the supply chain, making resolving trade disputes over quality issues an inefficient process that consumes considerable time and manpower spent on gathering, collating and verifying information related to the trade.
The Messy Middle of Global Produce Supply Chains
Today, global fresh produce supply chains are extremely complex. This results in a disconnected visibility of the supply chain where companies are unable to track products as they move across borders. The lack of full visibility creates what is known as the "Messy Middle" – where miscommunications, misinformation, and trade disputes thrive due to the lack of data and information flows.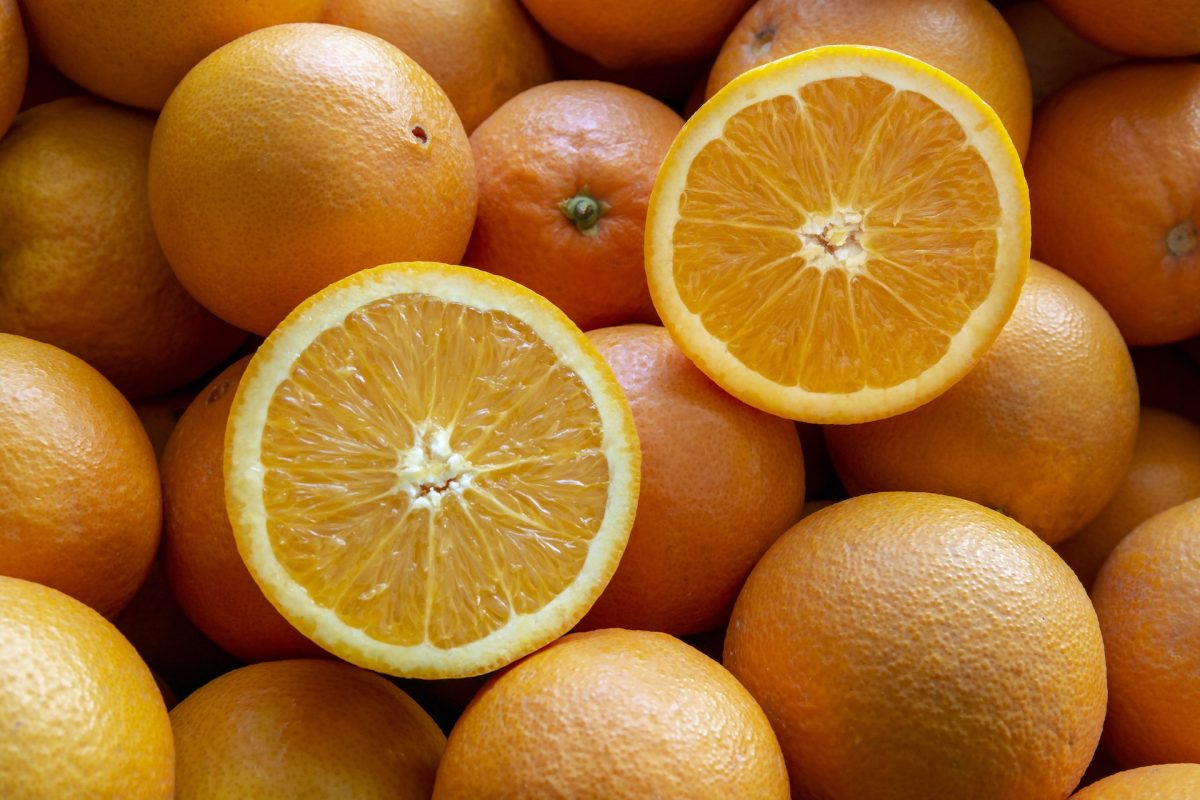 Having to Rely on The Benefit of The Doubt
With the lack of visibility in this "Messy Middle", buyers and suppliers of fresh produce often have to rely on the benefit of the doubt in each trade transaction when something goes wrong. Because information is found over social messaging apps, emails and their individual ERP systems, it is often difficult to have the whole truth of the situation. This makes it more difficult to create trust and long-term partnerships, especially with new buyers or suppliers.
The Messy Middle Nightmare Begins – "Your Oranges Have Snowballs"
An order for a container of oranges was placed by a fresh produce importer in Thailand to a citrus supplier in the US. This was a first-time order between the buyer and the supplier. Unfortunately, there ended up being a delay of 10 days in the shipment arrival date, which caused mould and snowballs to occur on the oranges, as well as moisture-damaged carton boxes. Traditionally, the buyer would send the photos of the cartons on Whatsapp. With just Whatsapp photos, it is difficult to verify the information, thus dragging out the trade dispute resolution process.

No Data, No Visibility
Often, buyers and importers receive goods that do not fulfil order specifications, or products that have some form of quality issues. Moreover, the defects are only known only when the fruit or produce have arrived due to a lack of product visibility. This makes trade dispute resolution challenging. For this citrus trade, the Thai importer was:
Unable to see physical condition of product until arrival
Unable to show full extent of damages
Unable to prove when goods were received
This becomes a huge problem, especially when each container of fresh produce can easily value from $50,000 to $150,000.
Creating The Benefit of Truth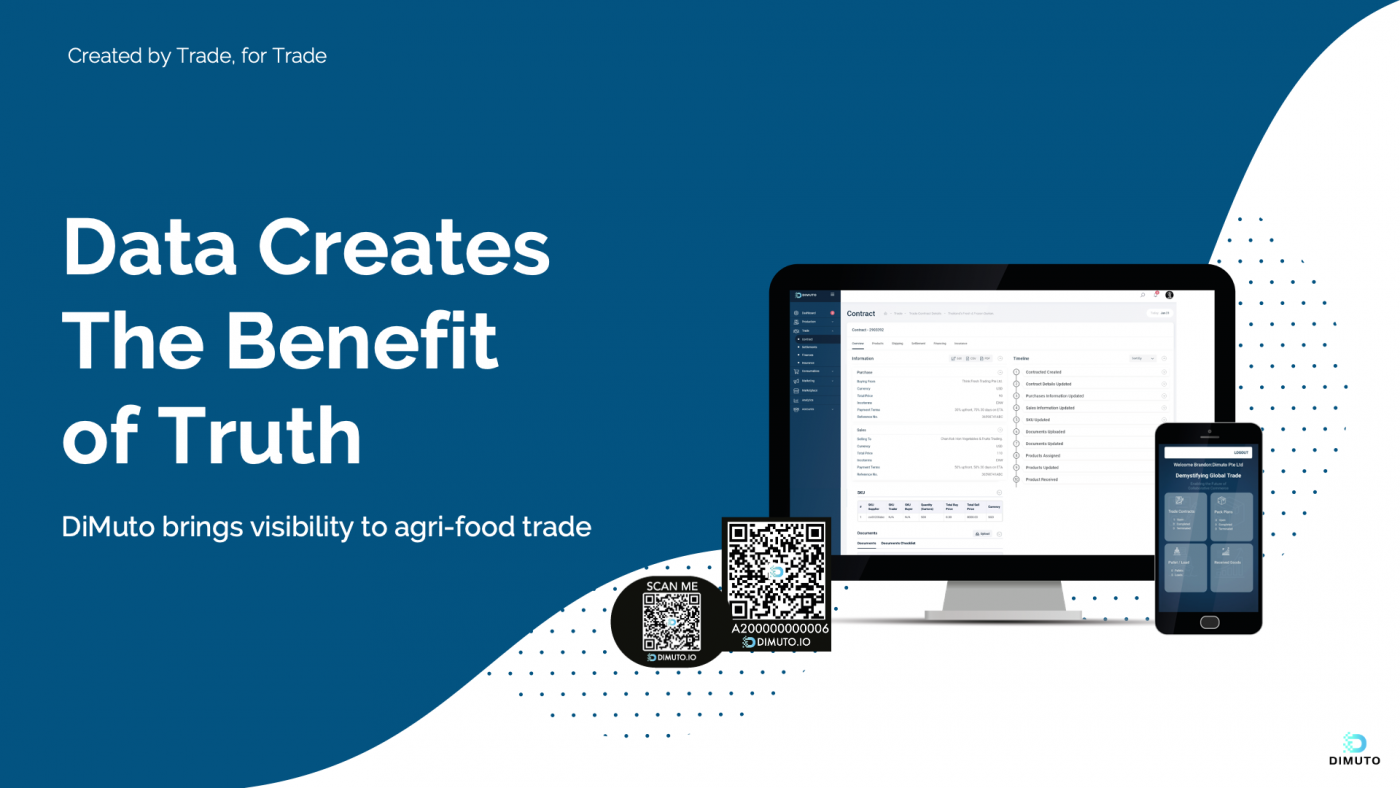 Created by trade for trade, DiMuto brings visibility to the agri-food trade, bringing the benefit of truth to players in the food production ecosystem. Using the DiMuto 4T Suite Solution, a 4-part trade technology solution combining blockchain, AI and IoT, DiMuto digitalizes the agri-food supply chain for data visibility and trade transparency, aiming to solve the industry's various challenges such as food waste, food safety and food sustainability. The DiMuto 4T Suite Solution creates traceability for every single fruit as they move through the supply chain by capturing important data at key supply chain stages. Individual products and cartons are tagged with DiMuto QR codes to assign each one a digital identity. These products and cartons are then digitalized through DiMuto's proprietary Digital Asset Creation devices (DACky). Buyers can then use the DiMuto Receiver App to acknowledge the receipt of goods and provide feedback, all recorded on the DiMuto Platform to truly close the supply chain loop on one single platform. With the visibility provided by data captured as the product moves through the supply chain, DiMuto helps to reduce disputes over quality and creating trust amongst trade parties.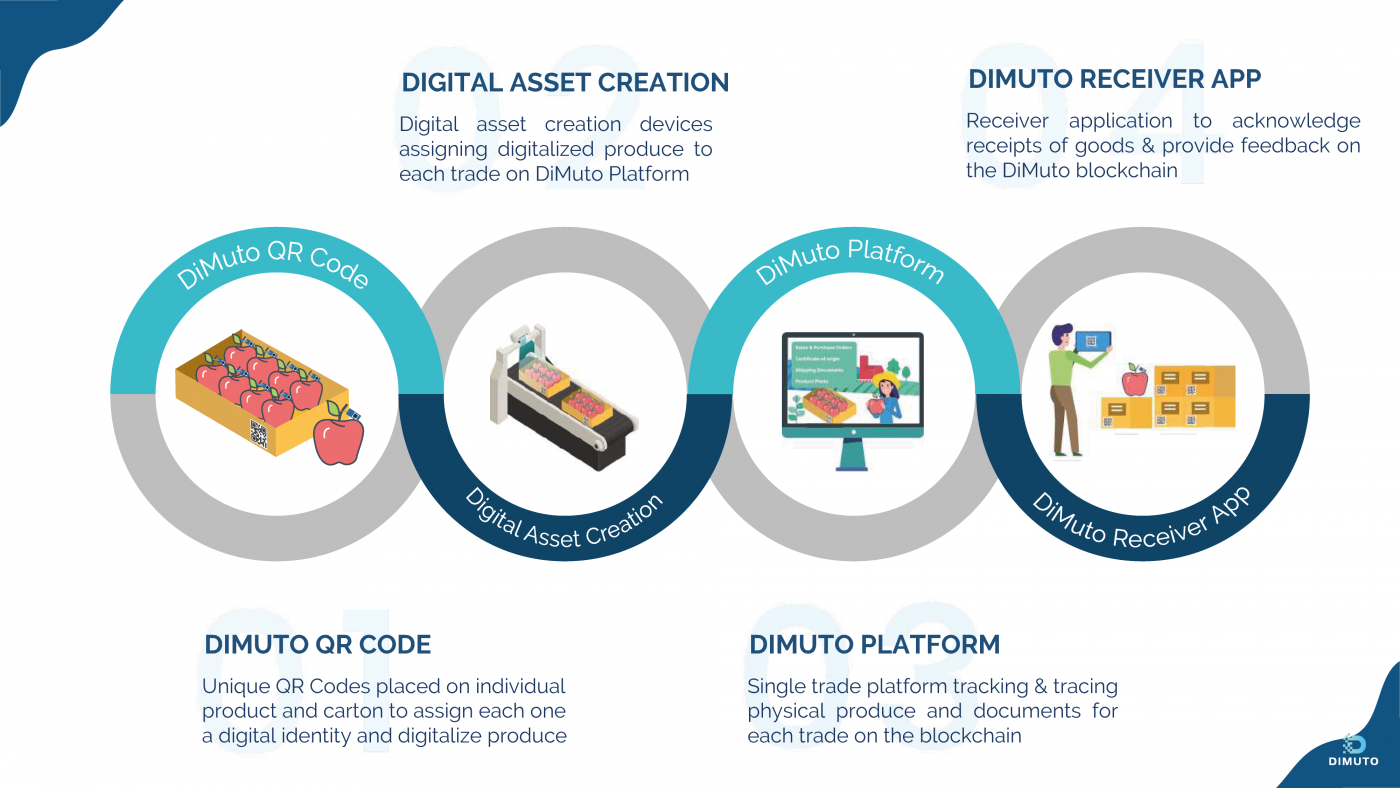 Easily track & trace every single carton and every single produce for all your produce trade using DiMuto 4T Suite Solution DiMuto helps provide increased supply chain visibility for both suppliers and buyers:
Receipt of goods and feedback done on a single platform
Able to track quality issues down to individual cartons
Easily access product photo and related trade documents
An Evidence-based and Data-backed Trade Dispute Resolution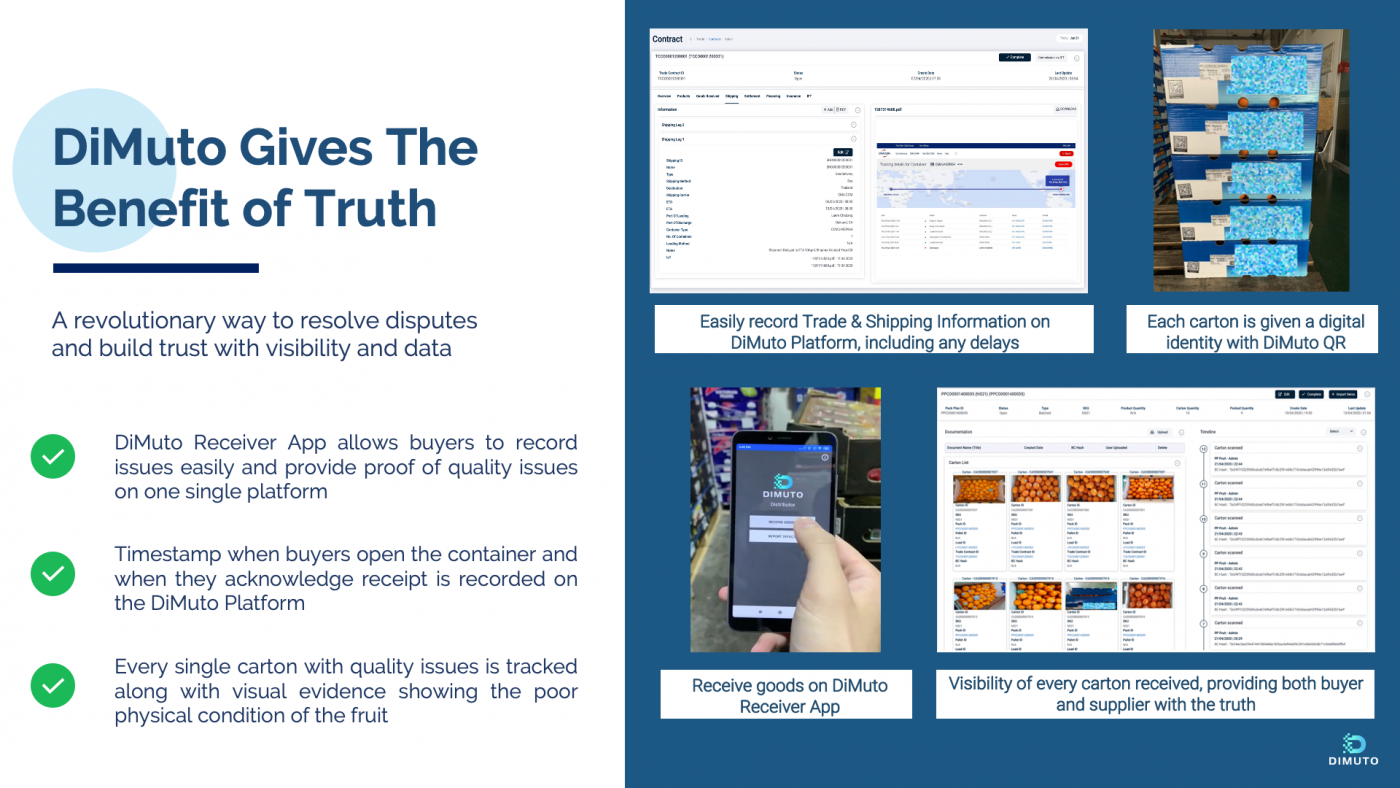 Using our solution, the Thai fresh produce importer was able to efficiently show the full extent of the damages and quality issues for all the affected cartons on one single platform, effectively speeding up the trade dispute resolution process. DiMuto 4T Suite Solutions allows the tracking of all trade information, including product quality information, to be done on one single platform. The information regarding each trade is shared between the buyer and the supplier, giving both the benefit of truth. Importantly, shipping information, trade document information as well as product quality information can be found all on the DiMuto Platform. On the buyer's side, DiMuto Receiver App allows buyers to record issues easily and provide proof of quality issues on one single platform. Every single carton with quality issues is tracked along with visual evidence showing the poor physical condition of the fruit, as well as the acknowledgment of goods being received. This helps buyers to prove what is going on on their end across the world, and for suppliers to verify the story. This helps to facilitate trust and creates an evidence-based trade dispute resolution process. – If you are interested to find out how DiMuto can help your business, please reach us here or drop us an email at sales@dimuto.io. Download our full case study PDF here.