[PRESS RELEASE]
DiMuto Kickstarts Produce Traceability for Ecuadorian Exotic Fruits Grower Pukuna Farms for Its Asian Export Market
DiMuto, a tech-based trade solutions platform, commences produce digitization for Pukuna Farms, an Ecuadorian grower and supplier of pitahayas, passionfruit and sweet cucumber
The digitization of Pukuna Farms' fresh produce will help the Ecuadorian grower with supply chain visibility and consumer engagement
Pukuna Farms is also looking to leverage DiMuto's trade network to grow its Asian export market beyond its current presence in Singapore, Hong Kong, UK and US
The deal with Pukuna Farms continues DiMuto's expansion in Latin America, a major agriculture producing and exporting region
Partnership with Pukuna Farms to underscores the 360 approach to solving global agri-food supply chain challenges that DiMuto trade platform brings beyond just supply chain traceability
Singapore, 24 June 2020 – DiMuto, a trade technology solutions platform that provides end-to-end supply chain visibility for global agri-food businesses, will deploy its trade traceability solutions for Pukuna Farms, an Ecuadorian supplier of exotic fruits.
Using DiMuto's 4T Suite Solutions, Pukuna Farms will tag its pitahayas for produce traceability and supply chain visibility. Pukuna Farms will also tap on DiMuto SMART Marketing services to strengthen its brand presence within Asia and engage end consumers with its traceability story while leveraging DiMuto's Global Trade Network in Asia and beyond.
Pukuna Farms is a producer and exporter of exotic fruits from Ecuador and Peru. Collaborating with farmers in the regions of Palora, Imbabura, Ambato, Riobamba and Piura, Pukuna offers a growing range of fresh exotic fruits including pitahayas, passionfruit and sweet cucumber for its customers in Singapore, Hong Kong, America and United Kingdom.
"We are pleased to work with DiMuto to grow the Pukuna brand in Asia and Southeast Asia. With DiMuto's traceability solution, we are able to create trust with our export customers and also communicate our story to end consumers," said Santiago Báez, Managing Director of Pukuna Farms.
The DiMuto 4T Suite Solution creates traceability for every single fruit as they move through the supply chain by capturing important data at key supply chain stages. Individual products and cartons are tagged with DiMuto QR codes to assign each one a digital identity. These products and cartons are then digitalized through DiMuto's proprietary Digital Asset Creation devices (DACky). All critical information at each supply chain milestone is also recorded on the DiMuto Platform to truly close the supply chain loop on one single platform. This facilitates transparency in the supply chain, creating trust amongst trade partners.
As part of DiMuto's trade solutions platform, the Sales & Marketing Retention & Awareness Tool (SMART) Marketing solution allows small and medium produce growers and suppliers to conduct cost effective marketing campaigns to engage consumers. When consumers scan the DiMuto QR codes tagged to individual food products, they are able to see the origin of their product, obtain information about the farm and growing practices, as well as learn new recipes and participate in exciting lucky draws. Consumers are also encouraged to leave feedback on their produce, giving brand owners important information about the quality of the product and the consumer experience.
Mr Gary Loh, DiMuto's Founder and Chief Executive Officer, said, "We are tremendously excited to collaborate with Pukuna Farms. With the visibility provided as the fruits move through the supply chain, our 360 trade solutions can help Pukuna solve challenges including trade disputes and lack of consumer engagement that typically plague produce exporters."
The deal with Pukuna Farms follows closely after a funding round for DiMuto's latest investor, Latin Leap, a Venture Capital Studio focusing on opening up opportunities in Latin America for Southeast Asian tech-scale ups, as well as a technology partnership with Corporacion Industrial Uruapan (CIU), a Mexican company dedicated to designing and manufacturing post-harvest processing machinery.
To date, DiMuto has tagged over 30 million fruits and tracked and traced over US$100million worth of agri-food trades. With presence in 7 countries including China, Indonesia, Singapore, Thailand and Australia, the collaboration with Pukuna Farms will strengthen DiMuto's reach in Latin America.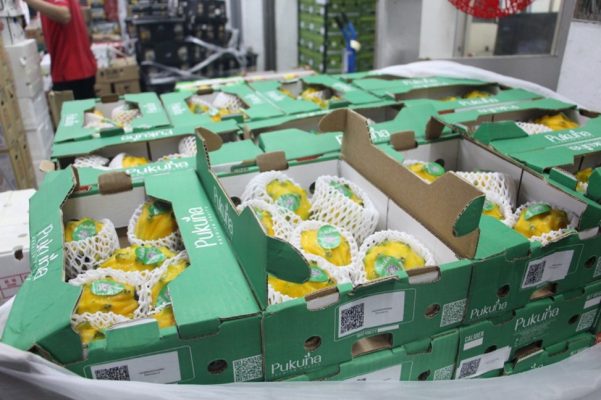 Pukuna Farms Ecuadorian Pitahayas that has been tagged on both carton and fruit level arriving in Singapore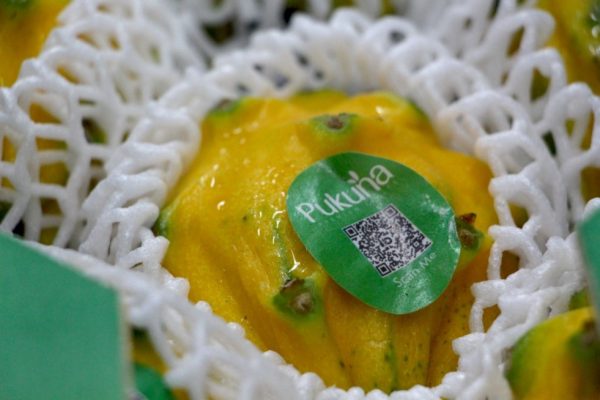 Every Pitahaya has been tagged with a DiMuto QR Code for traceability and consumer engagement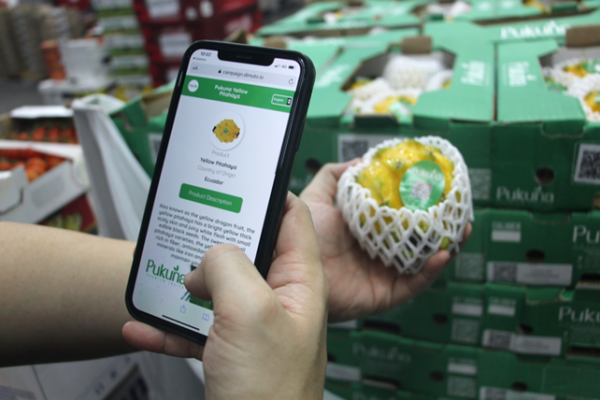 Consumers are able to scan the QR code to access product traceability information with DiMuto SMART Marketing
-end-
About Pukuna Farms
Pukuna Farms produces and exports exotics fruits from Ecuador and Peru in an easy and effective way. We collaborate with farmers from the regions of Palora, Imbabura, Ambato, Riobamba and Piura to offer a wide range of fresh products of high quality.
Our customers are mainly wholesalers and distributors in Singapore , Hong Kong , the UK and US. We have established a stable group of customers that allows us to offer smoother logistic and better service to our customers.
About DiMuto
DiMuto is in the business of creating trust. We provide global supply chains with a trade technology platform built on 4Ts: Tracking, Tracing, Transparency and Trust – thus demystifying global trade and enabling collaborative commerce.
The DiMuto 4T Suite Solution, a 4-part trade technology solution combining blockchain, AI and IoT, creates end-to-end trade visibility and forms building blocks for further value creation in trade financing, product marketing and data analytics. Since 2018, DiMuto has successfully tracked and traced over millions of pieces in produce and millions in dollars of trade value on our platform. We work with a global portfolio of clients in over countries and five continents.
DiMuto is founded by chief executive officer Mr Gary Loh, who is also the Executive Chairman of First Alverstone Group. For more information, please visit www.dimuto.io.
##
For media queries, please contact:
HuiMin LEE
Email: huimin@dimuto.io