Food Safety is More Important Than Ever
The issue of food safety is, now more than ever, at the public's top of mind.
China recently discovered heavy traces of the coronavirus in the meat and seafood trading sections of wholesale markets in Beijing and China's supermarket shelves cleared of imported fish and meat amidst concern about the virus being imported from Europe.
This has led to government agencies like Singapore's SFA to issue a statement to clarify that there is currently no evidence showing the coronavirus can be spread through salmon or food packaging.
Incidents like the above can lead to a lot of disruption for the growers and suppliers of our global food ecosystem. Even with clarification statements from authorities in Norway, consumer perceptions will undoubtedly be shaken by such uncertainties and consumer speculation may still exist.
A Need to Foster Consumer Confidence in Our Food Supply Chain
This then highlights the need to bolster consumer confidence in our food supply chain. But food producers around the world may find it challenging to show, for certainty, that the food they provide to consumers is safe due to a lack of visibility of the current food supply chain.
This is despite the fact that there exists many global food safety guidelines and standards such as the Global G.A.P, the worldwide standard for good agricultural practices, as well as country-specific and trade-specific associations and agencies governing food safety and hygiene.
On top of this, in many food production sites, food safety, and personal guidelines such as adequate personnel training, effective supervision, good hand washing practices, wearing gloves and masks etc are actively enforced and has been the norm for quite some time.
It is perhaps telling that Produce Marketing Association, global fresh produce and floral trade association with over 53,000 industry professionals from over 2,900 companies, launched the Joy of Fresh campaign during the pandemic to reassure consumers about the availability and safety of fresh produce.
A 2018 study done by the International Food Information Council Foundation found that consumers get their food safety information through third party channels such as news article, friends/family members, or government agencies.
Given the current state of food safety, the question that agrifood players need to ask will be how can they directly communicate to consumers regarding food safety information in a timely, accurate, and verified manner?
Communicating Food Safety to Consumers Begins with Digitalization 
The answer to this perennial struggle may lie in digitalization.
When every single carton of food products and every single product is digitized,  agrifood players such as farmers, growers, packers, importers, distributors, retailers are then able to track and trace every carton and every product, even up till when consumers purchase the food. With digitization, not only do we have the digital footprint of the food product, but we can marry it with the physical characteristics of the product – namely the condition of the product, the temperature, the location and so on.
When we connect the dots of the food supply chain by having both the data from digital documentation associated with supply chain movements and the data of the physical condition of the food product, food system stakeholders will enjoy supply chain visibility that gives them the ammunition to confidently communicate to consumers the good work that they have done.
So how can we digitize the food supply chain to reap such benefits?
DiMuto 4T Suite Solutions
With DiMuto 4T Suite Solutions, agrifood players are able to track fresh produce and food products as they move through the supply chain to ensure compliance with hygiene and safety regulations.
DiMuto 4T Suite enables producers to digitize their products for seamless food traceability and supply chain visibility. Powered by blockchain, AI, and IoT, blockchain's incorruptible traceability features allow agricultural products like fresh produce, livestock and seafood, as well as food ingredients to be actively tracked throughout the supply chain.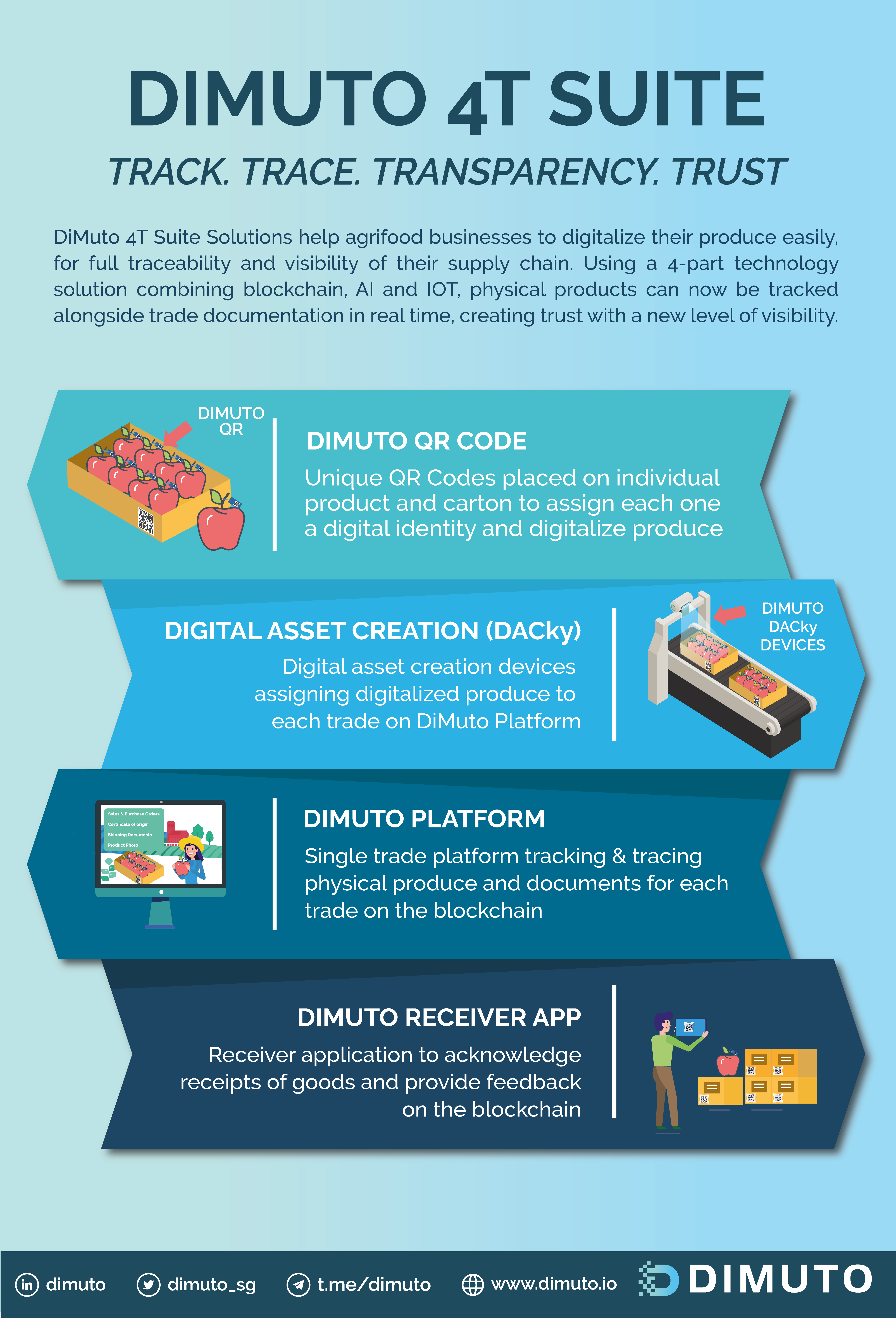 At the upstream of the food supply chain, unique DiMuto QR Codes and our proprietary Digital Asset Creation devices, DACky, are able to help create a digital identity for every single carton of food product and every product. We also use a combination of AI & IoT in our DACky devices to capture data about produce conditions that can help with quality assurance regarding food safety.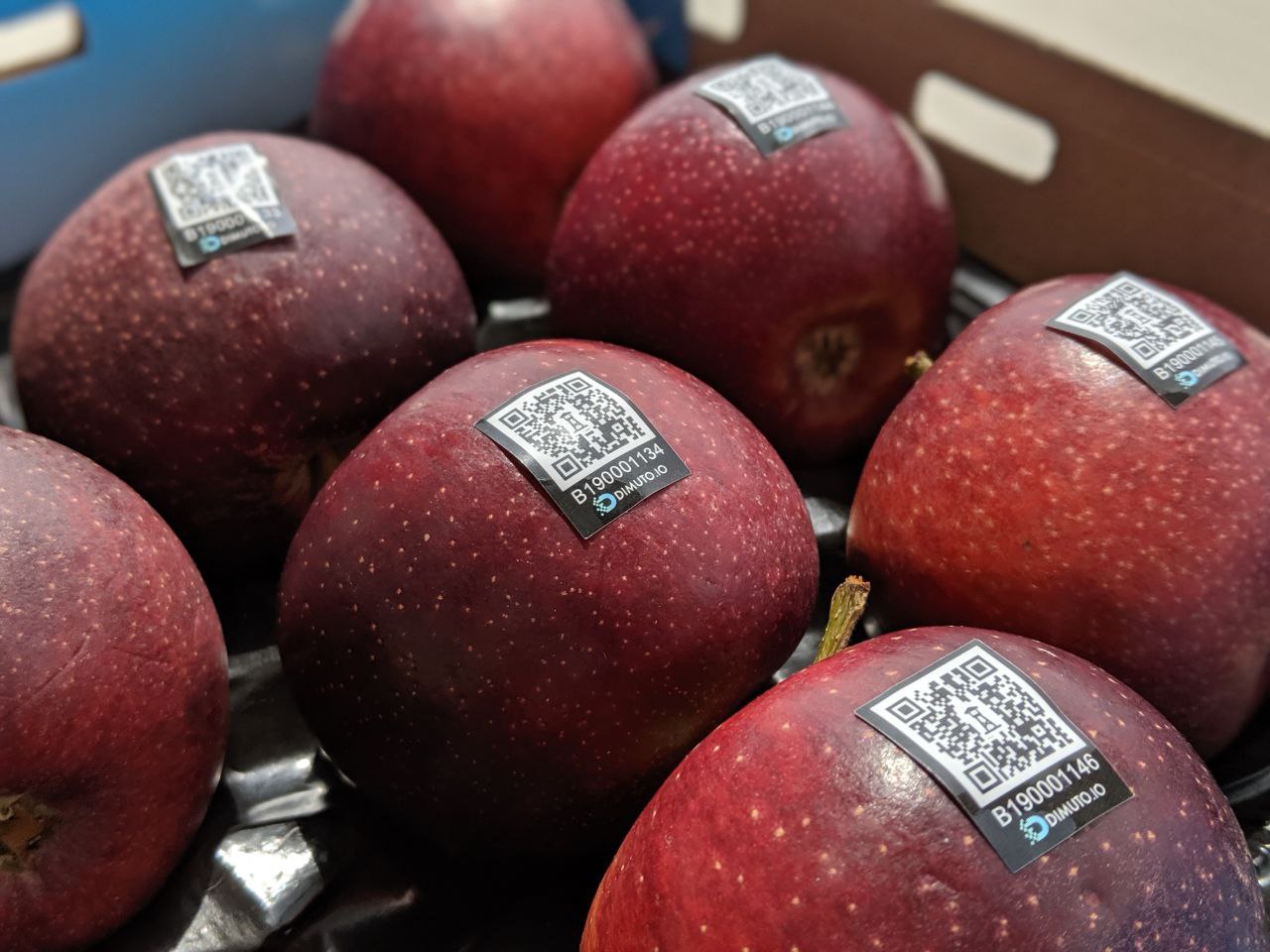 DiMuto QR Codes allows traceability of every single fruit throughout the supply chain
On our blockchain-powered DiMuto Platform, companies can record any and all certifications required by the industry of the particular product offered and associate it with the particular product. The immutability of our records deters fraud and helps attest that the company is carrying out good health and hygiene practices.
At the same time, we are also able to capture poor quality fruit that is not safe to consume on our system. Buyers and importers receive goods that do not fulfill orders specifications or products that have some form of quality issues. Our Dimuto Receiver App allows buyers to record issues immediately upon arrival and capture a photo of any food quality issues on one single platform. Thus, this helps to strengthen the visibility of the supply chain and safeguard food safety.
Find out how we were able to track every single carton with quality issues and visual evidence showing the poor physical condition of the fruit for a Thai importer for a shipment of US Citrus here.
DiMuto SMART Marketing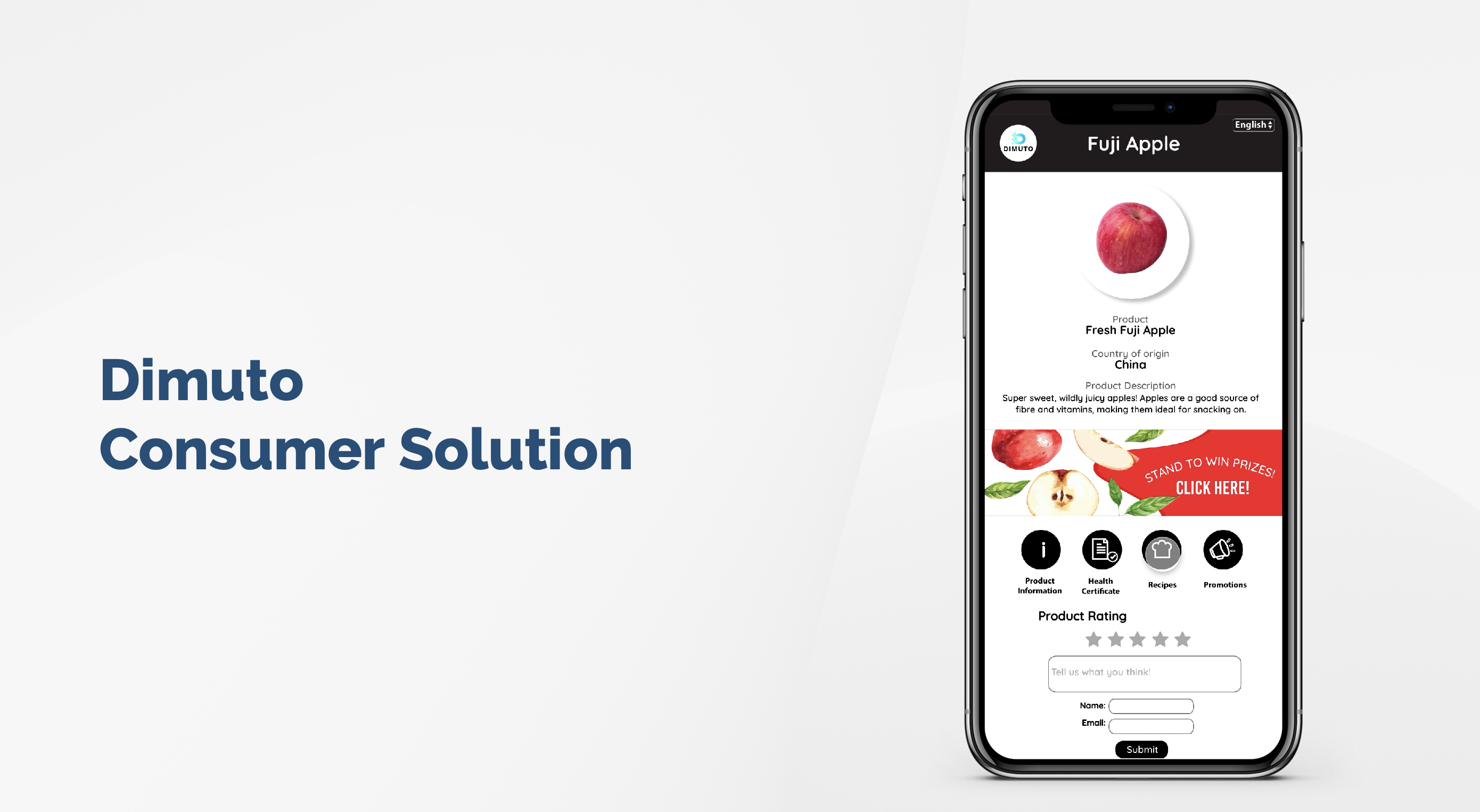 With food traceability, companies and producers can then communicate to consumers and show that the proper handling processes have been done, product certifications have been verified. Our marketing module, DiMuto SMART Marketing, allows companies to easily communicate this traceability story to consumers with DiMuto SMART Marketing.
Now consumers can scan the Dimuto QR code tagged on each product, and access product information and verified certificates that have been captured on our blockchain and learn about produce origins and get to know their food producers.
The added level of visibility on their food source will alleviate concerns about food safety and help with building confidence in a brand that is traceable and transparent with their food handling and food safety information.
Thus, in addition to current communication channels, companies are now able to directly communicate to end consumers and build trust with consumers.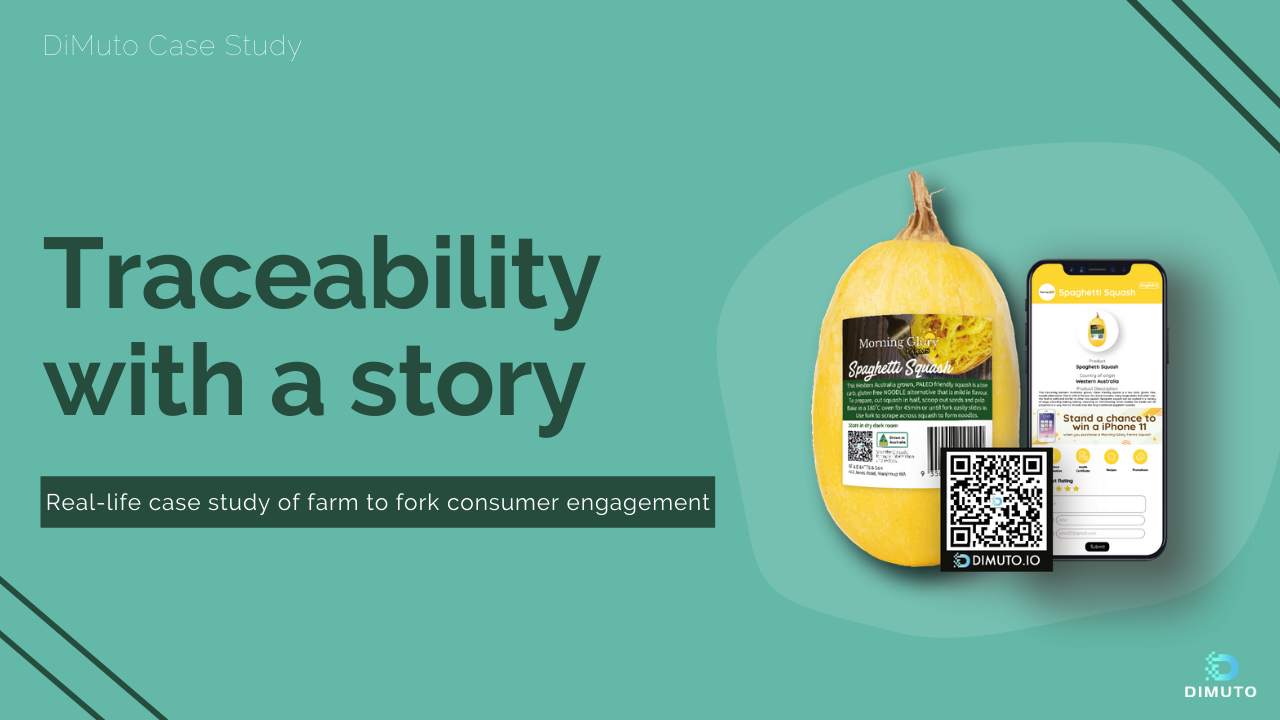 Read more about how we have helped Morning Glory Farms to tell their traceability story to consumers and build their brand in new export markets.
Food Recall & Food Safety Outbreaks Continues to Plague the Industry
Food safety recalls due to either contaimination of foregin material or foodborne illnesses are common – just take a look at the top 50 recalls of 2019 in the US.
The 2018 outbreak of E. coli infections related to romaine lettuce from the Yuma growing region took about three months to resolve, resulting in 210 sick people, 96 hospitalizations, and five deaths. Most recently, the FDA is working with retailers to ensure the potentially adulterated Freshworld bagged salad products are effectively removed from the market place in the June 2020 Cyclospora outbreak.
The lack of visibility of the supply chain makes investigation time consuming. Companies can get in front of this and conduct efficient recalls and directly communicate to consumers.
With DiMuto Solutions, products can also be easily recalled, aiding in limiting the spread of the disease (regardless of whether the disease is due to a pandemic virus or a food pathogen) due to additional traceability down to individual product levels. If an affected product needs to be recalled, consumers can just simply scan the QR and will be notified by a pop-up if there is a problem with their product.
Therefore, in addition to transmitting security and confidence to consumers, our solution can also help retailers to quickly and efficiently find a contaminated product. Traceability could reduce exposure to the risks of food outbreaks by making it faster, more efficient, and feasible to contain the impact of food contamination.
This helps create a food system that can better meet food safety standards for end consumers in a timely and precise manner.
The Future of Food Safety
So what does the future of food safety look like?
With the increased consumer focus on food safety and the urgency to foster consumer confidence in the food system, it is imperative that we look at digitalization and traceability as a solution to be more efficient and coordinated when issues concerning food safety occur.
Be on the forefront of food safety with DiMuto.
In light of the current coronavirus crisis, we remain committed to helping agrifood players trade better and build a more transparent food supply chain. If you are interested to find out how DiMuto can help your business, please reach us here or drop us an email at sales@dimuto.io.