The Challenges of Managing the Messy Riddle
In the AgriFood industry, it is difficult to track fresh produce along the supply chain due to disconnected visibility. Because of the multiple players involved, critical data regarding product quality is often not shared efficiently between stages in the supply chain.
Often, buyers and retailers have no visibility on fresh produce products during pre-shipment. Quality issues will only be raised upon goods arrival, making it challenging to ensure consistently good quality supply. Receiving poor quality produce results in rejection-related loss of sales and food waste that can easily amount to thousands of dollars.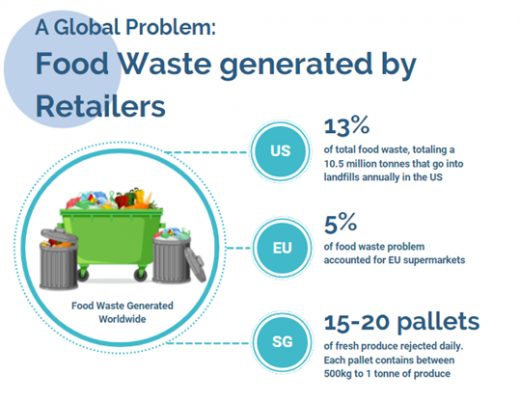 Food Waste Generated by Retailers Worldwide
In the US, grocery retailers generate a whopping 13% of total food waste, totalling a 10.5 million tonnes that go into landfills annually. Meanwhile, in the EU, supermarkets account for 5% of the food waste problem, sparking a pledge by the EU to cut food waste in half by 2030.
In Singapore, a central warehouse of a supermarket chain rejects about 15 to 20 pallets worth of fresh produce every day, typically due to not meeting product quality specifications agreed upon with suppliers. Each pallet can contain anywhere between 500kg and one tonne of produce.
Sources: The Straits Time, Food Print, Global Citizens
How

Receiving Poor Quality Fresh Produce Costs Retailers
A Container of Fresh Produce can value between US$50,000 to US$150,000. When Retailers receive fresh produce that does not meet their product quality specifications, it negatively impacts their inventory and sales.
Loss in sales – where the rejection of fresh produce leads to a decrease in their stock count and inability to fill the floor

Incurred costs not recovered – especially during the Covid-19 pandemic, the rises in freight costs are at an all-time high making goods rejection even more costly
Sources: Sourcing Journal

Poor-Quality Grapes Rejected at Retail-Level
High-Cost of Poor Quality Produce
In a typical fresh produce trade, buyers and retailers have no visibility on the conditions of the goods that were packed and loaded pre-shipment. This makes it difficult for them to efficiently respond to inventory changes caused by quality issues.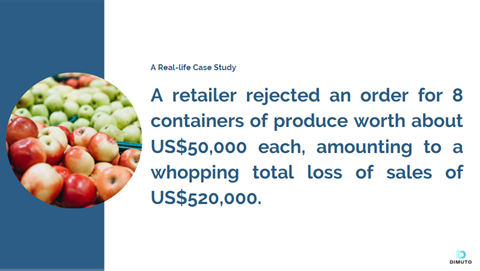 Based on a Real-Life Case Study on Moving Fresh Produce
Programme for 15 containers of fresh grapes from supplier to a supermarket buyer

Lack of visibility on pre-shipment quality from the supplier to retailer

8 out of 15 containers rejected due to quality issues and poor container unloading conditions

Inefficient communication between Quality Control team and Commercial team regarding quality

Loss of sales from 8 containers amounted to over USD$520,000

Entire programme had to be cancelled and discontinued
No Data, No Visibility
Often, retail stores receive goods that do not fulfil order specifications or products that have some form of quality issues. Moreover, the defects are only known when the fruit or produce has arrived due to a lack of product visibility along the supply chain. This makes trade managing fresh produce challenging for retailers:
Unable to see pre-shipment product quality and container loading

Unable to quickly respond to inventory changes due to rejections from quality defects

Unable to communicate defects easily and effectively between internal teams
Introducing DiMuto's Solution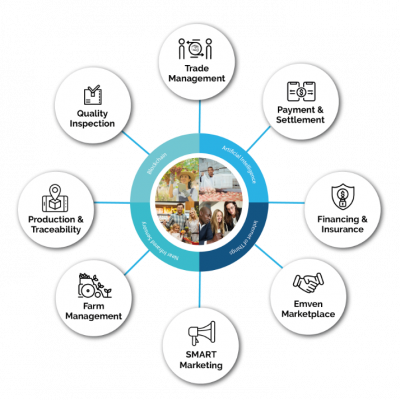 DiMuto's 8 Product Features
See the full picture with Insightful Trade Data
From Produce, Trade to Market, DiMuto AgriFood Trade Solutions have 8 key Product Features that help you gain visibility of the in-betweens in your supply chain.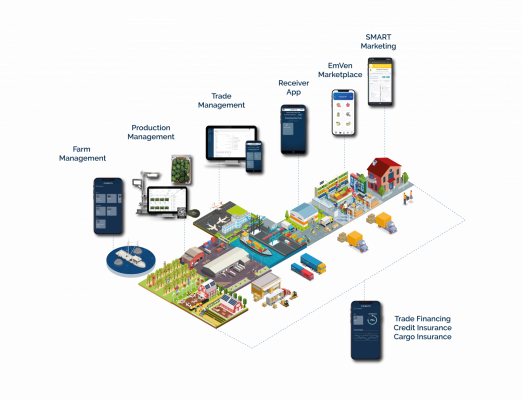 DiMuto's All-In-One Platform
An all-in-one, farm to fork platform – Our 8 Product Features include:
Farm Management
DiMuto Maximize farm efficiency and profitability, read more.
Production Management
DiMuto Organize, track and trace your production, read more.
Trade Management
DiMuto ensures that you are in control of your trades with full visibility, read more
Inspection & Standards Management
DiMuto Organise, digitize and verify product quality, read more.
EmVend Marketplace
DiMuto helps you to Enter new markets and grow your exports, read more.
SMART Marketing
DiMuto helps differentiate your brand with traceability, read more.
Payment Management
Stay on top of your trade payments & settlements ,read more.
Financial Services
DiMuto helps to protect your trades with insurance, read more.
How DiMuto Helps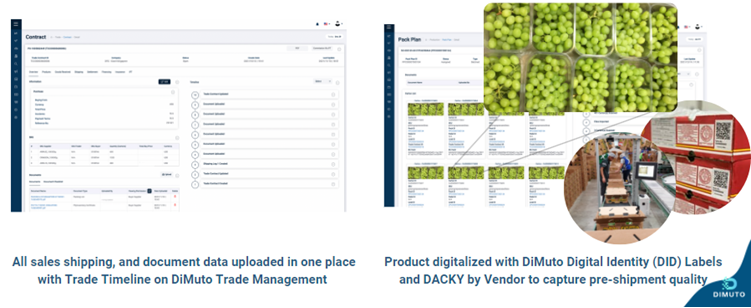 DiMuto's Pre-Shipment Quality & Trade Info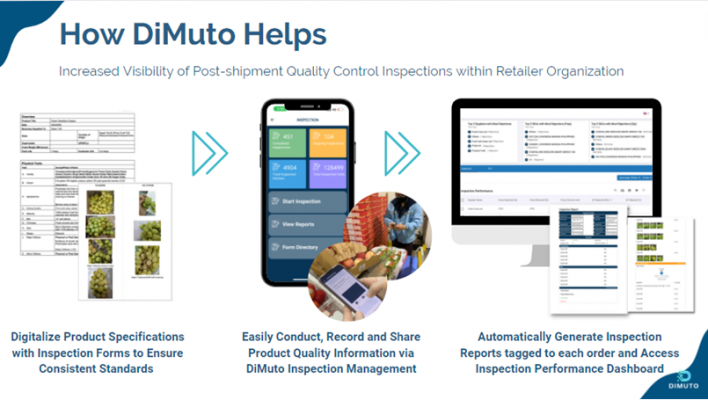 DiMuto's Inspection Module
DiMuto makes all parts of the trade easily visible and accessible to relevant teams within the Retailer. With Trade Management, the commercial, QC, shipping team can access pertinent trade documents and data.
DiMuto's Inspection and Standard Management
DiMuto Inspection Management helps digitalize the QC process and allows a more efficient way to standardize, record and evaluate quality inspections for optimal product quality.
DiMuto

Creates Trade Visibility for

"The Messy Middle"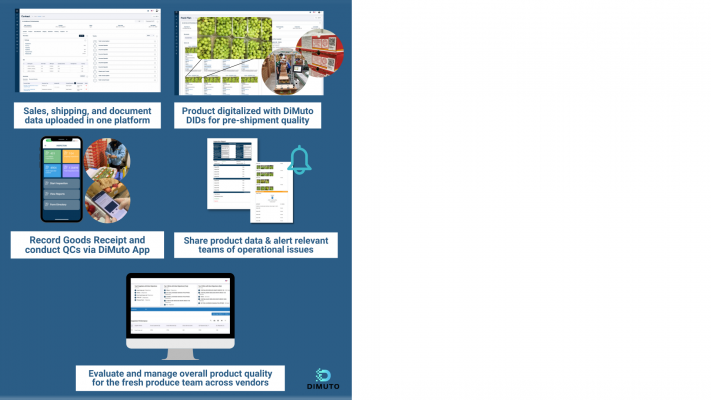 DiMuto's Accessibility of Pre-Shipment and Post-Shipment Quality
With DiMuto, Retailers can now enjoy accessible visibility of pre-shipment and post-shipment quality to better manage any potential loss of sales
Pre-shipment product quality down to every single carton easily accessible to commercial team

Trade information, documents and actions of each trade seamlessly recorded and presented in timeline view

Post-shipment product quality efficiently captured and communicated between QC, commercial and retail teams

Dashboard view of Inspection Management to ensure optimal product quality and vendor performance
Read more on our Real-Life Case Study on Receiving Poor Quality Fresh Produce At The Retail Stage: The Retail Impact of The Messy Middle.pptx
If you are interested to learn more about how DiMuto helps Agri-Food businesses leverage on an increased visibility of Pre-Shipment and Post-Shipment Product Quality, please reach us here or drop us an email at sales@dimuto.io.