PT Sewu Segar Nusantara (SSN), a Leading Local Fruit Distributor and Marketer in Indonesia
The Republic of Indonesia is one of the most populated nations worldwide and among the largest countries by total area. In 2020, the total population of Indonesia amounted to approximately 270.2 million. It is the largest economy in Southeast Asia.
PT Sewu Segar Nusantara (SSN) is part of Great Giant Foods, the brand entity of Gunung Sewu Group and a leading vertically integrated food player that cultivates, manufactures, delivers fresh and processed fruits, juice, meat, and dairy.
SSN has a distribution network covering: 133 Cities in 9 Major Regions, 2000 Modern Markets, 52 Sub-Distributors, 65 Wholesalers, 6000 Retailers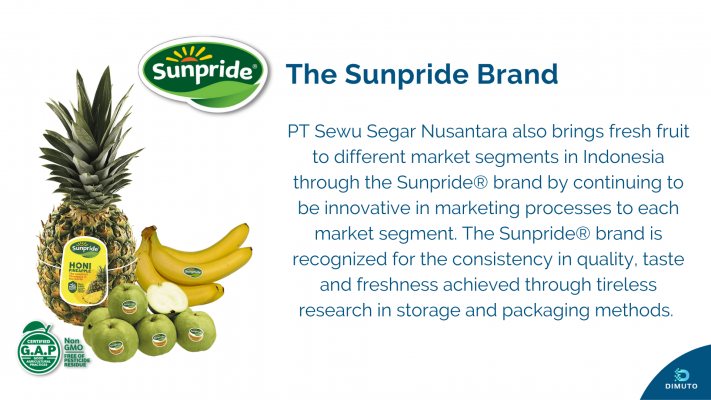 A Need For An Efficient Supply Chain Traceability
For some of its local products such as Pisang Mas, Melons and Oranges, SSN employs regional agronomists to work directly with smallholder farmers around different regions of Indonesia.
With the low level of technology adoption amongst these farmers, efficient and cost effective supply chain traceability was needed that could help verify provenance and extend Sunpride's quality assurance to other local products in their portfolio, ensuring that Sunpride's brand promise of safe quality products is kept to its consumers.  
The Asian Consumer Perspective:
Growing Demand for Safe & Traceable Foods
Over 40% of Asian consumers are concerned over where their food is sourced from and source-checking is a habit for some of them, indicated in a survey by the Asia Food Challenge report done by PwC, Rabobank and Temasek. It is clear that consumers across Asia are demanding stronger reassurance that food is safe, and are turning to brands they feel they can trust. Some consumers also indicate willingness to pay a "trust" premium for food bought directly from their source.
With this trend in mind, there is growing pressure on AgriFood food brands to be able to leverage technology for safe and traceable food solutions in order to buildtrust and credibility with consumers.
Introducing DiMuto's Solution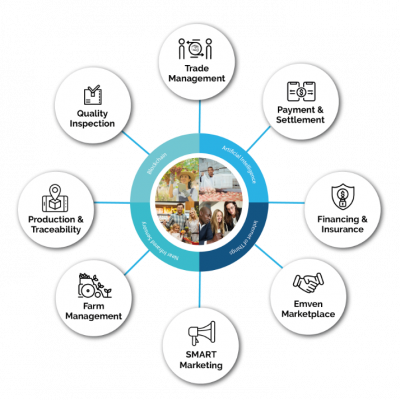 DiMuto's 8 Product Features
See the full picture with Insightful Trade Data

 
From Produce, Trade to Market, DiMuto AgriFood Trade Solutions have 8 key Product Features that help you gain visibility of the in-betweens in your supply chain.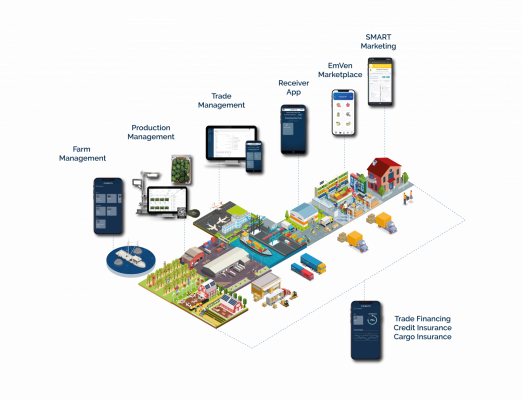 DiMuto's All-In-One Platform
An all-in-one, farm to fork platform – Our 8 Product Features include:  
Farm Management 
DiMuto Maximize farm efficiency and profitability, read more. 
Production Management 
DiMuto Organize, track and trace your production, read more. 
Trade Management 
DiMuto ensures that you are in control of your trades with full visibility, read more 
Inspection & Standards Management 
DiMuto Organise, digitize and verify product quality, read more. 
EmVend Marketplace 
DiMuto helps you to Enter new markets and grow your exports, read more. 
SMART Marketing 
DiMuto helps differentiate your brand with traceability, read more. 
Payment Management  
Stay on top of your trade payments & settlements ,read more. 
Financial Services 
DiMuto helps to protect your trades with insurance, read more. 
Tracking Regional Supply Chain with DiMuto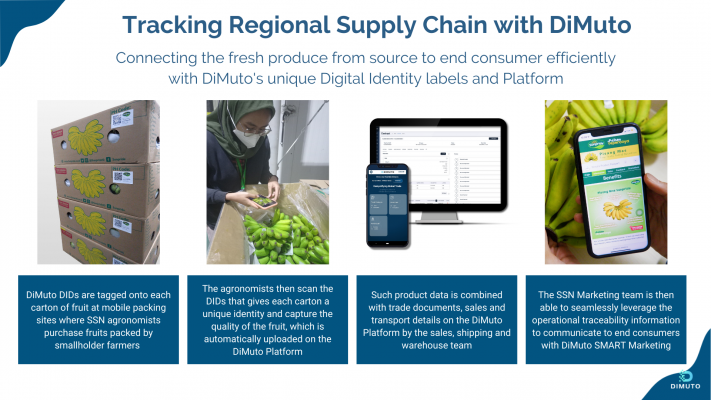 Applicable Blockchain for Food Traceability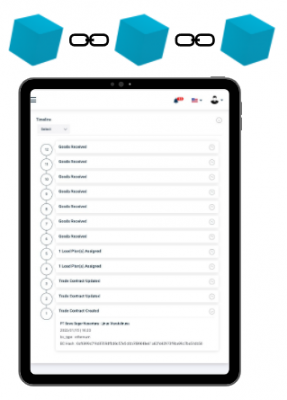 Immutable Records of Supply Chain Actions in a single platform
The DiMuto Platform automatically records each transaction onto the blockchain, a distributed ledger technology that uploads information in blocks and adds new information in chronological order to ensure transparency.
Trade Information recorded by the different SSN departments are secured with a blockchain hash to ensure transparency and immutability, achieving supply chain provenance in the most secure manner.
DiMuto SMART Marketing
DiMuto SMART Marketing gives marketing teams of produce brands the ability to seamlessly communicate traceability data that has been recorded by their operational team and display it to their consumers in the form of a Product Passport.
The Product Passport is able to showcase selected Product Certificates that have been uploaded on the blockchain, as well as critical supply chain stages such as Farming, Packing, Shipping and Receiving stages.
This helps produce brands to showcase product provenance and build consumer trust.
Showcasing Sunpride Brand with DiMuto SMART Marketing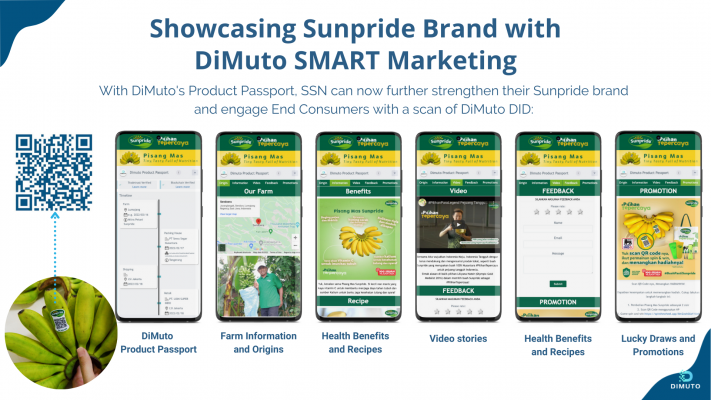 Creating Strong Consumer Relationships with Direct Insights and Feedback
With DiMuto SMART Marketing, executing brand marketing campaigns, hosting promotions and lucky draws to raise brand awareness, collecting product-specific feedback from end consumers make has never been easier for PT SSN
Feedback derived from end-consumers directly provide more insights on the individual products, ensuring visibility not only between SSN departments, but also close the loop with regards to product quality at consumer level.
The positive brand engagement ratings from Point-of-Sale promotions indicate strong potential for SMART Marketing to become an important marketing tool to drive sales, better understand end-consumers and build brand loyalty.
DiMuto Helps Brands Communicate Verified Traceability to Consumers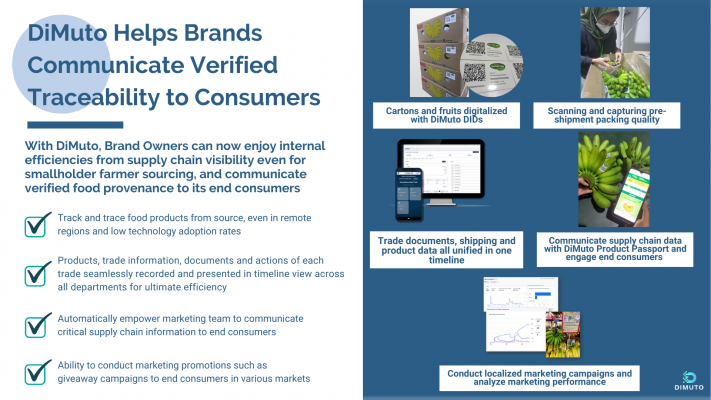 Read more of our Real-Life Case Study about How Deploying Blockchain Traceability Helped to Create Consumer Engagement For A Leading Produce Brand in Indonesia here: Leveraging Blockchain Traceability for Branding Case Study
If you are interested to learn more about how DiMuto helps Agri-Food businesses leverage on blockchain traceability to create consumer engagement, please reach us here or drop us an email at sales@dimuto.io.